Fluorescent lighting has many significant benefits for both homes and businesses. However, historically fluorescent light covers have always been plain, boring, and uninteresting. That has changed recently with the introduction of innovative fluorescent light panels. These unique sky-and-cloud panels offer stylish, artistic visual appeal as image-based lighting décor or lighting fixtures. In short, replacement fluorescent light panels are a great way of enhancing existing fluorescent lighting in a colorful and imaginative way.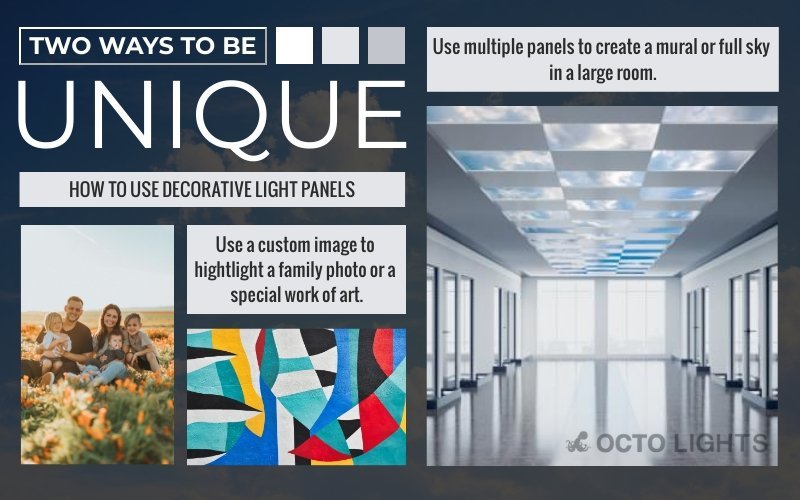 Stunning Light Covers
Homeowners can now upgrade ordinary fluorescent lighting and even LED lighting by making use of these stunning light covers. From unique personal images to a wide selection of stock images, it is easier and more convenient than ever to enhance a room using decorative replacement light panels. It is even possible to create an entire sky ceiling mural to enhance a room's appeal. This is a decorative solution that produces the best possible look when using fluorescent lighting. It serves to soften light while illuminating a wide variety of attractive images.
Standard Sizes As Well As Custom Sizing
From healthcare facilities to salons and schools, as well as homes and restaurants and even offices, this type of unique fixture can make all the difference. These panels—often referred to as diffuser panels or light covers—are available in both standard and custom sizes. In short, the possibilities are endless when it comes to designing any size or any room using diffuser panel light covers. From well-known artwork to personal family images and images of the outdoors and the sky, decorative panels can create a uniqueness that would otherwise not be possible.
Manufacturing Of A Quality Diffuser Panel
Using high-quality acrylic material, Octo Lights can help you transform your home or business by enhancing existing fluorescent lighting. Using quality materials as the ideal canvas, the company incorporates high-resolution artwork into the manufacturing of a modern diffuser panel. The artwork used to create these panels is professionally applied to the panel so that it is perfectly centered to create an impressive look every time. Once the fixture has been suspended in the lighting fixture frame and arranged in the proper sequential order, a room will take on an entirely new look.
Lighting Fixture For Your Living Environment
Octo Lights offers customers a huge selection of high-resolution artwork to choose from when ordering a sky panel. From tree images to nature images and waterfall images, as well as astronomy images and virtually anything else imaginable, Octo Lights can help you achieve your goals and aspirations of creating the perfect lighting fixture for your living environment. With so much to offer, it is clear why Octo Lights has only continued to grow as one of the most trusted names in replacement fluorescent light sky panel products.
For more information, you may want to check out Octo Lights' Frequently Asked Questions page.