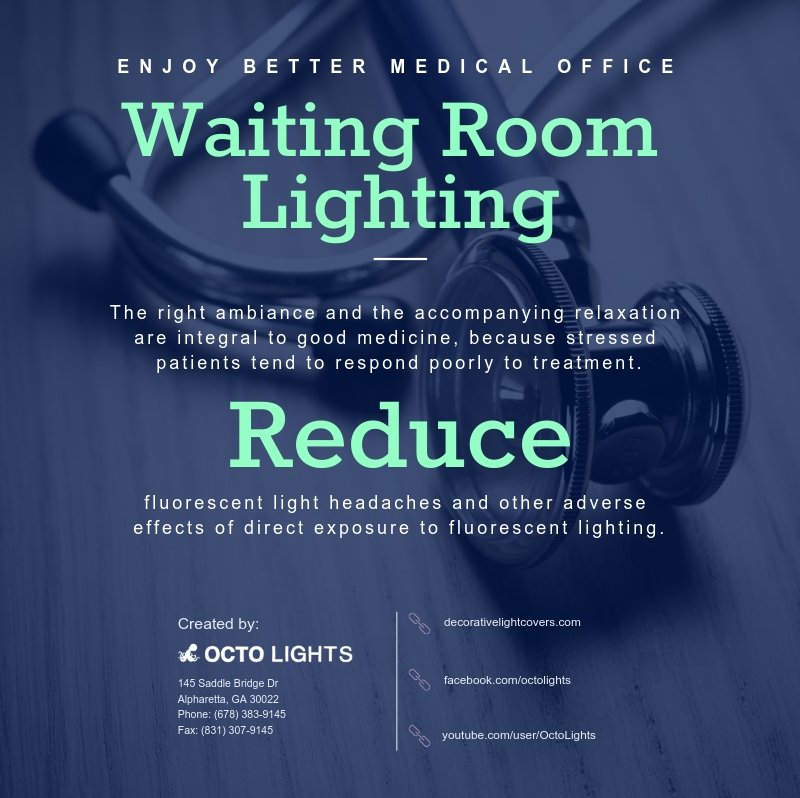 Today more than ever before, it is essential for medical office waiting rooms to convey the right message to waiting patients. From effective interior design to indoor plants and the proper use of elegant artwork, getting a medical office waiting room right can make all the difference in a patient's experience. One innovative way of enhancing medical office waiting rooms is to use modern fluorescent light covers. These attractive custom-crafted light lenses produce remarkable results. They are the perfect way to improve medical office waiting room lighting.
Calming And Stress-Free
A medical office waiting room needs to be relaxing, calming, and stress-free to ensure that patients are always put at ease. The right ambiance and the accompanying relaxation are actually integral to good medicine since stressed patients tend to respond poorly to treatment.
But once you've decided you need to install decorative light covers, you have to figure out which kind to get. Customers purchasing light panel covers now have more choices than ever before when it comes to style, design, and theme. For example, today's modern fluorescent light lens customers can choose from flower designs, sky and cloud images, and beach light panels, among many others. Astronomy light panel covers, as well as light panels featuring landscape images, are also widely popular.
Make Any Interior Space Memorable
The possibilities are practically endless when you consider the availability of custom fluorescent light panels. Anyone can create a light cover based upon a personal photograph or custom image with a simple upload. From family portraits to unique nature scenes and virtually any other type of image imaginable, custom light lenses can make any interior space memorable and unique. A medical office waiting room can gain substantially from what light fixture covers make possible. It's no surprise that affordable and easy-to-install ceiling light panels featuring unique images are becoming all the rage.
Choosing The Right Company
Transforming a medical office waiting room through smart lighting will ultimately result in better patient relations and better long-term success. Today it is possible to illuminate an office, home, or medical facility as well as even an entire large building using creative light covers that feature stunning images. Choosing the right company specializing in fluorescent light panels is the first step in getting the most out of light diffuser covers. While there are many choices when it comes to companies that do this kind of work, there is one company that has become recognized around the country.
Octo Lights is a reliable and dependable source for the absolute best in modern overhead lighting fixtures for fluorescent lights. As a bonus, today's modern light lenses can effectively reduce fluorescent light headaches and other adverse effects of direct exposure to fluorescent lighting. Light lenses or sky-and-cloud panels, as they are sometimes called, diffuse fluorescent light and make it more acceptable to those who work long hours indoors. With so much to offer and so many benefits, it is clear why light covers for ceiling lights make such excellent sense today. Contact Octo Lights today to learn more.