If you've ever worked in a cubicle, spent countless hours on a computer, or been forced to lock yourself in a room to finish those stacks of files for your boss, then you likely know how dull and lifeless an office space can feel. Unfortunately, a workspace devoid of decor or interesting isn't just a less-than-inviting environment. It's productivity killer, as well. After all, an office's purpose (either at home or place of business) is to provide a quiet area for getting work done efficiently. Though, this shouldn't discourage you from livening up your office space with decorative lighting.
Here are some tips on making your office space a more inviting place to be productive.
Start With Fluorescent Lighting Covers
Fluorescent lighting is common in office spaces, mainly because it's cheap and bright.
Unfortunately, fluorescent lighting can be a bit dull to look at. This is why fluorescent light covers offer an incredible method for transforming a fluorescent light into a work of art while livening up any space at the same time.
A fluorescent light cover is a thin layer of printed film that goes over your light diffuser panel. It not only dims the brightness of a standard fluorescent light—making it easier on the eyes throughout your workday—but can also display a myriad of images to remarkable effect.
And they're not just for corporate offices. If you practice in a pediatric office, for example, you might want to spruce up your surroundings for your younger patients. Decorative covers for fluorescent lighting can do wonders. You could transform your ceiling into a skylight with a gorgeous view of the blue sky, or you could create the effect of surrounding trees and mountains.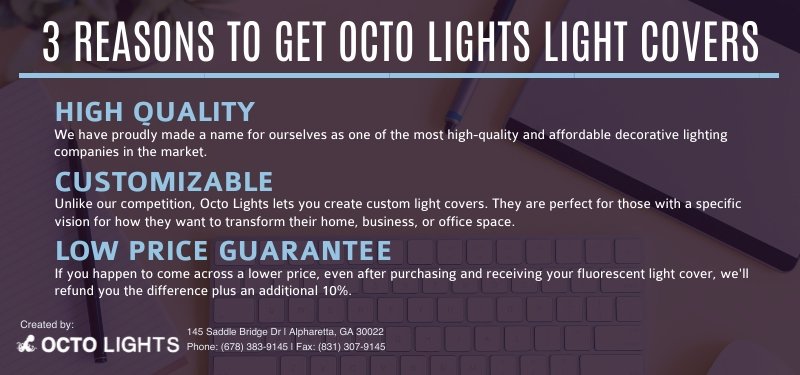 Discover Fluorescent Light Covers from Octo Lights
Octo Lights is the premier supplier of quality fluorescent light covers. We have proudly made a name for ourselves as one of the most high-quality and affordable decorative lighting companies.
Octo Lights offers an array of their own ready-made fluorescent light covers in various sizes to fit any office space. But unlike our competition, Octo Lights lets you create custom light covers. They are perfect for those with a specific vision for how they want to transform their office space.
Decorative light covers from Octo Lights are ideal for both your ceilings and walls and. And if you group them together, you can achieve an awe-inspiring look for your otherwise dull office space. Just look at some of their customer reviews to find out what a typical fluorescent light cover from Octo Lights can do for you.
Octo Lights Ensures You'll Receive The Lowest Price Possible
Beyond the impeccable quality that goes into each of their fluorescent light covers, Octo Lights also offers the lowest possible price. How do we do it?
If you happen to come across a lower price, even after purchasing and receiving your fluorescent light cover, we'll refund you the difference plus an additional 10%.
We hope you're enjoying our blog! Visit our "About Us" page to learn more about what makes us the leader in fluorescent light covers.