Everyone seems to have their own favorite time of year. To some, winter may be a dream come true. Winter brings with it the wonders of the holiday season and cozy nights at home. Other love Spring, with its Easter celebrations and a gorgeous array of blooming flowers and plant life. However, if you're a summer person, then you're likely counting down the days until June 20th. So why not showcase your love for the summer with decorative fluorescent light covers? You can show off your favorite season while also adding a unique focal point to your home, office, or business.
Discover Fluorescent Light Covers
Decorative light covers have rapidly grown in popularity over the last few years. They are, without a doubt, a fantastic innovation in decorative lighting, and they can truly transform any room or space into a work of impeccable art and beauty.
Light covers consist primarily of a thin film that fits over any existing fluorescent light fixture. They are printed with a wide array of images to create an incredible effect on the eye. Although they're mainly used in homes, offices, and businesses, fluorescent light covers are more than appropriate for any space that uses fluorescent light fixtures.
For instance, if your kitchen is exceptionally cramped and lacking windows, the smartest and most cost-effective solution is to install cloud-themed fluorescent light covers on your kitchen ceiling. The images of clouds and the blue sky are showcased whenever you or someone else walks in your kitchen. These sky-and-cloud covers create the effect of a real skylight, without the considerable cost and hassle of installing actual skylights.
Now that you know what fluorescent light covers are, you can understand why they're a great option to prepare for the upcoming summer season. To help you prepare for summer with decorative fluorescent light covers, let's explore our most popular summer-themed light covers.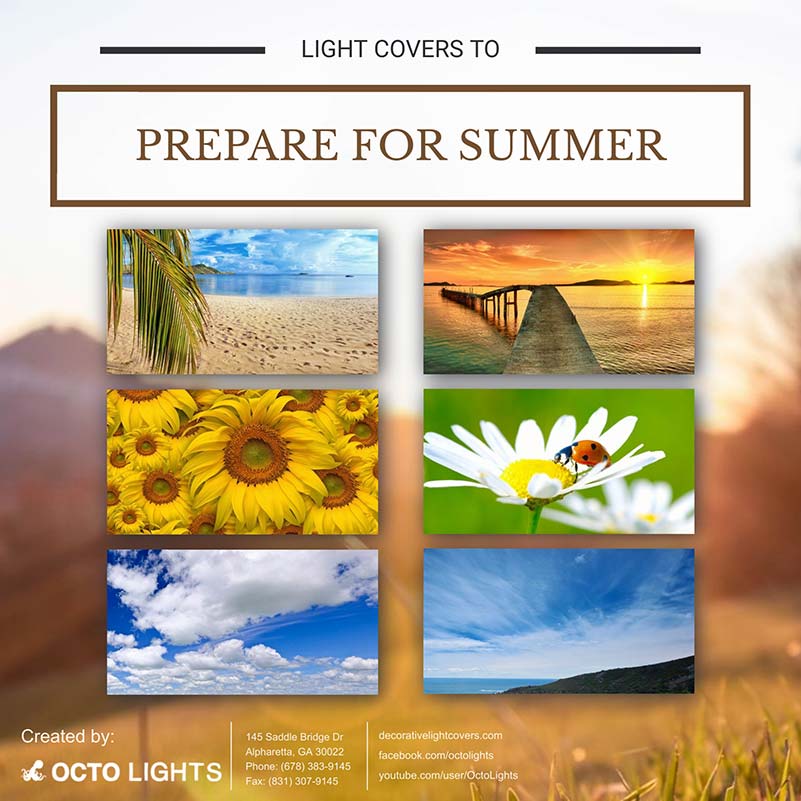 Celebrating the Summer Season with Beach Light Covers
If you're infatuated with the beach and summer fun in the sand, then our beach-themed light covers are made for you. These light covers come with a variety of different images. Each image depicts a soothing beach setting, ready to be placed on the walls and ceilings of any room for an instant focal point.
These light covers are ideal for your bathroom. You can combine them with tropical or beach-centric decor such as soap dishes, toothbrush holders and towels, to create an amazing theme that ties perfectly together. Shop our full selection of beach light covers here.
Flower Light Covers
If you have a green thumb, and your favorite part of the summer is all of the different plant life, you can create a room that wholeheartedly captures your passion for nature with our flower light covers.
These light covers depict flowers of all kinds in stunning high-definition clarity and create a window into a nature-filled world.
You can even combine them with real flowers and indoor plants. For room decor, add flowery pillows, an area rug, and other furniture to showcase your green thumb even further. Shop all of our flower light covers here.
Utilizing Custom Fluorescent Light Covers
If you somehow don't find a theme that fits your liking, you can always create your own fluorescent light cover. Octo Lights made it easy with the incredibly simple process on our website.
Customization allows you to create fluorescent light covers to fit any style or theme. For example, if you're crazy about the winter season, you could create light covers depicting winter themes like snowmen, Christmas trees, or the North Pole. Or you could liven up an office party with decorative lighting that displays festive sayings such as "Merry Christmas" or "Happy Holidays." If summer is your jam, you can use photos of your favorite vacation location to prep for summer with decorative fluorescent light covers. The choice is yours!
Easy-to-Create Custom Light Covers
If you're searching for custom light covers, look no further than Octo Lights. Not only do we make the process of creating your light covers quick and easy, but we also make it affordable.
Navigate to our Custom Light Covers page, upload your custom image, and choose a light cover size. We'll add the custom cover to your shopping cart, so it's ready when you check out. It's that simple!