Fluorescent Light Sky-and-Cloud Panels
Interior designers, homeowners and business owners are always looking for unique and innovative ways of bringing the outdoors inside. One of the easiest ways to accomplish this goal is using state-of-the-art lighting technology. Decorative light covers from Octo Lights can create amazing images across a ceiling. There are several options available today to produce this type of lighting effect. But one way in particular has steadily grown in popularity: decorative fluorescent light covers, also known as sky-and-cloud panels. Fluorescent light sky-and-cloud panels are one of the easiest and most affordable ways to bring the outdoors inside.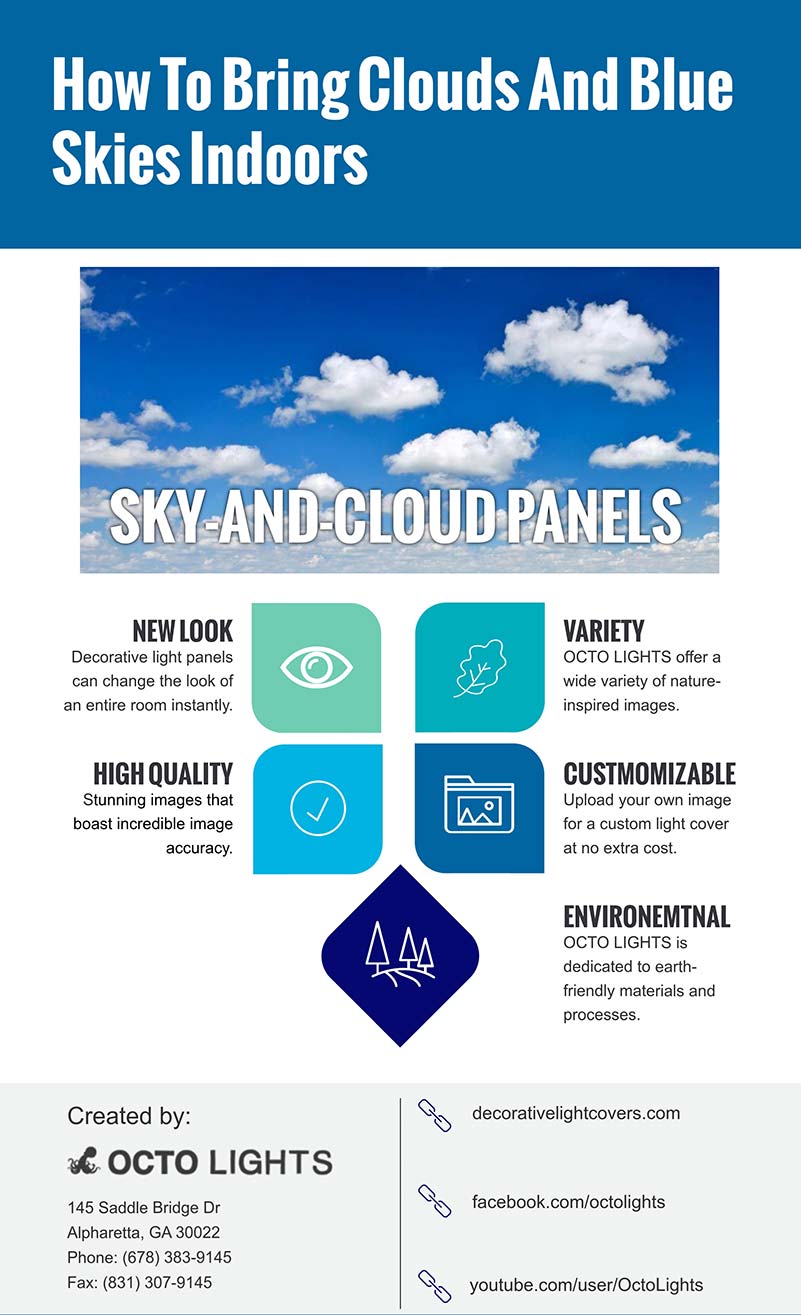 Attractive Looking Sky-and-Cloud Panels
This unique type of lighting technology has only continued to get better over the years. Today, decorative light panels result in stunning images that boast incredible image accuracy. Homeowners and those who own businesses can choose from a wide range of attractive looking sky-and-cloud panel products. We offer options including tree light covers, flower covers, sky-and-cloud covers as well, as beaches and landscapes. There are near endless possibilities for creative interior design. Even more impressive is the fact that today consumers are able to easily upload their own images. We'll convert your digital image into a sky-and-cloud panel or any image of your choosing.
Change The Entire Dynamics Of A Room
Fluorescent lighting can be glaringly bright and uncomfortable to sit under. In most installations, the light is diffused through some type of fixture. Standard issue light diffuser panels are uninteresting and in many cases dull. They typically have an off-white or bone color that adds very little to a room. The good news is that fluorescent light covers can change the entire dynamics of a room almost immediately. They are easy to install, affordable, and easy to maintain. These stunning light fixtures can take an ordinary room to a totally new level of perfection.
The Beauty Of Natural Landscaping
Do you know someone who appreciates the outdoors and clear blue skies? Do you love the look of fluffy white cloud formations? Then you will truly enjoy sky-and-cloud light fixture covers and what they can do for ordinary fluorescent lighting. We also have great light covers for people who enjoy the sheer beauty of natural landscapes. If you love the look of mountains and forests, you will certainly appreciate the beauty of landscape light covers. Ocean enthusiasts will also enjoy the many types of ocean like covers that are available today. With a virtually unlimited number of styles, designs, and images available, now is the best time to consider investing in image-based light covers for ceiling lights.
Decorative And Brilliant Fluorescent Light Fixture Covers
As a trusted name in fluorescent light panels, Octo Lights lets consumers choose from a wide selection of decorative covers. We offer decorative and brilliant fluorescent light fixture covers that are impressive in every respect. Even uploading a personal photograph or other type of image is easy and convenient with Octo Lights. From standard-size diffusers to custom sizing, it has never been easier and more convenient to retrofit home lighting in this way. Octo Lights is literally a one-stop source for the very best in sky-and-cloud panels. Contact Octo Lights today to learn more about turning ordinary home lighting into something special and remarkable.