Whether the goal is to spruce up your home or office's existing theme or to cut down on its energy costs, choosing decorative fluorescent lighting covers is the way to go. These inexpensive devices attach directly to your light fixtures, and you can start experiencing the benefits within seconds of installation.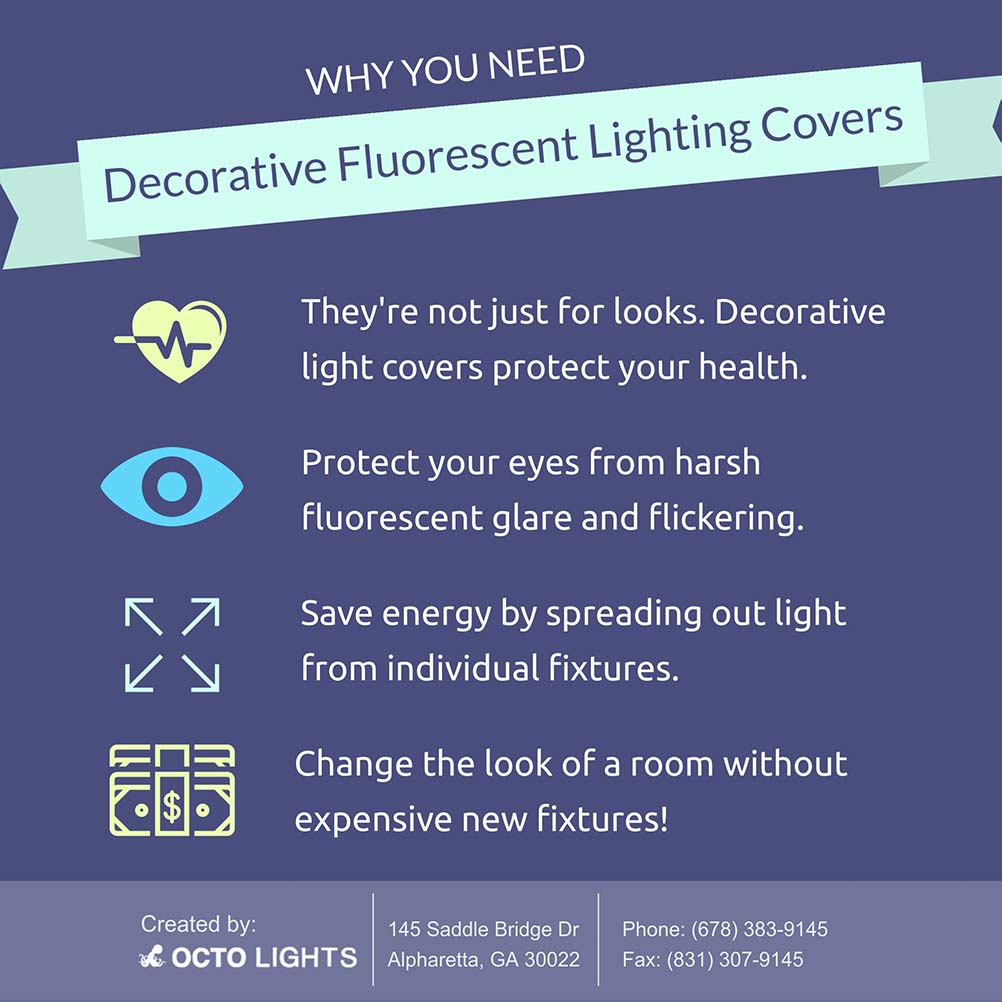 Why Decorative Fluorescent Lighting Covers
Fluorescent lights are used in a majority of public and commercial buildings. They are energy-efficient and very bright, which makes them the go-to product for many establishments. For the same reasons, more and more homeowners are also turning to fluorescent lighting.
Until recently, the benefits of fluorescent lighting had to be balanced with its negative side effects. Common side-effects include headaches and eye soreness caused by the harsh light and an imperceptible flicker, and there was little to do about it. This all changed with the advent of decorative light covers.
At first glance, these products appear to be for aesthetic purposes only, a means to improve the look and flow of the space. However, it is important to note that the main purpose of the fluorescent light covers that we sell at Octo Lights is to improve your health. Our light covers shield the intensity of fluorescent light, while at the same time maximizing light distribution. The result is a room that is more evenly lit and safer for your family. Instead of a harsh glare, the light that filters through a decorative light cover is muted and calming, without losing out on brightness.
How Fluorescent Light Covers Disperse Light
Dispersion is another direct benefit of decorative fluorescent lighting covers. Broader light distribution means fewer light sources are needed per room. Using fewer fixtures can dramatically reduce the amount of energy needed to power your home or office. The annual savings from purchasing a set of light covers is more than enough to recoup the cost of your initial investment.
A New Look for Your Home or Office
The decorative light panels we carry are going to make your home's lighting look amazing. Every homeowner wants their house to look its best. So if yours is currently sporting dull, yellowed fluorescents, you know exactly what we mean. Replacing the entire fixture is expensive, so why not insert a cheap cover that will protect the case as well as make it look better than ever? You will not be disappointed! View our selection of home and office light covers today!