There are many ways to improve office productivity in today's modern businesses. You could provide employees with better access to ergonomic furniture or a more spacious environment. Enhancing an office can improve employee morale and a company's bottom line performance. But one aspect of improving office productivity that often goes overlooked is artificial lighting. Employers must ensure that there is proper lighting in the workplace. Continue reading to learn how to soften fluorescent lights and improve office productivity with fluorescent light covers.
Diffuse And Soften Fluorescent Light
Innovative, unique, and attractive decorative recessed light covers are not just good-looking. They also improve artificial light. The functionality comes in their ability to diffuse and soften fluorescent lighting. Unfiltered fluorescent light can be too harsh or intense. But when fluorescent lighting is correctly filtered or diffused, it is much more comfortable. Filtering fluorescent light dramatically reduces the chances of chronic headaches and persistent eyestrain. In people with migraines, fluorescent lights can trigger severe pain, possibly due to flickering blue light. This is an important consideration for employers who wish to keep productivity at the highest levels possible. Business owners understand that spending a little extra on the right type of lighting can ultimately save them money. Quality lighting fixtures can improve productivity and save money over the long term.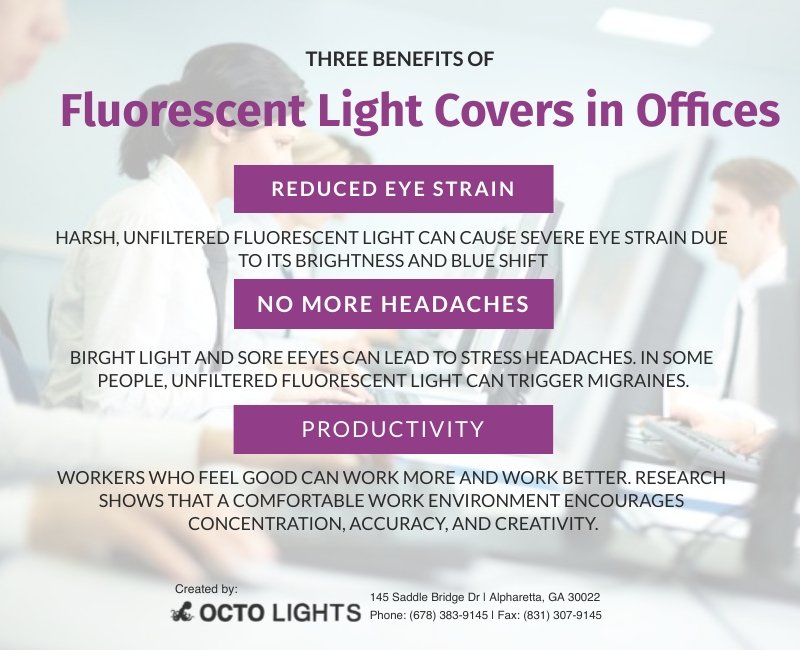 Creating A Relaxing Environment
Fluorescent light diffusers are unique because they can be manufactured with a wide range of images or photographs. Customization provides an added level of elegance and beauty. And it helps create a relaxing environment in almost any type of office or workspace with fluorescent lighting. Even medical offices, dental offices, schools, and churches can substantially gain from light covers for their ceiling lights. Creating a relaxing environment and improving office productivity with fluorescent light covers has never been easier. You can select from our wide range of pictures and images when ordering fluorescent light covers. Or you can upload your own images.
Convenient And Affordable
You can choose images from our library inspired by astronomy, nature, ocean scenes, and exotic beach vacation locales. And with customization, you could broaden your selection to any other type of image imaginable. Replacement fluorescent light panels are limited only by your own imagination. Best of all, designing a custom-crafted fluorescent light diffuser is easy, convenient, and affordable. All you need to do is upload your desired image. Once you've uploaded an image, we can process it to craft a beautiful light cover. These covers are easy to maintain and are durable over the long term.
Industry Leader in Fluorescent Light Covers
With so much to offer, it is clear why decorative fluorescent light fixtures are sweeping the country in offices large and small. More and more office managers and business owners are discovering the value and benefits of fluorescent light covers. And as they learn, they are turning to experienced and knowledgeable companies that specialize in this type of product. One company that stands out as an industry leader is Octo Lights. We are a trusted and respected name for the best light panels made with the highest quality materials available today.
Contact Octo Lights today to learn more about these unique and innovative fixtures.