These days, everyone wants the perfect bathroom. Popular television series featuring home makeovers show homeowners building palatial, resort-style bathrooms as part of the master suite. But not everyone has the time or money for that kind of makeover. But that doesn't mean you can't upgrade your bathroom quickly and easily. Fluorescent light diffuser covers offer an ideal decorative option for your bathroom.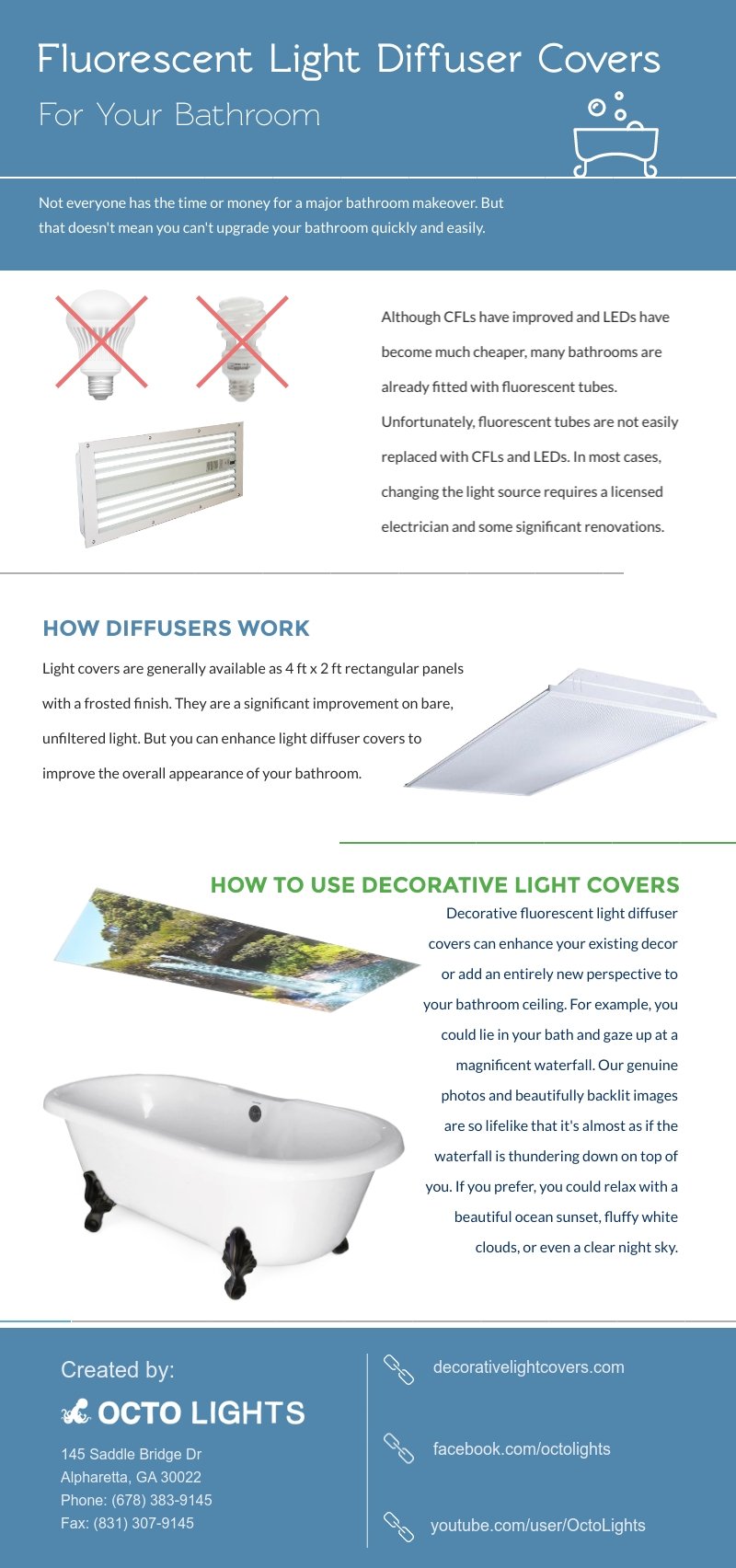 The State of Bathroom Lighting
For a long time, bathrooms were illuminated using a single incandescent light bulb in a basic light fixture. But with the demise of incandescent bulbs as a favored light source, things have changed. People are now forced to use compact fluorescent light (CFL) bulbs, fluorescent lighting tubes, halogen lamps, or light-emitting diode (LED) lamps.
Of these options, fluorescent light tubes became a popular choice. This is due partially to the relatively low light emission of the original CFLs and the high cost of the LED lamps. Although CFLs have improved and LEDs have become much cheaper, many bathrooms are already fitted with fluorescent tubes. Unfortunately, fluorescent tubes are not easily replaced with CFLs and LEDs. In most cases, changing the light source requires a licensed electrician and some significant renovations.
Today, modern CFLs are better than those developed initially, and LED lighting is becoming fashionable and cost-effective due to its lower use of electricity. However, fluorescent lighting is still used in many bathrooms because the bulbs are cheap, they are energy-efficient, and they last a long time. Many people are still installing them even in new bathrooms. However, when used without a cover, fluorescent lights can be harsh on the eyes and even cause emotional agitation.
Fluorescent Light Diffuser Covers
Fluorescent light diffuser covers even out the light from fluorescent lamps and prevent glare. This allows you to create warm, diffuse lighting in your bathroom. The filtered light is more conducive to relaxation as you pamper yourself in your bath.
Light covers are generally available as 4 ft x 2 ft rectangular panels with a frosted finish. They are a significant improvement on bare, unfiltered light. But you can enhance light diffuser covers to improve the overall appearance of your bathroom.
Bathroom ceiling light covers can easily be fixed to the individual 4 x 2 panels. They can enhance your existing decor or add an entirely new perspective to your bathroom ceiling. For example, you could lie in your bath and gaze up at a magnificent waterfall. Our genuine photos and beautifully backlit images are so lifelike that it's almost as if the waterfall is thundering down on top of you. If you prefer, you could relax with a beautiful ocean sunset, fluffy white clouds, or even a clear night sky.
Custom Light Diffuser Covers
You can gaze up at the constellations in the night sky or admire the scintillating colors of tropical fish backlit by your ceiling lighting. Octo Lights offers a wide variety of themes and images for your bathroom ceiling light covers. But we can also make fluorescent light diffuser covers customized just for you. Pick your size (we cut to custom sizes, too), upload a digital photo, and we will do the rest.
Fluorescent light diffuser covers offer the ideal way to decorate your bathroom ceiling in a totally new way. You could use just one or two. But if you have several fluorescent light fixtures in your bathroom, consider combining light covers for a larger composite image. The covers are so affordable that you could use them on your entire ceiling. There are no limits to the type of image you can have printed onto these covers. People will visit just to admire your magnificent bathroom!