Stress has become a regular part of the modern lifestyle. Whether your stress comes from work, family, or other obligations, finding ways to relax and destress has never been more important. One easy change that you can make to be more relaxed is to install decorative fluorescent light panels. Fluorescent light panels can help you relax in your bedroom, your living room, or any other room in your home. The light panels change the light you receive to make it less agitating and more calming. You can also create custom light panels with your own images. Whatever image helps you to relax can be transferred to fluorescent light panels. Your relaxing image will glow above you whenever you need special time to recharge.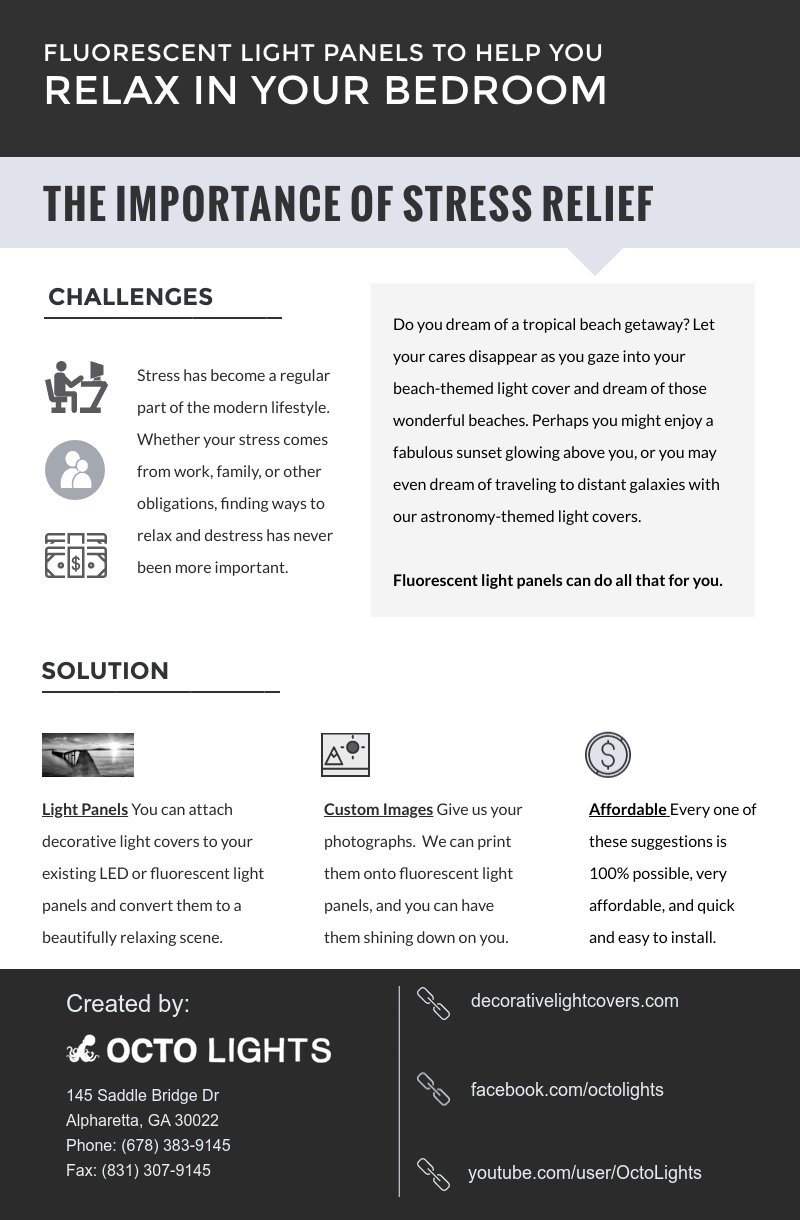 The Importance of Stress Relief
Everybody needs relaxation time—a time when they can lay back and let the worries in their life just fade away. One way to optimize your relaxation space is to install decorative fluorescent light panels. You can gaze up at your ceiling and get lost in a beautifully backlit image of your choice.
Do you dream of a tropical beach getaway? Let your cares disappear as you gaze into your beach-themed light cover and dream of those wonderful beaches. Perhaps you might enjoy a fabulous sunset glowing above you, or you may even dream of traveling to distant galaxies with our astronomy-themed light covers.
Fluorescent light panels can do all that for you. You can attach decorative light covers to your existing LED or fluorescent light panels and convert them to a beautifully relaxing scene. Everybody needs some stress relief and complete relaxation now and again, so why deny yourself this critical human need?
Here at Octo Lights, we can offer you a large selection of decorative light panels printed with relaxing scenes. You just lay back and enjoy them whenever you turn on your lights. They are not only relaxing, but they are still lights. Our fluorescent light panels are transparent enough that they still illuminate your rooms. Even our nighttime sky panels let through enough light that you won't need another light source. And because all of our panels are designed using real photographs, you can identify individual stars and constellations if you know them.
Enjoy Your Dream
What is your dream? What do you believe would relax you most of all? Some people find ultimate relaxation in the glowing colors of a golden orange sunset. Others feel calm when they imagine a peaceful ocean or beach escape. Sometimes you just want to stare up into a perfect summer sky. Our sky and cloud panels feature views of a bright blue sky with lovely puffy clouds. If family is what moves you, try our custom light covers with backlit photographs of your children or grandchildren. Relaxation never got better!
All of this is possible with Octo Lights. You can choose from our wide range of fluorescent light panels. From beautiful sky and cloud panels to views of your favorite constellations in the night sky, you're sure to find what's right for you. For the real astronomy buffs, you could run a quiz with your visitors. Who can identify most constellations on your ceiling?
Custom Fluorescent Light Panels
Don't worry if we don't have your ideal light cover. Just give us your own photographs—your children, pets, favorite vacation scenes, or just some photos you have found that you love. We can print them onto fluorescent light panels, and you can have them shining down on you whenever you choose.
If all of this seems expensive or difficult, it is not! Every one of these suggestions is 100% possible, very affordable, and quick and easy to install. Many people from all different walks of life come to use to help them design a ceiling to meet their needs. Some ceilings are for commercial properties, with a company logo shining down on prospective clients. Other customers are seeking the soothing properties of fluorescent panels for hospital and school ceilings.
However, most customers just want something unique for their homes. The relaxing effect of fluorescent light panels cannot be overemphasized. You really have to experience it to understand how great they are. But if you want to get an idea, check out our testimonials page to see what people are saying. Decorative light panels are not expensive, and they can be printed with your own photographs. They are easy to install and will make a world of difference in your home. So check out our full selection and get started on your journey to relaxation.