Technology has always affected how people work. With the proliferation of personal computers and the boom in internet technology, remote working has become more and more prevalent. Home offices are no longer exclusive to those who are self employed. Many workers now work full or part time from their homes. This has made home offices more common. But it's not always easy to optimize your home office. Home office workers need to consider their environment. One important consideration is finding the best lighting for your home office.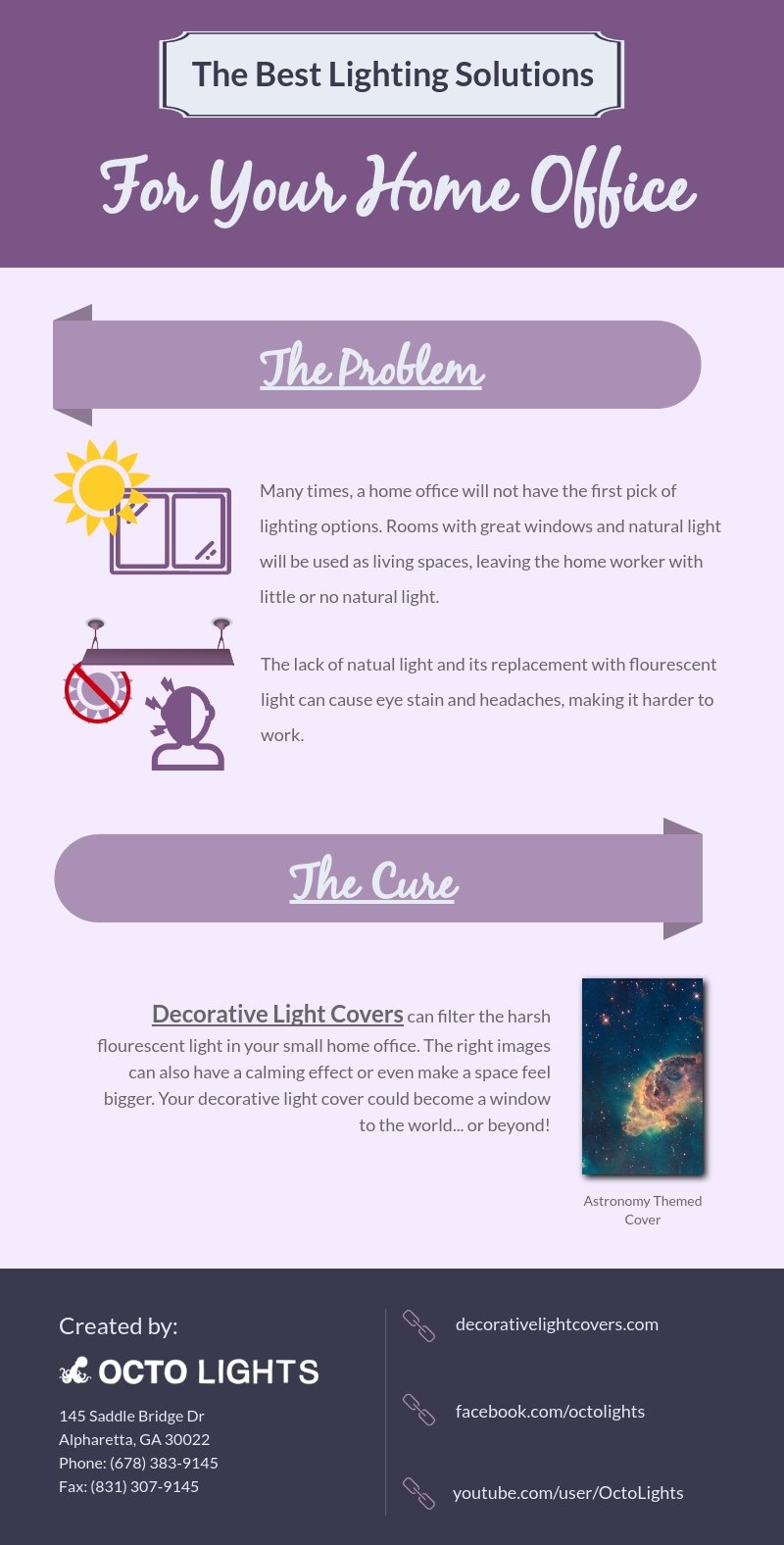 Finding the Best Lighting for a Home Office
If you work from home, you know that a home office is an important part of your ability to be productive. Having a dedicated space for working helps in a number of ways. Working in a space that you use for other purposes--eating, sleeping, recreation--can be incredibly distracting. Sleep experts suggest that you use your bed only for sleeping. That way your mind associates your bed with sleep and you will fall asleep more easily. The same is true of work. When your mind associates a room with work, it will make it easier to focus. If you work somewhere else, the opposite is true.
If you are sitting in a room in your house not dedicated to work, there are tons of other things you may notice that need to be done. For example, if you work in your kitchen you may see dishes that need to be cleaned. If you work in a bedroom, you may see clothes that need to put away, laundered, or organized. Pretty much any place you can work will set off some kind of alarm to do something besides work.
Having a dedicated work space at home, your home office, is a huge contributing factor to successfully working from home. But if your home office isn't conducive to work, you may be doing yourself less of a favor than you think. Unfortunately, many home offices are a bit of an afterthought. A home usually built with dedicated bedrooms, a living room, a dining room, and a kitchen. But it is rare for a house to be built to include a dedicated office. Instead, home offices are usually repurposed bedrooms, bonus rooms, or basements.
A Lock of Good Lighting
Many times, a home office will not have the first pick of lighting options. Rooms with great windows and natural light will be used as living spaces, leaving the home worker with little or no natural light. In addition to this, home offices are often small. If your home office is a cramped space with artificial lighting, you may find that working there is less attractive than it could be.
One step to making your home office as useful and productive as possible is to find the best lighting solution for your home office. Many home office workers will try adding a lamp or some other supplementary lighting, but few have considered decorative fluorescent light covers.
Decorative Fluorescent Light Covers in a Home Office
It's not surprising that most home office workers have never considered decorative fluorescent light covers. Until recently, decorative fluorescent light covers have been rare. Often they were made of cheap material and sold at premium prices. But times have changed. Decorative Fluorescent light covers have evolved. Octo Lights now offers high quality, competitively priced decorative light covers with hundreds of different designs. This should make you reconsider using decorative fluorescent light covers in your home office.
There are many benefits to installing decorative fluorescent light covers in a home office. First, we will focus on the decorative aspect. Home offices are often cramped and windowless. If this sounds like your office, adding a little decoration can't hurt. There may not be a lot of room for a large potted plant or wall art. But adding decorative fluorescent light covers requires not additional space. And with options like blue skies, beaches, and nature scenes, your light fixture can become a virtual window on the world. Or perhaps you want something a little more out of this world. Our wide selection of astronomy themed light covers can give you a view of space that will transport you even farther than the eye can see.
Other Benefits of Decorative Light Covers
Besides being fun, relaxing, calming, and beautiful to look at, decorative fluorescent light covers serve another purpose. There is a significant body of research that indicates negative effects of unfiltered fluorescent lighting on worker productivity. Standard pink or cool-white fluorescent lights are one of the worst ways to light a workspace. Even so, their competitive pricing and energy efficiency made them standard in nearly every workplace. But modern science is showing us that this was an unfortunate miscalculation that led to billions of dollars in lost worker productivity. That's not to mention the eye strain, headache, and fatigue experienced by millions of workers.
If you want to avoid the negative effects of standard unfiltered pink or cool-white fluorescent lighting, you may think you have to think big. You could replace your light fixture. But that requires hiring a contractor and maybe an electrician. You also will sacrifice precious work time while the job is completed. In addition to lost time, the cost of replacing fixtures is not inconsequential. A new fixture can cost hundreds of dollars to purchase and install. But there is a better option: decorative fluorescent light covers.
The Benefits of Decorative Light Covers
In addition to being pretty to look at, decorative light covers can actually affect your health, mood, and productivity. Combating the negative effects of raw, unfiltered fluorescent lighting can seem like an expensive project. But it doesn't have to be. You could use decorative fluorescent light covers to filter that fluorescent light. For less than $30 you will experience a much healthier, more relaxing light.
A wide range of home office workers have become extremely happy customers of Octo Lights. Their reviews are a testament to the benefits of decorative light covers. Many workers love how they look. They also love the filtering aspect that makes their space more pleasant to work in. The reviews say it all.
Nicole, a satisfied Octo Lights customer, told us that her decorative light cover makes all the difference in her tiny office. This is just one example of how you can use decorative light covers to open up a small space. With options ranging from beaches, to nature scenes, to beautiful blue skies, it's easy to make your office feel less like a tiny box.
Not Just for Home Offices
Even if you don't have a home office, you can try out one of our light covers in your office space. If you have control over the lighting in your office, you might want to try adding a decorative light cover. The harshness of the fluorescent lights above your workspace will be greatly reduced. The designs are so attractive that you just might become the talk of the office. That's what happened with Loretta, who installed a space themed light cover. Here's what she said:
"I love my cover. Dims the harsh light. Everyone is coming to see my work area. They want one as well. Decorative and functional."
If you own a business, you could install decorative light covers throughout your office. Many customers have told us that installing the decorative light covers in theri offices have produced an amazing boost in employee morale. In short, people love them. And it's easy to see why. When you cut out the harsh unfiltered fluorescent light, you make your office space much more pleasant to work in. And the gorgeous images are a wonderful addition to your office space.
Whether you have a home office, an office space at your company, or own a business, now is the time to improve your lighting with decorative light covers. Check out our many styles of lighting covers and choose for yourself. Check out what all of our satisfied customers are saying and then order your own today!