For many, a workspace is a sacred area. It sparks productivity and gives you the drive to get vital tasks finished. This space could be a home office, a room in a city high rise, or even a cubicle in an office building.
No matter the location, though, your workspace needs to be well lit and well-decorated to achieve optimum productivity. Unfortunately, most workspaces (especially those in office buildings) don't provide the proper lighting or decor to promote optimal productivity
Office and workspaces often contain boring white walls and standard fluorescent light fixtures. These light fixtures emit harsh lighting that can lead to headaches and a severe decrease in productivity. This is why standard fluorescent lighting—while energy efficient and more affordable in the long run—isn't the best option for spaces intended to encourage productivity, such as business or home office spaces.
One way to fix the lighting and productivity issue is to proceed with costly renovations of your workspace. This might include purchasing new decor, new furniture, and new light fixtures. But if you're on a budget—as most businesses are—such renovations can be costly. Also, if you work in an office that is not your own, you may not have control over the lighting or decor in your workspace.
Luckily, you can still drastically change and modernize your workspace. You can create a more productive environment affordably and easily by installing decorative fluorescent office light covers.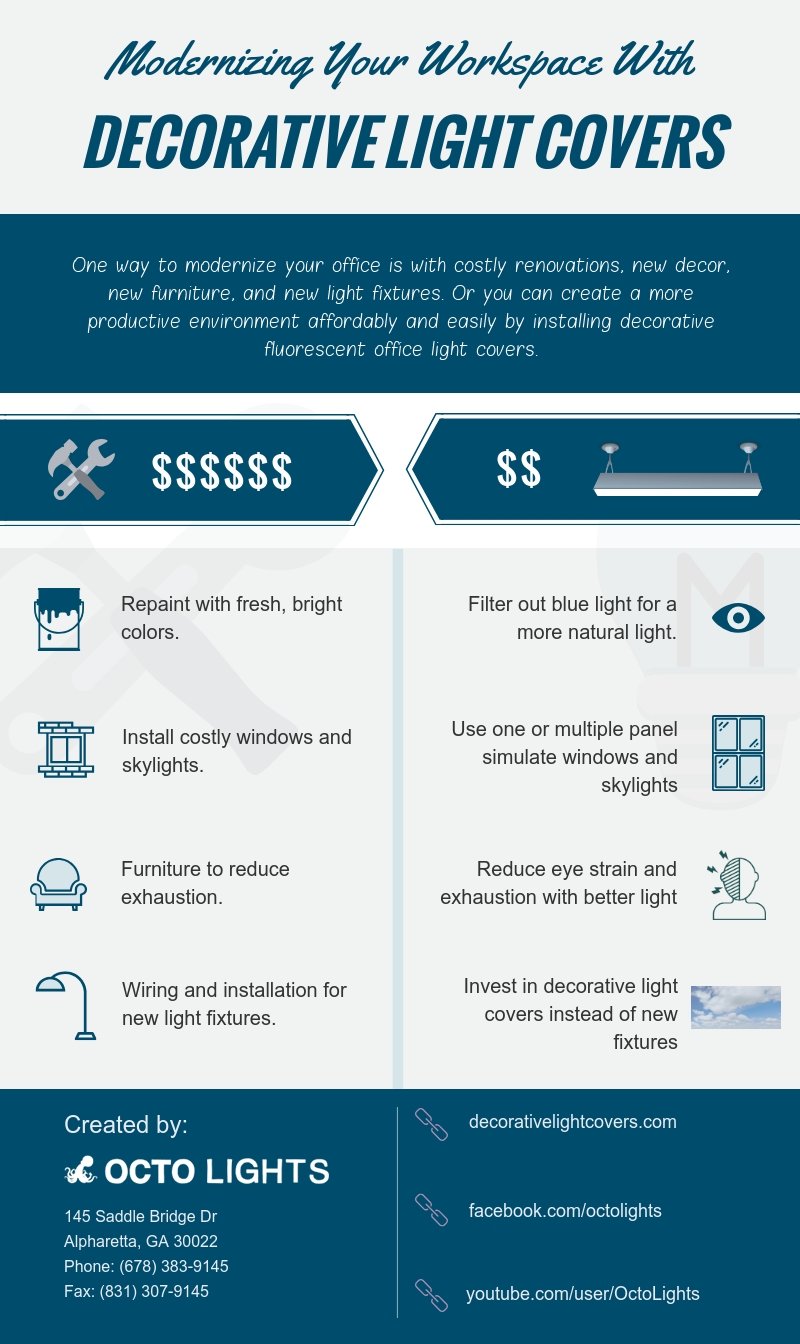 Why Choose Decorative Fluorescent Light Covers For Your Workspace?
Choosing decorative fluorescent office light covers for your workspace is a no-brainer. For one, light covers are much more affordable than elaborate renovations, and they can truly transform any space into a work of art.
As we noted, standard fluorescent light fixtures emit harsh light that can cause a myriad of issues including headaches, migraines, eye strain, and a significant decrease in productivity. Fortunately, decorative fluorescent light covers are easy to install over existing fluorescent light fixtures. They diffuse the harsh light to increase productivity while also retaining all of the energy-saving benefits associated with fluorescent lighting.
Decorative light covers have been gaining popularity over the last few years due to their unique qualities. They can create a fantastic work of art in a wide array of spaces. Office light covers can also create the illusion of more space.
For example, by installing cloud light covers in a cramped bathroom, you'll be creating the illusion of a real skylight but without the astronomical cost. Windows and skylights are known for creating more space in any room. That's why these light covers—which display beautiful clouds and blue skies—are ideal for cramped spaces.
Decorative fluorescent light covers are typically used in households and business offices. But they are also ideal for hospitals, dental offices, schools, and a range of brick-and-mortar businesses. No matter the location, decorative fluorescent light covers can effectively improve and upgrade your space.
Now that you know what fluorescent office light covers are capable of, to understand why they're perfect for upgrading your workspace, let's explore some of the best light covers available for workspaces in particular.
Ready-Made Decorative Light Covers For Your Workspace
Octo Lights offers the broadest range of ready-made decorative fluorescent light covers on the market today. These light covers could be the perfect addition to your workspace, wherever that is.
Octo Lights light covers boast a wide variety of themes and images to create whatever look and feel you want. You can completely transform your workspace by introducing a jaw-dropping work of art. Here are just some of the best light covers available for your workspaces.
Landscape Light Covers For Your Workspace
One of the most popular fluorescent light cover options available for your workspace is the landscape light cover theme from Octo Lights.
These light covers display images of gorgeous landscapes and mountainscapes from around the globe. They are the perfect option to inspire you while you're getting work done at home or the office. Landscape light covers also fit any modern theme and can significantly upgrade even the most outdated workspace.
You can also combine these light covers to create a massive decorative light cover panel on your workspace's wall. Combined panels give you an incredible faux-window with a view of a serene nature-filled landscape. Continue reading to learn more about our modern workspace ideas.
Beach Light Covers For Your Workspace
Another fantastic option for your workspace is beach-themed decorative fluorescent light covers from Octo Lights. They're perfect for showcasing your laid back personality in your place of work.
These light covers display beautiful white sandy beaches, palm trees, and tropical skies to create the illusion of a real window with an utterly breathtaking beachfront view; and one that will be visible even during the chilly winter months.
You can install these light covers on your workspace's ceiling or combine multiple light covers on your wall to create one massive image that will be the focal point of your overall space.
Astronomy Light Covers For Your Workspace
Similar to our cloud light covers—which, as mentioned before, can create the illusion of a real skylight—astronomy light covers are the perfect option for workspaces that are lacking in space or windows, as they can efficiently create more space.
These light covers showcase awe-inspiring star patterns, solar systems, galaxies, and nebulae. They are guaranteed to stimulate your mind and increase your productivity while you're hard at work in your home or business office.
Astronomy light covers can also be combined with outer space themed decor and furniture items, making them perfect for techies or anyone obsessed with science fiction. They're a great way to showcase your personality.
Tree Light Covers For Your Workspace
By far the best fit for modernized workspaces, Octo Lights tree light covers also create great feng shui throughout your space.
Images of nature are widely known to calm the mind and create a sense of peace. That's why these light covers—which display a range of different trees—are ideal for instant stress relief while you're working.
These light covers also pair perfectly with modern design, as their neutral look fits in seamlessly with modern furniture—such as desks, chairs, tables, bookcases, and couches—as well as other decor items.
Ocean Light Covers For Your Workspace
If you're into aquatic life, then you'll love ocean light covers from Octo Lights for your workspace. These light covers display vibrant schools of fish, dolphins, and even sharks to give your workspace a unique look and feel.
Installing these light covers on your office walls or ceiling will create the illusion of a window into an ocean-filled scene. They're perfect for those obsessed with fish or other marine life.
Images of sea-life and serene oceans are also known to improve one's well-being. These light covers can be used in any space to enhance anyone's mood or mental frame of mind.
Choosing Custom Fluorescent Light Covers For Your Workspace
While our ready-made fluorescent light covers are ideal for almost any workspace, they can be limiting. Sometimes, your taste and interests go beyond our collection.
That's why at Octo Lights we allow our customers to create their own custom light covers. With custom light covers you choose your own images to create a focal point in your workspace that showcases your unique personality and sense of design.
The process for creating your own light covers with Octo Lights is extremely easy and quick. You just choose your image(s) based on our requirements, upload it to our website, and you'll receive a link to purchase your order.
Here are a few ideas for custom decorative light covers that could be ideal for your workspace:
Creating Custom Decorative Fluorescent Light Covers Using Family Photos
One of the most popular items for any workspace is a framed photograph of your family members. Custom light covers can work in the same way as a framed photograph but in a much larger and unique way. You can create light covers using pictures from a recent vacation or cruise, or use photos from your wedding. It's easy to keep your loved ones close while at the office, and your personal photos will look great in your workspace.
Creating Custom Sports-Themed Decorative Fluorescent Light Covers
Are you a sports fan? Custom decorative light covers give you the ability to create the perfect sports-themed centerpiece for your workspace. Showcase your personal interest in basketball, football, soccer, and or any sport you love.
You can create these light covers using images of specific players or the logo of your favorite sports team. You can even utilize images of sports teams from the past or use images of particular sports stadiums. The possibilities are endless.
Creating Custom Light Covers Using Images Of Famous Quotes
If you admire a famous philosopher, entrepreneur, or entertainer, then you should consider creating a custom fluorescent light cover using their quotes.
These light covers will be a source of inspiration for you. Like other inspirational art, famous quote light covers could make a significant difference in your workflow. They're especially helpful when you've hit a wall in productivity. Some of the most popular quotes come from iconic individuals such as Steve Jobs, Walt Disney, Oprah Winfrey, and other successful business people.
You could even utilize quotes from ancient philosophers such as Aristotle or Socrates to provide you with words of wisdom in your workspace. These light covers can use custom fonts or even use images of the icons themselves in the background. The choice is yours.
Shopping For Decorative Fluorescent Light Covers Online
Now that you know just how useful decorative fluorescent light covers can be when modernizing and upgrading your workspace, it's time to find a company that sells these innovations in decorative lighting online.
Thankfully, you're in the right place! Octo Lights is a world leader in decorative fluorescent light covers that fit any space in your home, business office, or anywhere else you spend time. We offer the widest range of ready-made light covers to fit any theme or aesthetic design. We also give you the option to create your very own.
Unlike our competitors, light covers from Octo Lights are incredibly simple to install. They fit almost any existing fluorescent light fixture. If they don't, we'll cut them to size for you.
Why Should You Choose Octo Lights?
At Octo Lights, we've been proudly providing the world with the best in fluorescent light covers. We measure our success by how much value we can provide. We aim to maximize both utility and affordability.
Octo Lights is also one of the only fluorescent light cover companies to implement eco-friendly practices in the manufacture of our products. All of our products are produced using UV-resistant, water-based inks. That lessens our impact on the earth and pushes us closer to our goal of creating a more sustainable environment.
The best part about choosing Octo Lights is the fact that we are wholeheartedly dedicated to customer service. We offer our fluorescent light covers at the lowest price possible and guarantee our customers will love our products. That's why we offer a return policy with our customers in mind. If for any reason you're not absolutely floored by your light covers, you can return them. We give you up to two weeks. You can either return your light covers for a refund or replace them with different light covers.
So, what are you waiting for? Browse our shop today to see all of our ready-made light covers or create your own using an image of your choosing. If you have any questions about any of our products, contact Octo Lights, and one of our experts will be in touch with you.
To see what some of our past customers are saying about their decorative fluorescent light covers from Octo Lights, please visit our testimonials page, or visit our installation instructions page to get help with installing your recent purchase.