Interior designers and homeowners alike are always in search of better lighting. They look for unique and innovative ways of revolutionizing dull or boring home interiors. While carpeting and other types of flooring can add appeal, one of the best ways to transform an interior is through better lighting. Unique decorative light panels enhance the functional and visual quality of lighting. They can soften harsh fluorescent light while adding a distinctive visual appeal that is second to none.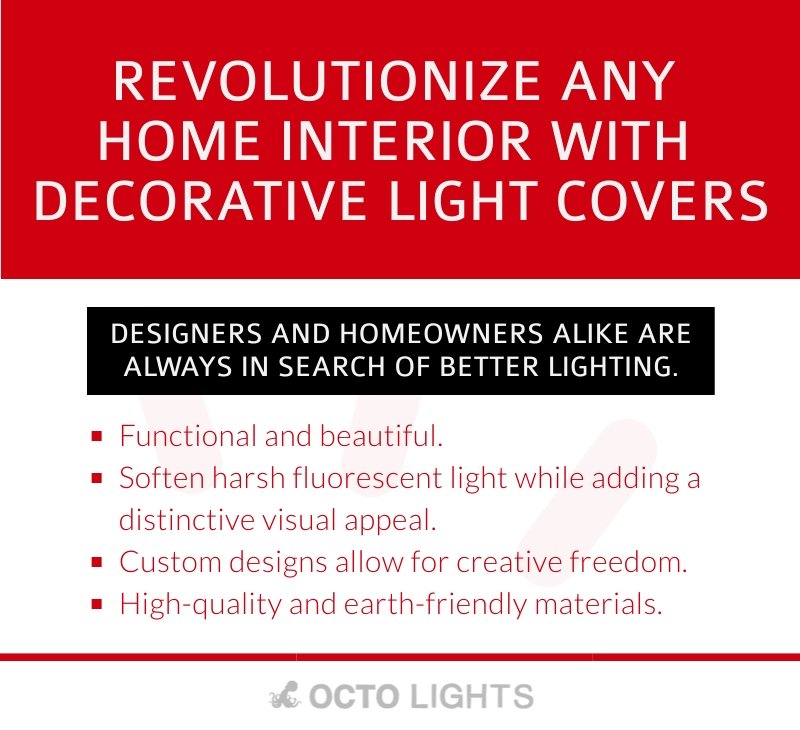 Diffusing Light With Beautiful Images
A recent breakthrough in decorative fluorescent light covers is how easy and convenient it is to upload custom images to create unique light covers. Diffusing light with beautiful photos has been around for some years. However, only recently have innovators like Octo Lights employed the latest technology to offer custom images at no extra cost to consumers. You can get as creative as you like, creating better lighting without worrying about added costs. Your custom light covers will look great, last a long time, and are incredibly easy to maintain.
Quality Fixtures At Affordable Prices
From kitchen fluorescent light covers to bedroom ceiling panels and virtually any other room in the home, this type of light cover only continues to grow in popularity. More and more people are discovering the elegance and beauty of decorative light covers. And they are turning to experienced and knowledgeable companies that understand how to produce quality fixtures at affordable prices. One company in particular that offers high-quality and competitive pricing is Octo Lights. We have a proven reputation and have earned consumers' trust over many years, one customer at a time. With a commitment to quality and affordability, Octo Lights is a company that simply gets it right.
The Trend Will Only Continue To Grow In Popularity
We offer decorative light covers from sky-and-cloud panels to panels that portray astronomy scenes and waterfalls. Our images are created in-house by our skilled designers. And with custom printing, the possibilities are truly unlimited.
As more and more people turn to beautiful fluorescent light covers, the trend will only continue to grow in popularity. These unique fixtures have many applications, from adding value to a home to transforming a medical waiting room into a more relaxing environment. Sky-and-cloud panels diffuse fluorescent light in an imaginative and artistic way, creating noticeably better lighting. Few other types of lighting fixtures can compare.
Providing Real Functional Value With Better Lighting
Octo Lights is a company with a real passion for creating the best ceiling light covers for home and office. Best of all, we adhere to earth-friendly practices by using sustainable natural materials to minimize the impact on the planet. Our decorative and stunningly attractive light covers look great and provide real functional value.
Contact Octo Lights today to learn more about our fantastic light diffusers available in standard and custom sizes.