You may have heard the research about the problems with fluorescent light. Or you may have read about the damage blue light can do to our sleep patterns. And if you do a little more digging, you'll find that—at least for fluorescent and LED light fixtures—there is a solution. Everyone today is talking about unique sky-and-cloud panels for use in homes, offices, schools, and institutions. So the question really becomes, "what exactly is a sky-and-cloud panel?"
In short, a sky-and-cloud panel is a unique type of decorative light diffuser. It can add beauty and elegance to almost any kind of interior space. And as an added bonus, sky-and-cloud panels help to reduce glare and the more harmful aspect of fluorescent light. They are also a vast improvement over the boring standard light diffuser panels found in most homes and businesses today.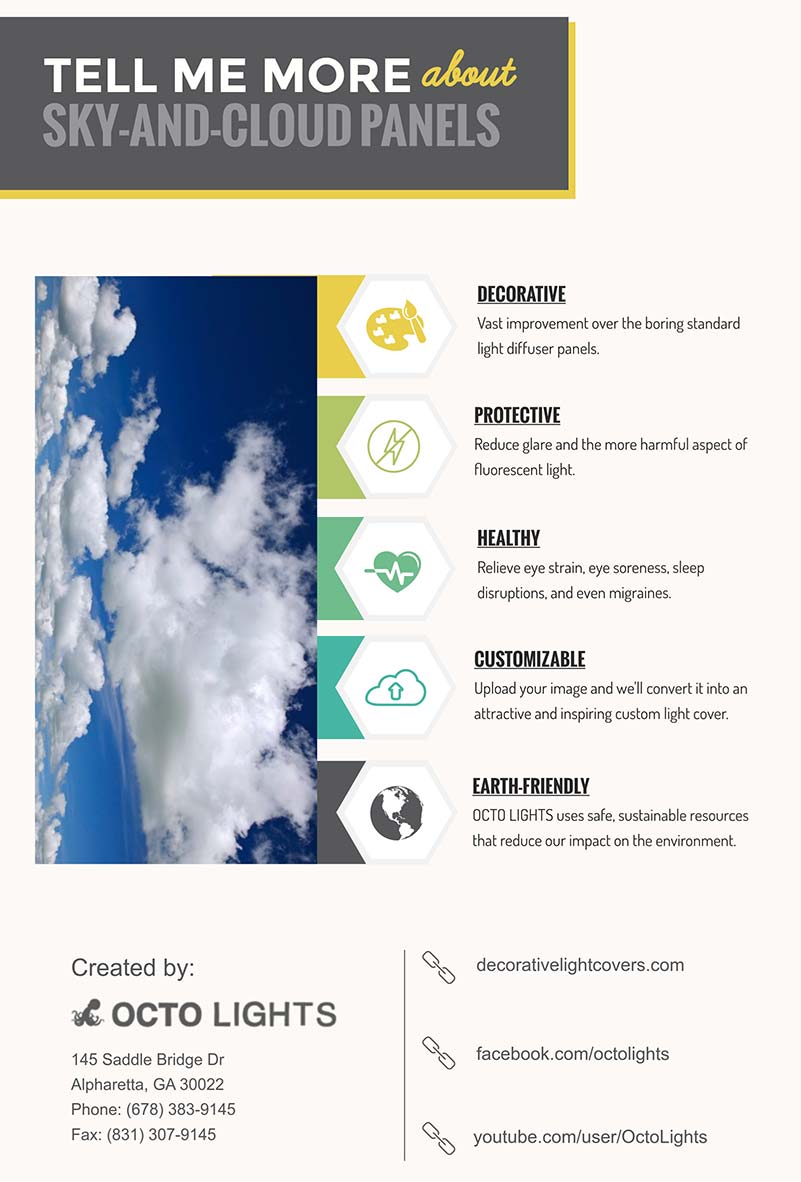 Lighting Panel
Regardless of the type of light bulb used, artificial light can have a direct effect on everyone in a room. That said, fluorescent and LED light is a particularly poor source of light, from a health perspective. The glaring, blue-tinted light can cause eye strain, eye soreness, sleep disruptions, and even migraines. However, fluorescent and LEd lights are also some of the most efficient and cost-effective lights on the market. So what is one to do?
One of the best ways to soften the light from fluorescent lighting is to install fluorescent light covers. In the last few years, this type of lighting panel has become available in many different types of creative styles and designs. Through the use of modern digital printing technology, homeowners and business owners have a new level of freedom. While sky-and-cloud panels remain the most popular, they are by no means the only choice. Homeowners and business owners are now able to install virtually any type of custom decorative lighting panel imaginable.
Easy To Install
Any image that can be uploaded to the Internet can be transformed into an amazingly attractive fluorescent light fixture. Through the use of modern computerized publishing tools and advanced printing equipment, Octo Lights offers custom printing at no extra cost. It is easier than ever before to enjoy the most unique and intriguing type of decorative fluorescent lighting covers imaginable. This type of lighting cover is affordable and easy to install. Many people choose to install these covers on their own. (See our how-to video here.) But there are also many professionals today who can do the work fast and affordably.
Upload The Image
Consumers can choose from our large selection of sky-and-cloud panels and other beautiful designs. This includes everything from waterfalls or clouds to astronomy or nature scenes. Many of our images are unique to Octo Lights, created by our in-house photographers and designers. But if you're looking for a more unique and stunning look, you can upload the image of your choice. We will quickly and accurately convert it into an attractive and inspiring light cover. Along with standard light diffuser sizes, we can also cut your light covers to a custom size crafted to fit a unique interior space. Interior designers particularly like having this flexibility.
Highly Regarded Source
When you choose a company that specializes in ceiling light covers, you want more than just a great product. You want exceptional service and conscientious business practices. In particular, it is always good to work with a team that has an earth-friendly approach. This includes making use of sustainable resources that are intended to reduce our impact on the environment. While many companies offer sky-and-cloud panels, one company, in particular, has consistently outpaced the competition. Octo Lights is a trusted and highly-regarded source for the very best fluorescent light covers that are designed to last. With years of experience, Octo Lights helps consumers achieve their lighting goals in an affordable and timely way.