When it comes to business, it's all about getting an edge on the competition. There are lots of ways to differentiate yourself from the competition. But if you haven't heard about the benefits of to businesses using decorative fluorescent light covers, you may want to take the time to learn about them. Decorative office light covers are a unique design element that can transform any space. Whether you run a restaurant, retail location, or an office, decorative office light covers can enhance your business. With great prices, easy installation, and excellent customer service form Octo Lights, decorative light covers for your business should be a no-brainer.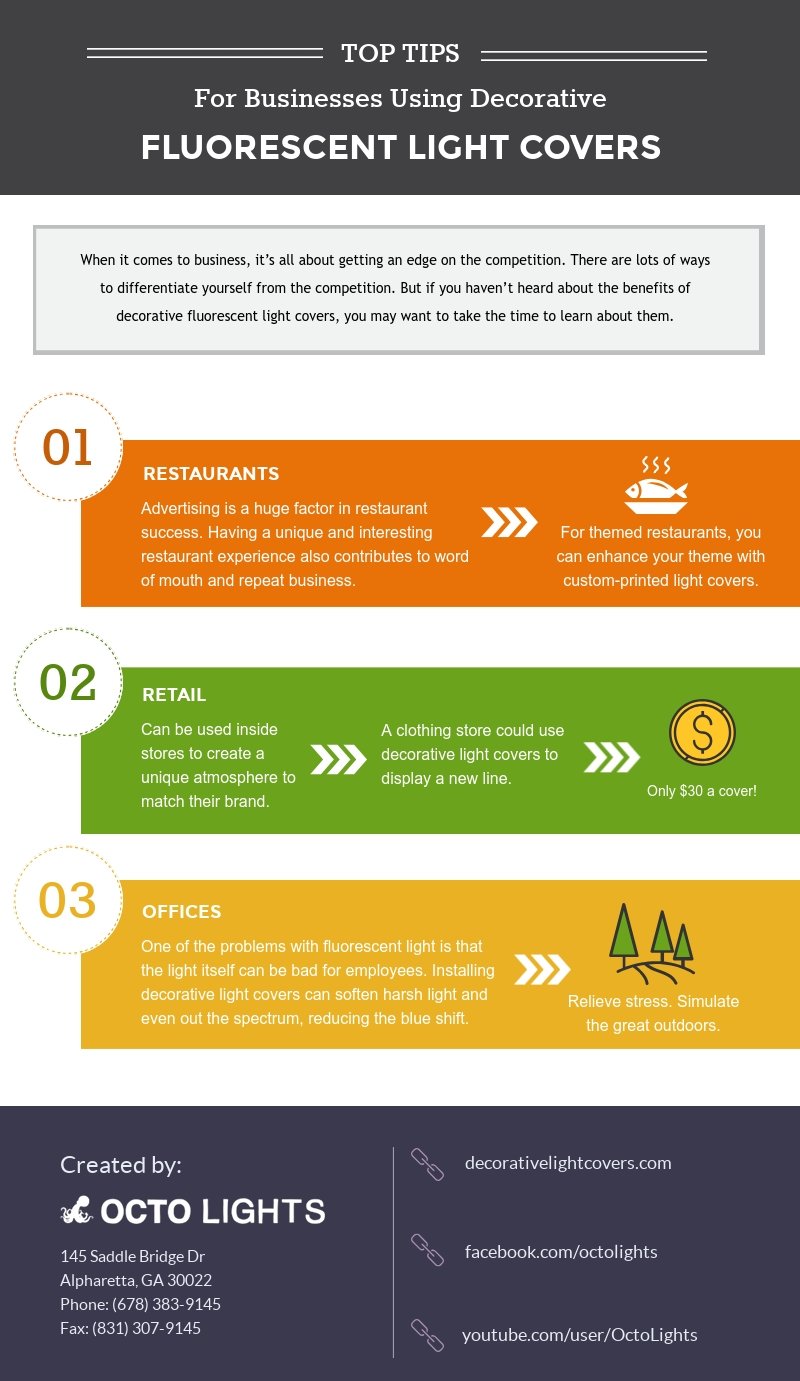 What are Decorative Fluorescent Light Covers
Decorative office light covers have been around for a while, but recently they have become especially popular. A decorative fluorescent light cover, also called a light filter, is a way to transform a boring fluorescent lighting fixture into a unique design element. Decorative light covers are available from different retailers in all sorts of styles and materials.
At Octo Lights, we use high-quality film that is printed with beautiful images and then backlit by the fluorescent lights. Our materials are UL certified self-extinguishing so you can trust that they are some of the safest materials in your place of business. They are also easy to install. They just slip behind your existing light cover and transform it into a brilliant design piece.
Many fluorescent light covers retailers make lots of claims about their products. With Octo Lights, you can be sure that you are getting a high-quality product, excellent customer service, fast product delivery, and some of the best prices around. In fact, if you find a similar quality product anywhere else for less than we charge, we will refund the difference.
Decorative Light Covers for Restaurants
The food service business is incredibly competitive. Even by the most conservative estimates, over half of all new restaurants fail in their first three years. Advertising is a huge factor in restaurant success. Having a unique and interesting restaurant experience also contributes to word of mouth and repeat business. There are hundreds of places to buy lunch or dinner in any given area. Patrons these days are looking for an experience, not just to fill their bellies.
If you want to create a unique atmosphere in your restaurant, including decorative light covers can make your business stand out. If you are designing towards an open, airy feel, adding cloud-themed light covers can give the impression of skylights opened up to a sunny sky. Even if you have another floor above you or the weather outside is less than perfect, your guests will feel like they are dining under bright skylights.
For themed restaurants, you can enhance your theme with custom-printed light covers. A marine-themed seafood restaurant could add Octo Lights' undersea light covers. Or they could print custom images that reflect their unique brand. For a vintage themed restaurant, printing decorative light covers that look like classic light fixtures is a great way to get an authentic look without breaking the bank on antique or replica pieces.
Restaurants that serve up healthier fare may want to project a natural theme. Octo Lights offers images of trees and flowers. We can also print your own images for a custom look. Consider images of healthy fruits and vegetables or exciting outdoor sports. If you have an interior designer helping to create a branded look for your restaurant, introduce them to Octo Lights. Decorative light covers are a great tool for branding.
Decorative Light Covers for Retail
With retail, competition can be stiff. You can have great products, but if no one comes through your doors, it doesn't matter what you sell. Advertising is key. If you are located in a dedicated shopping area, like an indoor or outdoor mall, you need something to draw passing customers into your store. Businesses located on the street or in a smaller shopping plaza need to stand out to draw attention to their stores.
Decorative light covers for retail can be used inside stores to create a unique atmosphere to match their brand. Custom-printed covers can also be used in displays as a cost-effective form of backlit advertising. Branding is a significant part of any retail location. No matter what you sell, you want your customers to know what your business is about and what it stands for. Custom decorative light covers can broadcast whatever image you want to convey. You can even take some of the images you might have used on your walls and put them on decorative light covers as eye-catching design pieces.
A clothing store could use decorative light covers to display a new line. At only $30 a cover, decorative light covers are cheap enough to swap out regularly. When the seasons change or a new clothing line is introduced, installing a few new light covers can direct customers' attention to the new products.
Decorative Light Covers in Offices
Whether you have 3 employees or 3,000 employees, creating a work environment that is stimulating and enjoyable is an important goal. As more research piles up about the effects of artificial light on human physiology, many business owners are reevaluating their lighting systems.
For nearly half a century, fluorescent lights have been the bulbs of choice for office buildings. That means that today, an overwhelming majority of offices are lit almost exclusively with fluorescent lights. Some businesses have undertaken expensive campaigns to replace their fluorescent lights with newer alternatives, such as LED lighting. While the results are promising, it is an expensive and slow process. However, using decorative light covers is a quick and cost-effective alternative and even has some added benefits.
One of the problems with fluorescent light in offices is that the light itself can be bad for employees. The harsh light can cause workers to squint slightly, causing headaches and fatigue. Because fluorescent light is usually shifted toward the blue end of the spectrum, it can also affect sleep patterns and the sleep-wake cycles. Workers who sit under these lights day in and day out can start to see a wide variety of adverse health effects.
Installing decorative light covers can soften harsh light and even out the spectrum, reducing the blue shift. That can relieve stress on the eyes and minimize the disturbance of the sleep-wake cycle. Workers will feel more relaxed and less fatigued. In addition to light filtering, the right images on your office ceiling light diffusers can transform a formerly drab, boring office. Bringing in cloud themed covers can simulate a beautiful day under large skylights. Nature images can relieve stress and simulate the great outdoors. When large windows aren't available, you will be amazed by the changes some images can create.
Ordering Decorative Fluorescent Light Covers
If you're reading this, you are in luck. That's because you have made your way to the Octo Lights decorative light cover website, which is the absolute best place to order your light covers. We use high quality, safe, environmentally friendly materials and production techniques to create the very best decorative light covers.
We are also known for our excellent customer service. Just read some of our glowing reviews to learn more. And we're fast. Your order will be printed and shipped out in just a few days. There's also no beating our prices. At $30 or less per cover, plus discounts for bulk orders, we guarantee that our prices are some of the best around. If you find a lower price for a similar quality product, we'll refund the difference. But chances are you won't find anything of this quality at this price. So browse our collection today. Once you choose your image and your size, we'll have your order ready in no time!