Many large office buildings were built with little attention to the quality of lighting. Employees spend their days in rooms that often have no windows or access to natural light at all. Instead, they sit for hours every day beneath old fashioned fluorescent lights. Unfortunately, unfiltered fluorescent light has been shown to have a number of negative effects, from eye strain to migraines. However, it is possible to completely transform your work space with decorative fluorescent office light covers.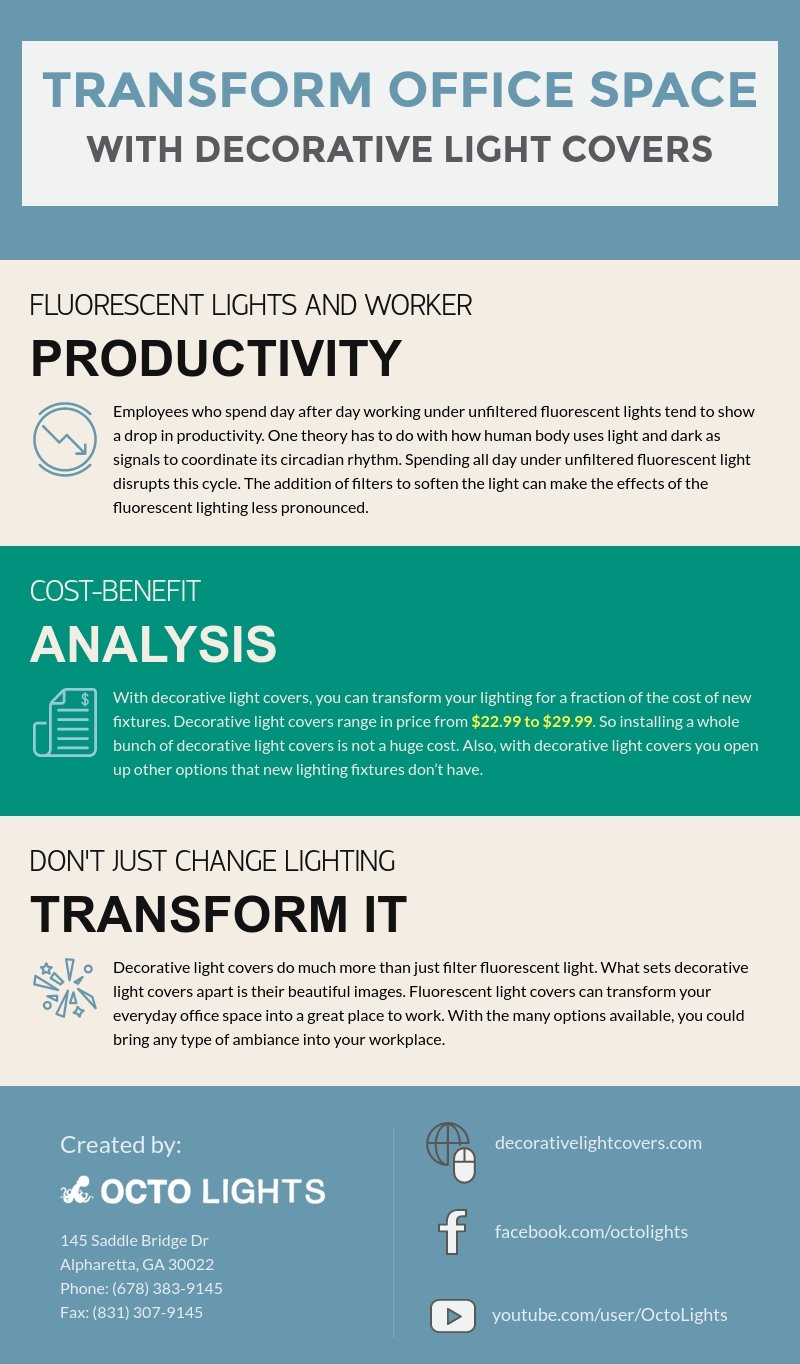 The Problem With Fluorescents
Fluorescent lighting has been the lighting of choice in commercial buildings for decades. This has a couple of reasons. First, it is cheap to install. Second, compared to the incandescents that were available for most of the 20th century, they are cheap to run. This has led to thousands of offices all over the country that use fluorescent light fixtures as their main or even their only source of light.
The problem with fluorescent light is that studies have shown that it can have negative effects on the people who work under it. The most basic issue is eye strain. Fluorescent lights give off a light that is uncomfortable to the human eye, causing eyes to strain to see and adjust, which they can never fully do. This extra strain on the eyes can actually cause full body fatigue. Eye strain is one major factor in the common mid-afternoon lag that many office workers experience.
A worse, though related, effect of fluorescent lights is migraines. Though it does not have this effect on everyone, there is some research connecting fluorescent light and migraines. For employees who are prone to migraines, this can be a major problem. Unlike regular headaches, migraines can be completely paralyzing and are hard to treat. If an employee is experiencing even occasional migraines due to the lighting in their environment, productivity can take a nosedive. And that's not to mention the employee's quality of life.
Fluorescent Light and Worker Productivity
There is research that shows a link between lighting and worker productivity. Even if an employee experiences no overt symptoms, productivity can be affected. Employees who spend day after day working under unfiltered fluorescent lights tend to show a drop in productivity. Workers who work under other form of lights show higher productivity.
The reasons for the different level of productivity are not fully known. But one theory has to do with the body's relationship to light. The human mind uses light and dark as signals to help coordinate its circadian rhythm. This helps a person keep a good sleep-wake cycle. Spending all day under unfiltered fluorescent light disrupts this cycle. The addition of filters to soften the light does not completely mimic the regular changes that occur in natural light. But it can make the effects of the fluorescent lighting less pronounced. As one satisfied customer said, "I can finally turn on the overhead lights in my office without getting a headache." You can see more reviews here.
Cost Benefit Analysis
Businesses that own or lease large office spaces may be wary of changing all of the lighting in their offices. Switching to another type of lighting fixture can be expensive. This is especially true when you multiply out the cost over the many fixtures that would need to be replaced. For many or even most businesses this would be impractical.
However, with decorative fluorescent office light covers, you can transform your lighting for a fraction of the cost of new fixtures. Decorative light covers range in price from $22.99 to $29.99. So installing a whole bunch of decorative light covers is not a huge cost. With decorative fluorescent office light covers, you also open up other options that new lighting fixtures don't have.
Don't Just Change Lighting, Transform It
You could invest a lot of money up front to install all new lighting fixtures. But this still would not be the same as the benefits of decorative fluorescent office light covers. That's because decorative light covers do much more than just filter fluorescent light. The main feature that sets decorative light covers apart from the rest of the lighting world is their beautiful images.
One satisfied customer, Rachel D., put it this way, "These are now the highlight of my office! Everyone who comes in says it gives such an awesome ambiance!" How often do you hear the word ambiance used for an office? But the fact is, with fluorescent office light covers you can transform your everyday office space into a great place to work. With the many options available, you could bring any type of ambiance into your workplace.
For example, you might try out these astronomy themed decorative light covers. These light covers are like looking up into the most fantastic night sky you have ever seen. They feature amazing pictures of starry nights, nebulae, planets, and galaxies. Installing these lights can turn a drab, run of the mill ofice into a fun and exciting space with lighting that doubles as a great focal point.
If you want to open up your space a bit, you can try one our most popular style of light covers, cloud light covers. These fluorescent office light covers feature a blue sky and white, fluffy clouds. When installed over the ubiquitous rows of fluorescent lighting so typical of office buildings, they can create a whole new look. Instead of a boring ceiling punctuated by unpleasant fluorescent light, you get the effect of rows of skylights. This type of lighting has been used in hospitals, as well, to open up a space and make it feel more friendly and inviting.
The Options Are Endless
On the Octo Lights Website, you will find a wide variety of stock images ready to order. This can make life easy. Just select an image you like, add it to your cart, and you can often receive your decorative lighting covers within a week of ordering. This is the easiest and fastest way to transform your office space lighting.
However, you aren't limited by the selection on our website. There is also an option to upload your own image. If you have a high resolution image, just send it to us and we'll print it on your decorative light cover for no added cost. This opens up endless possibilities. You could completely customize the appearance of your new lighting scheme. Do you have a favorite spot you like to relax? You can use images of that location to make it feel like you are there every time you step into your office.
Another option is to step away from the representative images altogether. Instead, you could use your decorative lighting covers to reinforce your company's branding. Decorative fluorescent office light covers can be emblazoned with a company logo or slogan. Another creative option is to use your light covers to highlight brief quotations or mottos that inspire your business. Once you start thinking creatively, the options for decorative light covers become truly unlimited.
Excellent Customer Service
Besides selling great decorative light covers, Octo Lights is a pleasure to work with. We value our customers, which means we are committed to the highest levels of customer service. We want you to love your decorative light covers. If you receive your decorative light covers in less than perfect condition, send them back and we will replace them. We also want to make sure that you are getting the best deal on your product, so we have a lowest price guarantee. If you find the same product or a product of similar quality at a lower price, we'll beat that price! Once we have verified the lower price, we will refund you the difference plus 10%, making our product the best deal anywhere.
Take some time to browse our different light covers for inspiration. You can also read reviews to see how our customers are using and enjoying their decorative light covers. When you are ready to purchase, place your order and we'll ship it out in 1-2 business days via FedEx Ground, with guarantees delivery in 1-5 business throughout the 48 states. You can begin enjoying your new lighting covers right away!