One of the best ways to make a dental office more inviting is to use the right type of transformative lighting. Medical care practitioners, dentists and others in the medical industry agree. They all understand the importance of making the right type of lighting available to patients. This is especially true when it comes to helping patients feel relaxed and at ease prior to a medical procedure. Due to the common fear of dentists, transforming interior lighting in dental offices cannot be overlooked.
Most office buildings today make use of fluorescent light bulbs. So it is important to consider not only the aesthetically pleasing benefits of transformative lighting but also the functional benefits. For example, fluorescent lighting has serious health related issues that must be addressed. Historically speaking, fluorescent lighting has been known to cause high levels of eye strain. That chronic eye strain ultimately leads to what can only be described as painful chronic long-term headaches.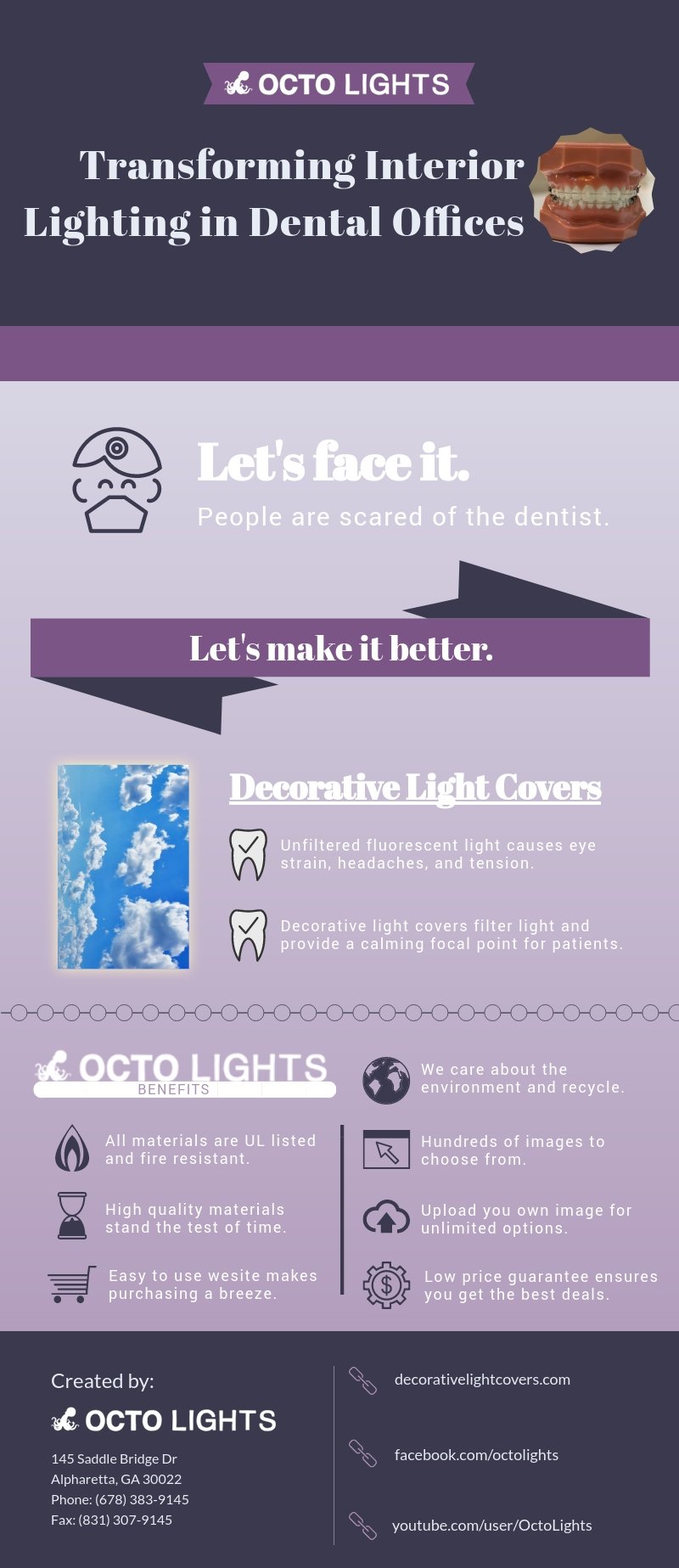 Transforming the Lighting in a Medical Office or Dental Facility
In short, anyone working for long hours under raw unfiltered fluorescent lighting will likely experience some level of distress. Keeping these simple facts in mind, there is a way to deal with fluorescent lighting that is raw and unfiltered.
Perhaps one of the easiest ways to accomplish this goal is to simply make use of fluorescent light fixture covers. There are many different types of fluorescent light fixture covers available today. In fact, they come in various styles, designs and overall quality.
If you are transforming the lighting in a medical office or dental facility, you should consider using higher-quality decorative panels. The good news is that higher-quality fluorescent light panels do not have to be excessively expensive or difficult to acquire. You just have to choose the right company to work with. In fact, by choosing the right company, dental care providers will find that they can accomplish both goals. They can actually save money while getting a higher quality product.
A Long List of Satisfied Customers Over The Years
Octo Lights is a company with years of experience. They have been working with a wide range of decorative light covers and fluorescent light fixture covers for years. Octo Lights is known for a dedication and commitment to only the highest quality customer service. This has resulted in impressive customer satisfaction. They boast countless testimonials and a long list of satisfied customers.
Octo Lights is simply the smart choice when it comes to the very best in fluorescent light diffuser panels. The company is also committed to working with sustainable materials, which reduces the impact on the planet. By using sustainable materials to produce outstanding products, the end result is always impressive.
Best of all, dental care providers can choose from an exhaustive list of amazing images. With these images they are free to produce the most beautiful fluorescent light fixture covers imaginable. Octo Lights recycles and even offers quantity discounts that are automatically applied at time of purchase. This affords customers with instant savings and can make all the difference for those on a budget.
Ensures That Decorative Light Covers Will Simply Last Longer
In addition, Octo Lights has fast shipping. Most orders are processed within one or two business days of the actual order being placed. As an added benefit, Octo Lights also makes use of only water-based ink. All transformative lighting fluorescent light fixture covers use UV resistant water-based ink. This helps to decrease the impact on the environment and also ensures that the panels will simply last longer.
Giving virtually any room in your home or business new life while protecting the environment has never been easier. The material used in the manufacturing of these impressive sky panels includes the use of self-extinguishing materials. These fire safe materials are tested to be safe for all environments. So Octo Lights fluorescent light diffuser panels can be used in schools, hospitals, residential homes or any other place imaginable. Choose among everything from custom light covers to covers that offer all kinds of available images. Images include waterfalls and trees as well as the ocean and even flowers.
Soften and Filter Fluorescent Lighting
In addition, these amazing light covers can include images of astronomy, the beach or even clouds or the wide-open sky. With so many options it is clear why so many people today are turning to decorative fluorescent light fixture covers. And they are using them to enhance almost any type of interior space imaginable. They are perfect for transforming interior lighting in dental offices and other medical spaces.
Dental care providers are quickly discovering the value of transformative fluorescent light fixture covers. They soften and filter fluorescent lighting and play an important role in improving the overall feel and comfort of a medical office. For example, children are often apprehensive when it comes to visiting the dentist. So a dentist might include children's themes in decorative light covers in the ceiling. Instead of feeling afraid, children become intrigued and more relaxed. Whether having a dental filling or simple cleaning, one thing is sure. Decorative light covers or fluorescent light panels that incorporate children's themes can make all the difference.
Every Order Comes Out Exactly as Desired
Making use of fluorescent light covers that are friendly, family oriented and even child focused can often make a big difference. That difference is felt by dental care providers as well as parents and children. With years of experience in the industry, Octo Lights works closely with each individual customer. They make sure that every order comes out exactly as desired.
Octo Lights is always striving to provide the lowest prices possible. Using heavyweight front print backlit film allows Octo Lights to create the highest quality decorative light covers. And that's exactly what is needed to effectively defuse and soften fluorescent lighting. When it comes to money-saving fluorescent light panels for home and business, few companies can compare to Octo Lights.
Octo Lights has a dedicated team of friendly customer service representatives and an intuitive and easy to use website. It has never been more convenient and more affordable to acquire the very best in fluorescent light panel covers. And they are available for virtually any type of interior space imaginable. Contact Octo Lights today to learn more about beautifully attractive and highly functional fluorescent light panel covers. They are great for homes, businesses, and dental care provider offices.