Today more than ever before, it is easy and convenient to turn an ordinary idea into something creative. With modern technology, you can now create your own unique lighting fixture. One example of this is creating a custom decorative fluorescent light panel from any image you have. You can use any image from a company logo to a prized personal photograph or anything in between. It is easier than ever before to take a digital file and turn it into a custom fluorescent light panel. A one-of-a-kind, unique image can easily be uploaded and transformed into a custom fluorescent light fixture.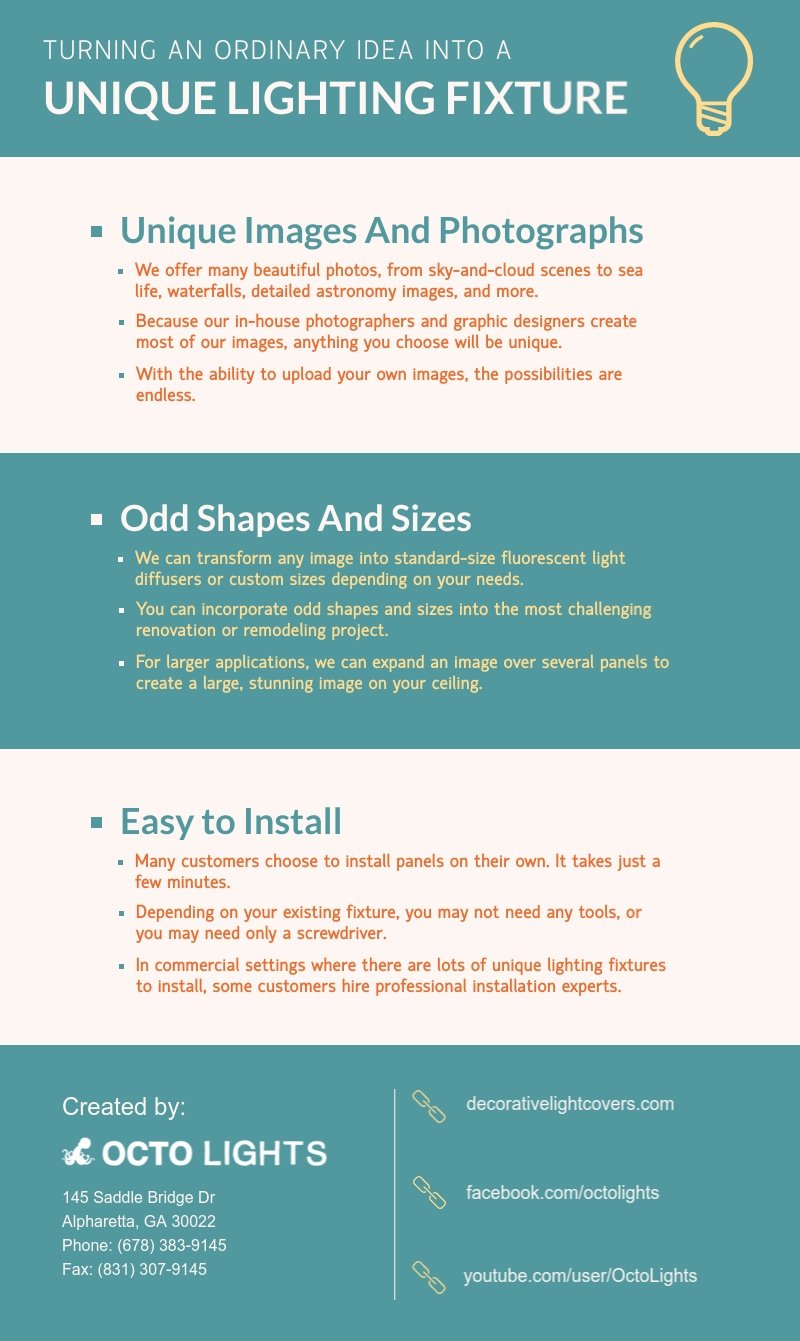 Unique Images And Photographs
Once a panel has been manufactured, it is easy to install for all to enjoy. Many customers choose to install panels on their own. It takes just a few minutes. Depending on your existing fixture, you may not need any tools, or you may need only a screwdriver.
Other customers hire professional installation experts to get the job done right. This is more common in commercial settings where there are lots of unique lighting fixtures to install.
Whatever the case may be, one thing is certain. Fluorescent light covers that are custom crafted from unique images or photographs can dramatically change the look of a room. We offer many beautiful photos, from sky-and-cloud scenes to sea life, waterfalls, detailed astronomy images, and more. And with the ability to upload your own images, the possibilities are endless.
Odd Shapes And Sizes
For those who prefer to choose from stock images, companies like Octo Lights offer a full and comprehensive selection. Because our in-house photographers and graphic designers create most of our images, anything you choose will be unique. We can transform any image into standard-size fluorescent light diffusers or custom sizes depending on your needs.
You can incorporate odd shapes and sizes into the most challenging renovation or remodeling project. For larger applications, we can expand an image over several panels to create a large, stunning image on your ceiling. Using the finest quality backlit film, Octo Lights can help you take your interior space to an entirely new level of perfection.
Special And Captivating
Many of our customers are in search of a safe and reliable way to replace their harsh fluorescent lighting. We answer the call with the soft glow of decorative light diffusers from Octo Lights. Colorful, unique, and stunningly attractive, the images used to create our decorative light covers will transform a room. Custom fluorescent light fixtures can add value to a home or business. A unique lighting fixture can also serve to increase productivity, while at the same time relaxing and soothing the occupants of a room.
Providing High-Quality Products
Never before has it been so easy and so affordable to create a custom interior space with decorative light covers. Octo Lights has earned a reputation over the years for providing high-quality products at competitive prices. With a long list of satisfied customers, Octo Lights is the company to call. We produce the very best in decorative fluorescent light covers, and we design our covers to last. When it comes to replacing fluorescent light panels, few other companies offer such a wide selection of quality products. Contact Octo Lights today to learn more about fluorescent light fixtures.