There are many uses for decorative light covers. Fluorescent tubes and LED lamps emit a very bright, intense light that can damage the eyes. This is particularly true for young children. Domestic lighting systems often feature diffuser panels—frosted glass or plastic panels that diffuse the light—to create a more even light and reduce the potential damage.
Decorative light covers are translucent printed polyester sheets that go over the top of these diffuser panels. Their function is to soften the harsh light and convert the bland white light into beautiful scenery. Decorative light covers can make your ceiling look more interesting and create conversation pieces that your guests will never forget.
Installing Decorative Light Covers
Decorative light covers are easy to install. First, unscrew the tabs that hold the covers to the ceiling. You might need a screwdriver, or there may be tabs you can twist aside by hand. The cover and its frame will either swing down from one side or come out completely. Next, simply slip the decorative light cover on top of the diffuser panel and swing the frame back into place. Lock the frame, and you are done.
Installing decorative light covers is so easy that you can change the covers frequently. You could provide a different lighting effect every week or do something special when you expect visitors. Here are some unique uses for decorative light covers that you may not have thought of.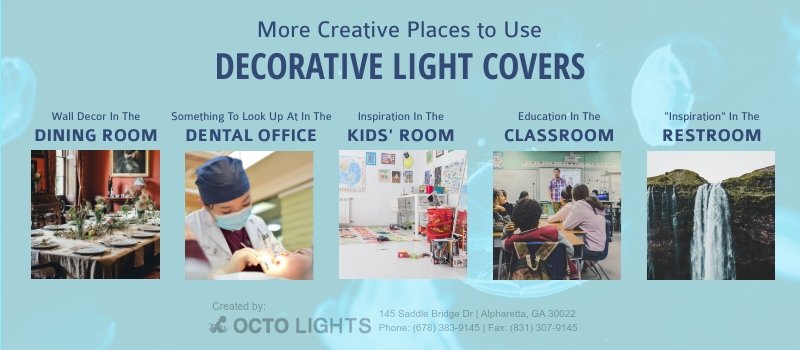 Dining Room Wall Decoration
There is no reason to limit fluorescent light panels to ceilings. You may not normally consider installing LED or fluorescent lighting on your walls, but why not? If you do, you could use decorative fluorescent light lenses as a unique form of wall décor. Octo Light panels can be quite realistic when backlit with standard fluorescent or LED lamps. At first glance, you could almost believe you are looking out a window. If you ceiling panels with a view of the day or nighttime sky, your guests will think they are looking out a skylight and up into the heavens.
Uses for Decorative Light Covers in Children's Bedrooms
Young children have been delighted with custom light covers. For instance, you could place images of their favorite fairytale characters on the ceiling, watching over them from above. For children who need a little extra comfort at night, looking up at their favorite characters may be reassuring. And you can get creative. Tell them a quick story and ask them to think of what their light cover friends might say about it. Your children will be asleep before you know it.
We don't carry every cartoon or movie character in our standard collection. But you can send us the photos you want, and we will create the light lenses for you. Many kids also love our selection of galaxy images. Try asking your child to imagine a story as they lay in bed, staring at the galaxy on their ceiling. And then they can tell you the story the next day. It's an excellent idea for children who find it hard to fall asleep at night.
Light Covers in Dental Offices
Decorative fluorescent light covers are popular for dental offices. Rather than letting patients stare at a featureless ceiling or a bright light, you can use light lenses with your LED or fluorescent lamps. They are easy to install, and you can use our standard images or your own. We can convert any photograph in almost any digital image format into a custom decorative light cover.
You can use one set of light covers for kids and another for adults. By placing the two different sets of covers on individual circuits, you can separately illuminate whichever set of light covers is appropriate. Restful beaches or ocean scenes, or views of orchids and other plants, can be placed on one circuit. You can use the other circuit to illuminate delightful scenes to amuse and entertain children. And with decorative light covers in place, you won't need any additional lighting in the room.
Other Unique Ideas for Decorative Light Covers
Decorative light covers create stunning backlit images by shining light through a printed cover placed on top of a fluorescent light diffuser. When you look up at your ceiling, you'll see a brightly lit image that could look like a real sky.
Besides homeowners, parents, and dentists, customers are finding all sorts of uses for decorative light cover. Teachers love our light covers. In science labs, teachers use them to explain constellations or provide a visual example of nebulae, disc galaxies, and supernovae. In classrooms, they filter harsh fluorescent light to create a better learning environment. Some homeowners have more private uses. For instance, you could display a large waterfall in your restroom to—excuse the pun—keep things flowing. And we are sure you could think of many other unique uses for decorative light covers. They are so easy to install that you can change them frequently, even daily, so let your imagination run wild.
If you have questions about our decorative light covers, contact us. And if you're ready to start exploring the possibilities, you can browse our wide selection of light cover images.