Is there anyone who doesn't love the beauty and grace of a waterfall? One of nature's marvels, a waterfall is something that people just seem to be drawn to. Some people love the power and majesty of millions of gallons of water rushing over a cliff. Look at Niagara Falls in New York State. People love that waterfall and flock to it by the hundreds of thousands every year. They love it so much some of them even go over it in barrels! Other people prefer the small waterfalls you find tucked away on a hike in the mountains, where there might not be anyone but you. Whatever your love of waterfalls, we have some waterfall light covers that are right up your alley.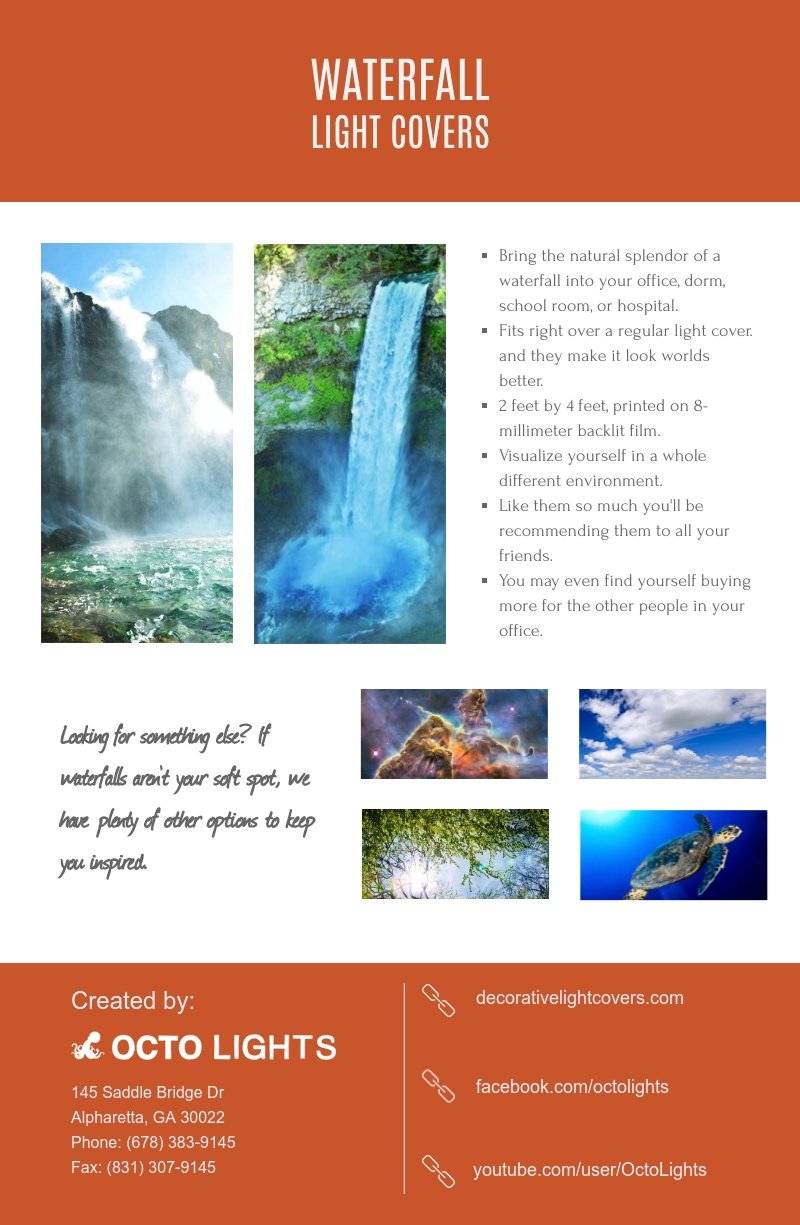 A Waterfall in Your Ceiling
Now you can bring the natural splendor of a waterfall into your office, dorm, school room, or hospital. All you need in one of our lovely waterfall fluorescent light covers. They fit right over a regular light cover, and they make it look worlds better. Imagine looking up and seeing a tropical paradise on the ceiling! Right there in your room, there's a waterfall cascading down and palm trees surrounding the peaceful scene. It will almost make you feel like you've gone to the Caribbean, even while you sit at your desk.
Our waterfall light covers are 2 feet by 4 feet, the standard fluorescent diffuser size. They are printed on 8-millimeter backlit film. When you look up at your new waterfall light cover, you'll visualize yourself in a whole different environment. You can feel that steamy tropical utopia with delicious rainwater flowing down over your head and shoulders. The stresses of the day will just melt away. If you're anything like the people who bought them before you, you'll like them so much you're going to be recommending them to all your friends. You may even find yourself buying more for the other people in your office.
Inspiring Images
If you're looking for something to brighten your workspace, these new waterfall fluorescent light covers are genuinely inspiring, calming, and gorgeous. Before long people will be stopping by your desk just to take a look. Your cubicle will be the envy of the workplace. So why not try one today and put a waterfall light cover if your office?
Looking for something else? If waterfalls aren't your soft spot, we have plenty of other options to keep you inspired. If you love the feeling of picnicking in the woods, we recommend our tree light covers. They are designed to simulate the experience of standing in a forest and looking up. You'll see the tops of trees, and above them, bright blue skies.
Or, if you prefer to look lower down, we have beautiful images of flowers of all sorts.
If you want to wander a bit farther, check out our undersea light cover collection. These light covers feature crystal clear images of underwater life like corals and sea turtles.
More of an outdoorsy type? Try our gorgeous mountain vistas. Imagine yourself in the high country, breathing in the thin, crisp air. Let these fantastic images whisk you away to a mountain refuge.
Whether you enjoy science, sci-fi, or just love the night sky, we have astronomy light covers you will love. Many of the images in our astronomy collection are taken from the Hubble Space Telescope. Octo Lights has licensed these images from NASA to bring you the most outstanding deep-space photos in the industry. Admire galaxies, nebulae, or just a starry night sky.
Ordering and Installation
At Octo Lights, we want you to start enjoying your decorative light covers as soon and as easily a possible. That's why we make ordering and installation so easy. To order, just select your image, choose the right size for your fixture, and check out. We'll mail out your custom-printed light covers in a day or two, and you'll receive them via FedEx Ground. Once you have them, just pop out your existing diffuser, place the light cover on top, and pop the diffuser back into place. If you need some help, try this useful video. It can be done in under 5 minutes and usually doesn't even require any tools! So what are you waiting for? Take a look at our wide selection and order yours today!