Decorative light fixture covers have become all the rage in recent years. As more people look for innovative ways to enhance an interior space, online searches for light covers have surged. One of the most notable things about these unique light covers is that they help to diffuse fluorescent light. The diffused light creates a softer and more pleasing lighting environment than unfiltered fluorescent light. When it comes to fluorescent light diffuser panels, few images can compare to photos focused on nature and wildlife. Beauty and elegance abound in these nature-based lighting covers.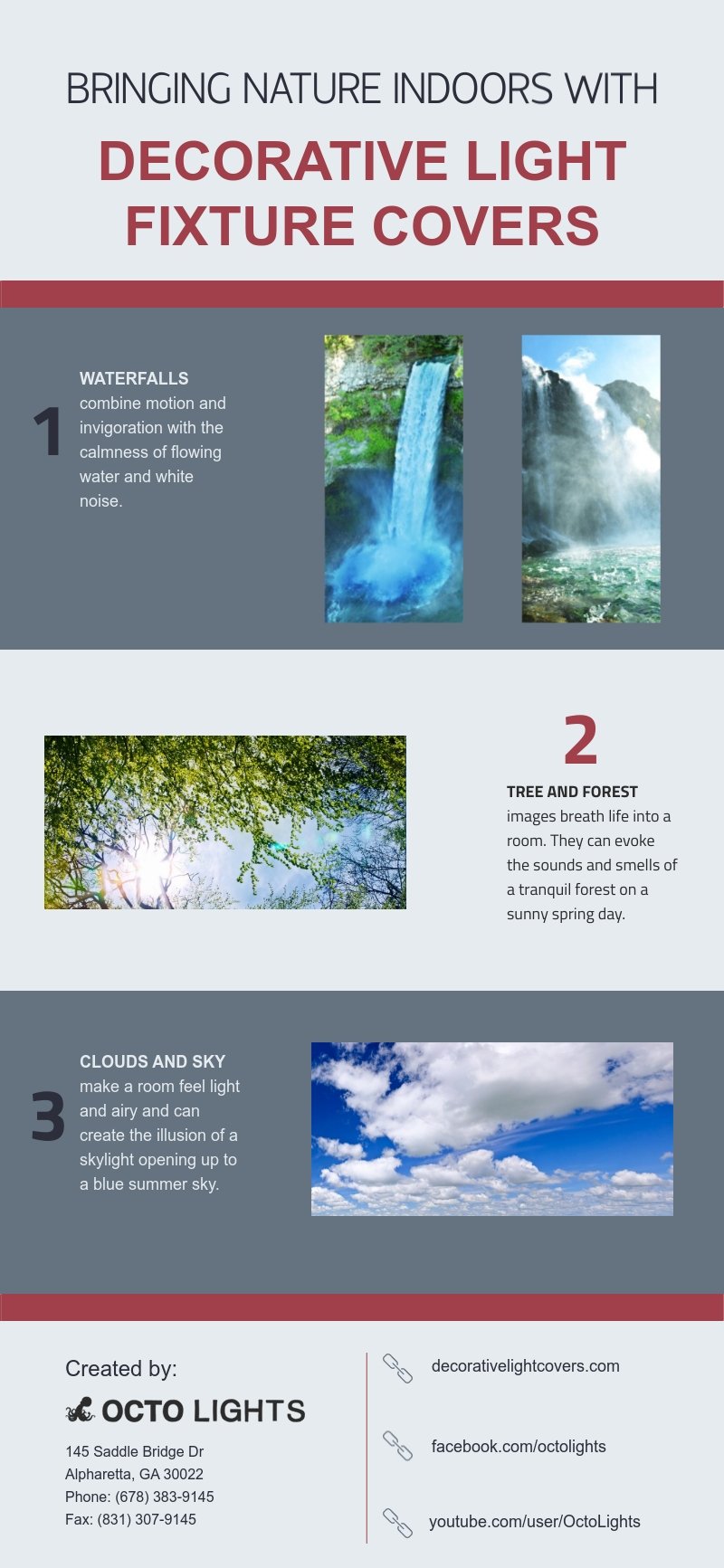 Decorative Light Diffusers
From majestic towering trees to beautiful fields of blooming shrubbery and even palm trees, the possibilities are unlimited. The beauty and elegance of nature can be brought indoors with a simple light fixture. These modern and professionally-crafted lighting covers are unique and special in every way. Octo Lights decorative light covers are in use from office buildings to schools and churches, as well as medical offices and every other type of interior space imaginable. Our unique nature-themed decorative light diffusers for fluorescent lighting are a great way to turn an ordinary space into something special. And almost all of our images are unique to Octo Lights.
Wildlife Images And Majestic Waterfalls
In addition to trees and similar scenes, light covers can also feature wildlife images and even majestic waterfalls. Most notable of all, perhaps, is the fact that waterfalls create a sense of motion and movement combined with the calmness of water. From medical offices wishing to put patients at ease to a school or other type of learning environment, waterfall-based light fixture covers for fluorescent lighting are an excellent choice. Bringing nature indoors has never been easier, thanks to these custom-crafted replacement fluorescent light panels.
Attractive Light Fixture Modification
Decorative fluorescent light fixtures are a great way to bring nature indoors. But what makes them even more appealing is that they are easy to install and easy to maintain. This type of light cover can be installed in a matter of minutes and requires only a few simple tools. Of course, if you plan to install many panels—for instance, in a commercial space—they can also be quickly installed by professionals. Either way, the result is a stunning and attractive light fixture modification. Decorative light fixture covers can significantly enhance an interior space uniquely and memorably. From kitchen ceilings to hallways, living rooms, and bedrooms, this type of lighting can be used in virtually any room in a home or office.
Transforming A Room
As one of the most respected and trusted names in fluorescent light panels, Octo Lights is a one-stop-shop for the most affordable high-quality decorative light fixture covers available today. With years of experience in the industry, Octo Lights is a company that consistently outpaces the fluorescent light cover competition. Taking any room to an entirely new level of perfection may be as easy as installing replacement fluorescent light panels. Transforming a room into a more relaxing, inviting in tranquil space has never been easier. Contact Octo Lights today to learn more about decorative light fixture covers.