The fall season has officially arrived, and with it comes some exciting festivities. For those who love fall (and there are plenty), other seasons simply can't compare. The changing of the leaves, the arrival of cooler weather, the incredible fashion, and pumpkin-flavored treats are just a few of the benefits of the changing season. And don't forget the celebrations! Fall festivals and haunted houses are just a couple of great ways to celebrate fall and Halloween this October.
If you're a lover of all things fall and Halloween-related, then being as festive as possible is likely at the top of your to-do list. Winter will begin soon enough, with its own holidays and excitement. But until then, there are many ways to show your love of the current season. Some like dressing in fall colors. Others fill their homes with gourds, corn, and other seasonal decorations. For many people, the best part of fall is decorating their front yards with spooky Halloween decor. But nothing says, "I love fall!" like decorative light covers for your ceilings and walls.
Decorative Lighting For Your Home or Office
If you're in the market for decorative light cover panels, you need to know about Octo Lights. We're a local, Atlanta-based company that specializes in both ready-made and custom fluorescent light covers. Our high-quality covers can transform any room or space with utterly impressive works of art.
When you use Octo Lights for your home, office, or business, you can achieve an impressive effect that will transport your guests to another place. For example, many dentists are using our products to convert a dull office into something more exciting. A simple waiting room becomes an underwater submarine. Just install some fish-themed fluorescent light covers! They can convincingly trick the eye into believing the marine-life is right outside the walls or ceiling.
Octo Lights has a fantastic selection of tree-themed fluorescent light covers, too. They can help you showcase a more subtle hint of fall in your home or office space. But why stop there? If you want to go all-out with your unique design sense, a custom-made light cover is the way to go.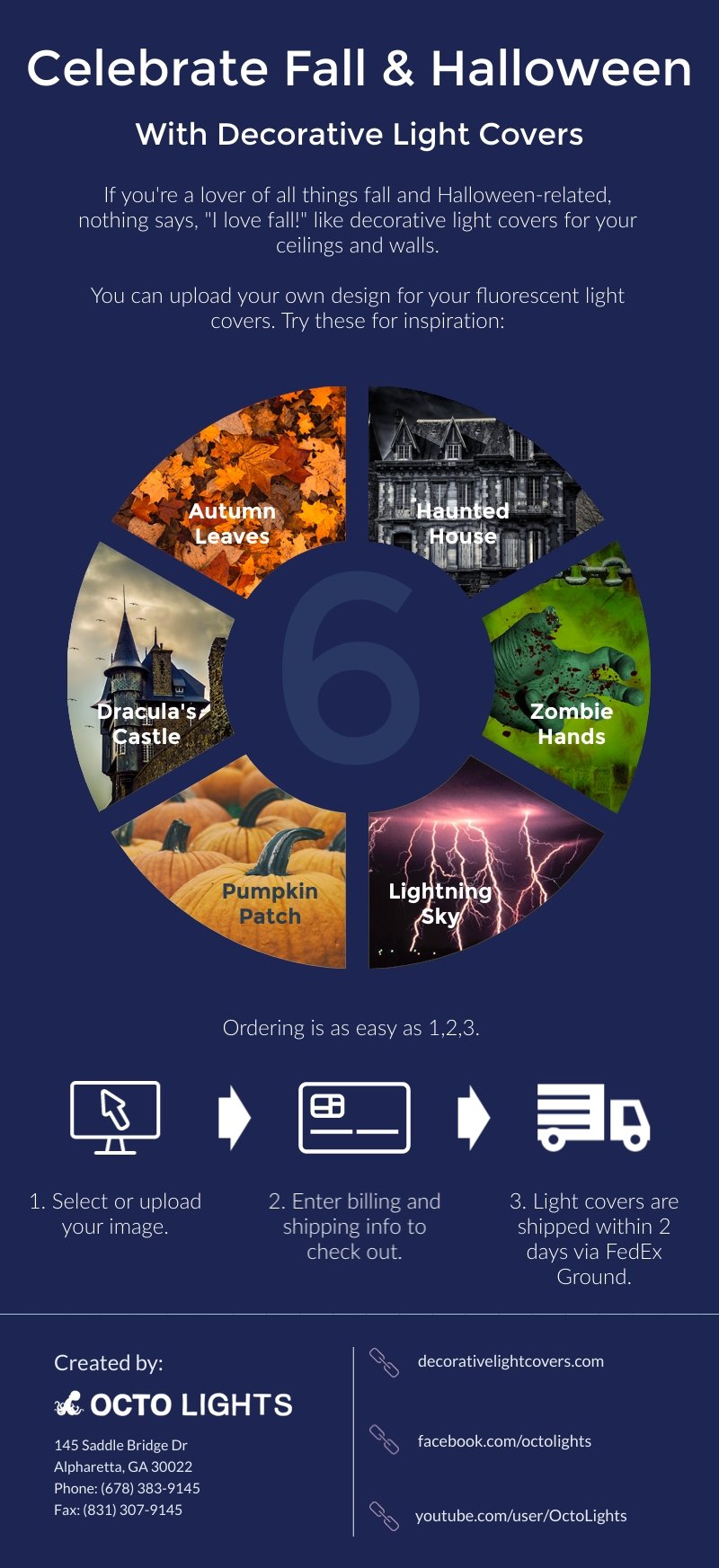 Autumn and Halloween-Themed Custom Fluorescent Light Covers
Creating a custom fall-themed fluorescent light cover is easy with Octo Lights. All you have to do is visit our custom light cover page and submit your custom image. We can use any high-resolution image to create your customized holiday light covers. We'll even cut them to the exact size you need. And we never charge extra for customization.
Looking for great fall or Halloween-themed light cover? Here are some ideas:
An assortment of fall-colored leaves
Spooky haunted house scene
Zombie handprints
Lightning-filled night sky
Pumpkin patch
Frankenstein's Lair
Dracula's Castle
Of course, the fun doesn't stop there. Anything is possible. We can print whatever you or your fall-crazy family and friends can conjure up.
Ordering Your Fall-Themed Fluorescent Light Covers
After you make your fluorescent light cover design selection, ordering your light cover for delivery right to your doorstep is as easy as 1, 2, 3. Whether you choose to use Octo Lights' ready-made decorative light cover panels or opt to create one yourself, the order process couldn't be simpler.
Pick or upload your image with just a couple of clicks. Then head straight to checkout and fill out your standard shipping and billing details (including your name, address, phone, etc.) and your method for payment. Octo Lights makes paying for your light covers easy. We accept everything from credit/debit cards to PayPal or even a personal check (which can be sent to Octo Lights directly). Once you've paid for your order, we'll print and ship it within two days. All of our products ship via FedEx Ground, so you'll have your fluorescent light covers in just a few days.
Installing Your Fall-Themed Fluorescent Light Covers
Once you receive your fall or Halloween-themed fluorescent light covers, installation on your ceilings or walls is quick and simple. Just follow Octo Lights' four-step installation system.
You can read detailed instructions by visiting Octo Lights' "How to Install" page. All you need is a ladder or chair and a screwdriver. And in some cases, it may not even require anything more than your bare hands!
We hope you're enjoying our blog! Check out our wide selection of fluorescent light covers or create your own to transform any room in your home into a work of art.