Here are some tips on how to choose decorative light covers for your business. The same recommendations apply to your home, too. Read on to discover how to select the ceiling light cover most suitable to you. We say ceiling light here, but you can also use decorative light covers on your walls or any other flat surface.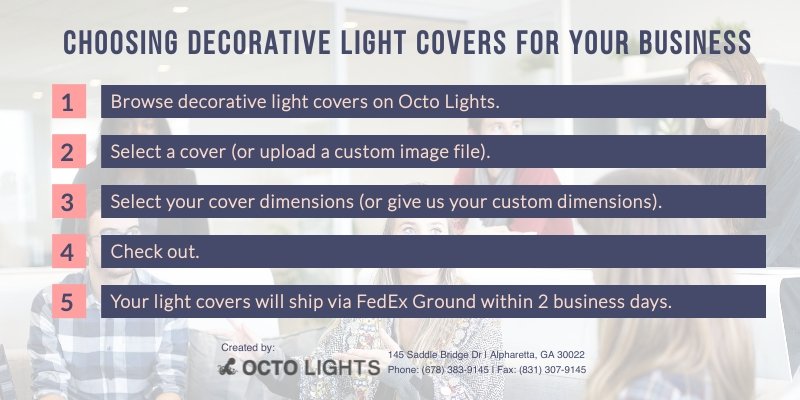 Check Octo Lights Standard Range First
Start by checking out our standard range of decorative light covers. Visit our Decorative Light Covers page. You will find a fantastic selection of light covers. Just follow the drop-down menu to see our full range of product categories. Check them all out, as well, until you come across the image or collection of images that you would love to see on your ceiling. Our standard range includes backlit photos suitable for many different residential and business uses. Continue reading to learn more about Octo Lights business light covers.
Custom Decorative Light Covers
Once you select your favorite light cover, just follow our simple order and payment procedure. But what if you can't find anything you like? Maybe you would prefer one of your own designs or photographs. We can do that as well.
Simply navigate to our custom decorative light covers page. It's easy to send us your image file and order a custom light cover. If you need help, our team will be pleased to assist you. You call us at (678) 383-9145, and we will discuss your unique needs.
Once choose your image, you can select the dimensions of the light cover you want. We carry many standard sizes, but we can also cut decorative light covers to your own specified sizes.
Octo Lights Payment Methods and Returns Policy
Once you have clicked through all the options, all you need to do is to pay. We accept PayPal, credit and debit cards, and checks or money orders. Once payment has been made, we will process your order. It is all just that easy. If you are not happy with your decorative light covers, you have two weeks from delivery to select an alternate cover design or get your money back. You will never have to pay for Octo Lights decorative light covers you do not like.
So get going now! Start looking for decorative light covers that you will love for your home or business. They will not only impress your visitors but may also impress existing and prospective clients. And you can easily use custom images to promote your business.