Custom ceiling light panels are a unique way to light decorate your ceiling. They can add visual interest to your ceiling while also improving the lighting in a room. And now, you can decorate your fluorescent or LED light diffuser panels in any way you want. Custom fluorescent light covers can be emblazoned with your business logo, inspirational quotes, or your own photographs. The possibilities are endless with Octo Lights custom ceiling light panels for your home or business.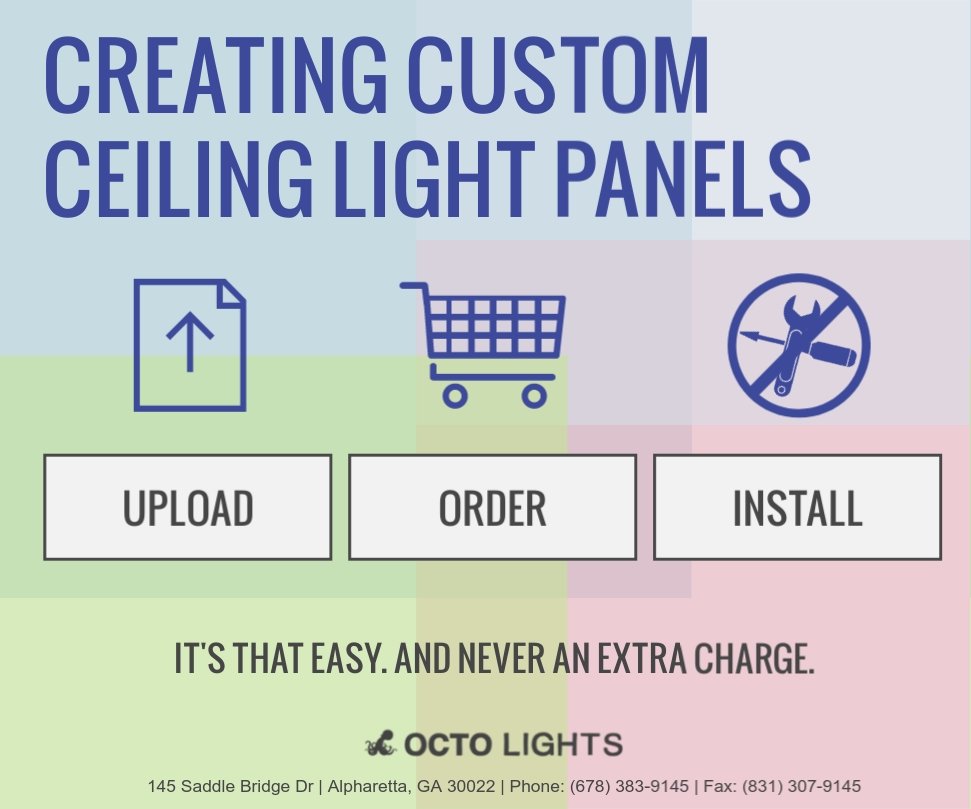 How Custom Ceiling Light Panels Are Made
Custom ceiling light panels are made from thick polyester film. We cut most of our panels to the standard 4 x 2 ft size of fluorescent panels. However, custom sizing is also available. The film is printed with your photographs or any design you wish. Some businesses use their company logo for reception area lighting. Another popular application is sky-and-cloud panels used in living rooms, kitchens, offices, or even the ceilings of schools and hospitals.
At Octo Lights, we carry a wide variety of standard images, ranging from sky-and-cloud panels to ocean scenes and sunsets. We offer natural scenes like waterfalls, trees, flowers, and views of the night sky. However, if you can't find the perfect design in our selection, we can print your own photo onto a custom light panel. And best of all, there is never an extra charge for custom printing.
Custom Ceiling Light Cover Designs
Creating your custom light cover is as simple as uploading a digital photograph of your preferred image. The higher the resolution, the better, meaning as high a pixel count as you can manage. The more megapixels your camera produces, the more definition we can retain when we enlarge the image to the required 4 x 2 ft size. Images you pull from Facebook or other social media are often low-resolution. But original photographs from a digital camera or modern cell phone are usually sufficient. Remember, this photo will be blown up quite large, so low resolution will reveal significant pixelation.
Custom ceiling light panels for your home or business can be designed to show off any image, so feel free to get creative. Some of our customers have come up with unique ways to show off their businesses. For example, if you have a tattoo parlor, samples of your tattoo designs can shine down from your ceiling. There is virtually no limit to the designs that can be printed onto custom ceiling light panels. All of our images are printed in high-saturation translucent dyes and pigments, so they look magnificent when backlit by fluorescent or LED lamps.
A Unique Form of Ceiling Décor
Decorative fluorescent light covers offer a unique way to decorate your ceiling. If you have specific designs or photographs you want to use on your ceiling—whether in your home, in office, classroom, or business reception area—Octo Light can get it done. Custom ceiling light panels offer you a way to impress your clients or visitors with your artistic ingenuity. We can help you make your interior design dreams a reality.