Decorative fluorescent light covers can have more than just one use in your dining room. The primary benefit of fluorescent light covers for your dining room is to cut down the brightness and harshness of fluorescent or LED lighting. But that's not all they can do. Many people install these lighting systems just so they can use decorative light covers with them.
How Do Fluorescent Light Covers Work?
So how does it work? Let's assume you have no fluorescent or LED lighting in your home—or perhaps only in your kitchen. If you want to use decorative light covers in your dining room, you will have to install a fluorescent lighting system in your dining room first. One option is to install a drop ceiling. This would lower the ceiling by a few inches so you could install fluorescent lighting tubes. Then you could cover the entire ceiling with decorative light diffuser panels. It doesn't cost as much as you think, and the results are fantastic. You've probably seen offices with similarly dropped ceilings. The lighting in those offices is evenly distributed with diffuser panels across the whole area of the ceiling. But those panels lack the beauty and filtering benefits of decorative light panels.
Be Inventive with Custom Decorative Light Covers for Your Dining Room
Octo Lights decorative light panels come in standard sizes to match most fluorescent lighting. But we can also manufacture light covers to custom dimensions to meet your needs. Our light covers are decorated with a large number of patterns and designs. We specialize in photographs of natural scenes, many of which are unique to our in-house design team. We can also create decorative light covers for your dining room using custom images you provide.
The low cost of custom covers allows for endless creativity. For example, you could be inventive, plan ahead, and offer your dinner party guests a unique view of your menu. "You will note tonight's menu above your heads, folks. Just look up and view each course." And there above them, your guests can see each dish shining down on them from the ceiling! That may be a bit over the top—forgive the pun—but you get the idea. You can have any image printed onto a light cover for your dining room. Place the custom light covers over one or more of your fluorescent light panels for a unique look. You could display a series of family photos, such as your family at various stages of growth. Or select from our stunning collection of images, from sky-and-cloud panels that simulate a bright summer day to images of a clear, starry night.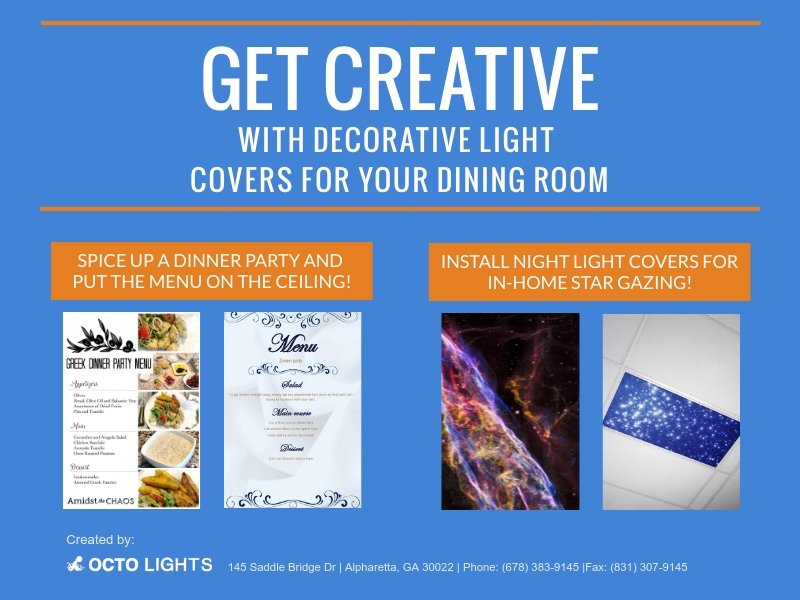 Standard Light Lens Images
Our decorative light covers are made of heavy-duty flexible polyester film. The films are printed with our in-house designs, or we can create custom panels with an image you provide. The completed covers easily slip above the existing diffuser panels, where the image is backlit by the fluorescent or LED lights.
You could simulate a bright sunny day today, a starry night tomorrow, and the next day you can show off some of our spectacular waterfall images. Octo Lights decorative light covers are not expensive, so you can install a rotating series of light covers for your dining room. Just slip in the appropriate sheets whenever you feel like a change. Alternatively, you can install two sets of images on different circuits so you can swap them out with the flick of a switch.
Fluorescent Light Covers From Space
Some of our customers install a daylight sky on one circuit and a view of the night sky on another. Our night sky images clearly display the stars and constellations for in-home stargazing. We also have images from the Hubble Space Telescope to give you a view from space. How would you like to gaze up at the crab nebula or beautiful disc galaxies? Your guests will be enthralled. And if you take the time to learn about what you are showing them, they will be even more impressed.
Use your imagination, not just for light covers in your dining room but all around your home. Install light cover in your kitchen, lounge, bedrooms, nursery, and even the bathroom. In an earlier post, we showed you what you could do with decorative fluorescent light covers in a nursery or a child's bedroom. Click here to learn how to use a fluorescent light lens for your children's bedroom.
For further inspiration, just browse around our website to see the beautiful images we offer. Anything is possible—only the limits of your imagination can hold you back. And, as always, we offer some of the best prices on the internet. The images may be astronomical, but the prices certainly are not!