Decorative light covers have many functions. For one thing, they are a great way to upgrade your ceiling decor. A few well-placed sky-and-cloud light covers can open up a room and give the illusion of skylights. Decorative light covers also play an important role in modulating harsh light from fluorescent and LED fixtures. But they also have another use. Decorative light covers can keep your children happy and relaxed at night.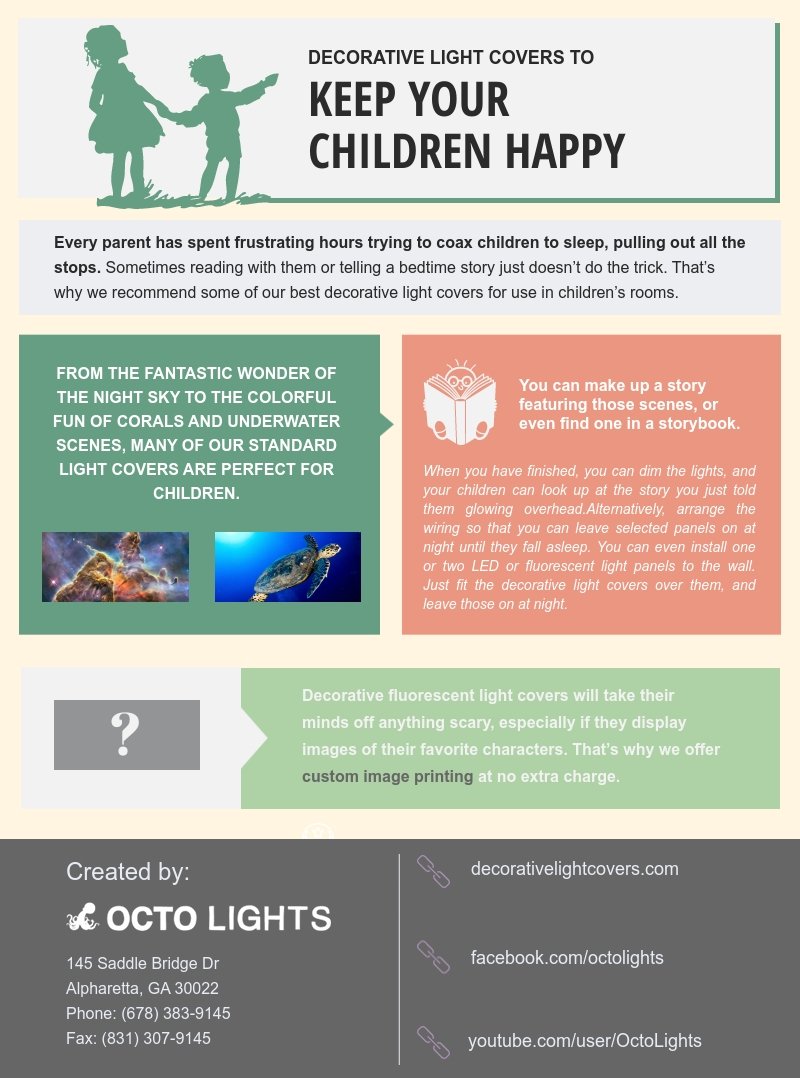 Happy Children at Bedtime
It is not always easy to get your kids to sleep at night. Every parent has spent frustrating hours trying to coax children to sleep, pulling out all the stops. Sometimes reading with them or telling a bedtime story just doesn't do the trick. The children seem fine when you are with them, but the minute you leave the room, the screaming begins. Many kids don't like being left alone, particularly at bedtime when it's dark outside and the lights are dimmed in their room.
We are well aware of the bedtime struggle here at Octo Lights. That's why we recommend some of our best decorative light cover panels for use in children's rooms. From the fantastic wonder of the night sky to the colorful fun of corals and underwater scenes, many of our standard light covers are perfect for children.
These are all available in our standard 4 ft x 2 ft sizes to fit over regular LED or fluorescent light panels. Or you can send us the dimensions of your light fixtures, and we'll cut them to just the right size. At only $29.99 each, you can use two or three in a bedroom or nursery to keep your kids happy. The images are printed onto 8-millimeter backlit film and are easy to install and remove. You can easily switch them around the room if you wish.
Using Decorative Light Covers to Keep Your Children Happy
Among our child-friendly images are beautiful full-color photos of deep space, sandy beaches, mountain landscapes, ocean wildlife, and more. You can make up a story featuring those scenes, or even find one in a storybook. And when you have finished, you can dim the lights, and your children can look up at the story you just told them glowing overhead.
Alternatively, arrange the wiring so that you can leave selected panels on at night until they fall asleep. You can even install one or two LED or fluorescent light panels to the wall. Just fit the decorative light cover panels over them, and leave those on at night.
Children tend to settle down more easily at night if they have something to focus on and think about. Decorative fluorescent light covers will take their minds off anything scary, especially if they display images of their favorite characters. That's why we offer custom image printing at no extra charge. Just upload a high-resolution digital image, and we will make you a custom decorative light cover for the same low price as our standard covers.
Check out our full range of decorative light covers. Select the decorative light covers that you feel most confident telling stories about. You children can continue their bedtime stories in their heads after you leave them. Their favorite scenes or characters will be smiling down at them. Night-night, sleep tight!