Decorative fluorescent light coverings at your dentist's office?! Absolutely. Read on...
Just about everyone knows that there can be some mild anxiety associated with a dental visit. This is especially true when major dental work is to be performed. However, there is good news for dental care providers who wish to put their patients more at ease for even the simplest of procedures. Something known as decorative fluorescent lighting is sweeping the country as a new and innovative way to light everything from homes to offices and even schools.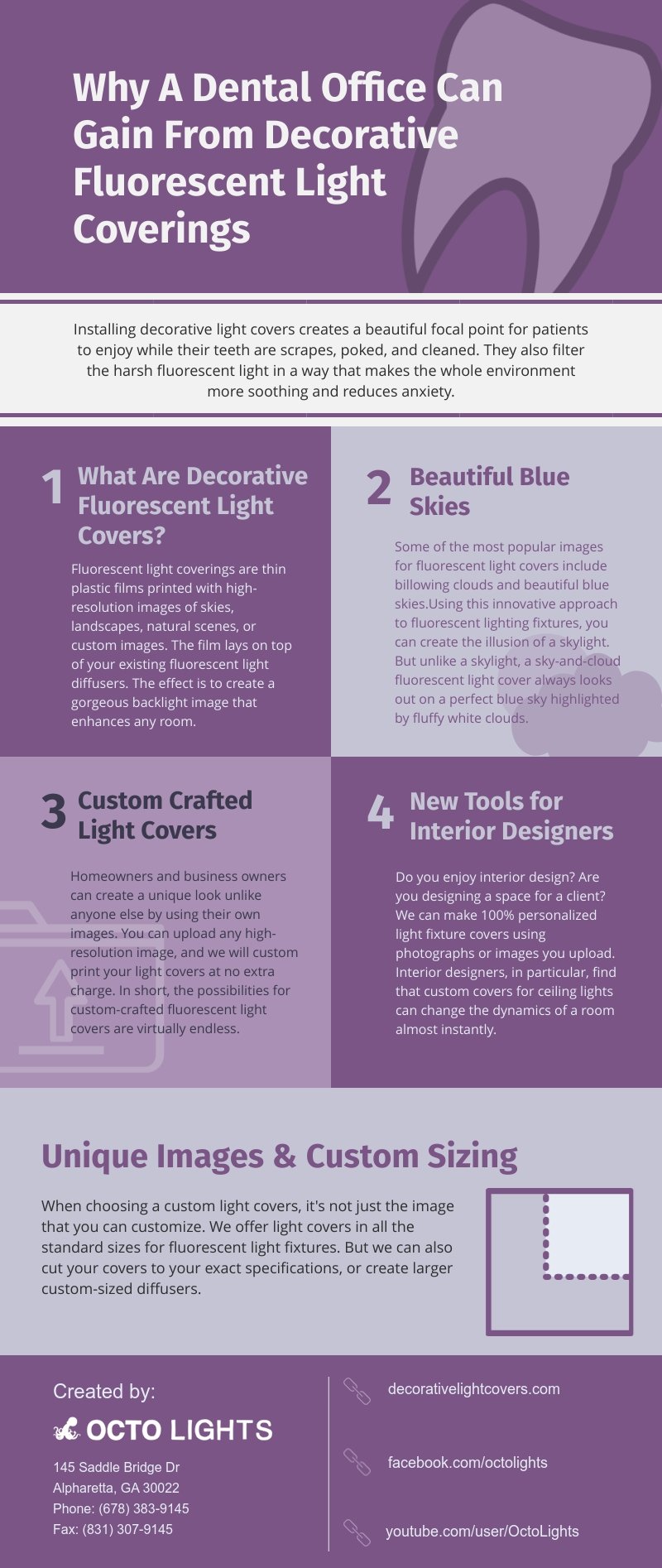 What Are Decorative Fluorescent Light Covers
Fluorescent light panels are a way to transform a space with only a minimal investment of time and money. Fluorescent light coverings can greatly enhance any interior space. But before we move on, let's talk a little about what custom-crafted fluorescent light covers are.
Fluorescent light coverings are thin plastic films printed with high-resolution images of skies, landscapes, natural scenes, or custom images. The film lays on top of your existing fluorescent light diffusers. The effect is to create a gorgeous backlight image that enhances any room.
Upgrading lighting in a dentist's office is a great way to make the dental experience more relaxing. In a dentist's office, more than almost anywhere else, patients spend a lot of time staring at the ceiling. Installing decorative light covers creates a beautiful focal point for patients to enjoy while their teeth are scrapes, poked, and cleaned. They also filter the harsh fluorescent light in a way that makes the whole environment more soothing and reduces anxiety. Fluorescent light that isn't filtered can have a subconscious effect on many people, increasing tension and even causing headaches and eye soreness. Filtering the light with decorative fluorescent light coverings can cut down on the anxiety, making for a more pleasant dental experience. When patients feel more comfortable, dentists can develop long-lasting patient relationships and build a lasting patient list.
Beautiful Blue Skies
Once you've decided to improve your lighting with decorative light covers, the next step is to choose a design. Styles and designs can span the universe from colorful astronomy photos to calming beach settings. We also offer flower designs, ocean settings, and beautiful landscapes.
Some of the most common images for uniquely designed fluorescent light covers include billowing clouds and beautiful blue skies. Bringing the outdoors into a home or office has never been easier. Using this innovative approach to fluorescent lighting fixtures, you can create the illusion of a skylight. But unlike a skylight, a sky-and-cloud fluorescent light cover always looks out on a perfect blue sky highlighted by fluffy white clouds. Other unique styles include waterfall light covers, as well as covers geared towards children's rooms and covers that feature different types of nature settings.
Custom Crafted
We offer an extensive selection of images to create your fluorescent light covers. Once you select your image and check out, your light covers are custom printed and shipped out in just a day or two. But the customization doesn't end there. Now homeowners and business owners can create a unique look unlike anyone else by using their own images. You can upload any high-resolution image, and we will custom print your light covers at no extra charge. In short, the possibilities for custom-crafted fluorescent light covers are virtually endless.
Interior Designers
Transforming almost any room in the home has never been easier thanks to these dramatic fluorescent light filters. Why not gain attention and garner compliments? Light covers that incorporate breathtaking images add brilliance and excitement to a space that would otherwise go unnoticed. Do you enjoy interior design? Are you designing a space for a client? We can make 100% personalized light fixture covers using photographs or images you upload. Interior designers, in particular, find that custom covers for ceiling lights can change the dynamics of a room almost instantly.
Uniquely Creative Images
When choosing a custom light covers, it's not just the image that you can customize. We offer light covers in all the standard sizes for fluorescent light fixtures. But we can also cut your covers to your exact specifications, or create larger custom-sized diffusers.
Octo Lights is a trusted and respected source for the best in today's modern fluorescent light covers. The company is known for its commitment to earth-friendly practices by making use of sustainable resources as a way to reduce any undesirable impact on the environment. We offer highly competitive pricing and uniquely creative images. That makes Octo Lights the clear choice when it comes to impressive sky-and-cloud panels for overhead fluorescent lighting. Contact Octo Lights today to learn more about fluorescent ceiling light covers for dental offices.