Those who love flowers know the beauty and elegance they can bring to almost any interior space imaginable. One of the best ways to enhance any room is to consider using flower-themed fluorescent light covers. The beauty, simplicity, and elegance that flowers can add to a room can make for a more enjoyable, relaxing, and calming experience. Flowers signal renewal, beauty, and simplicity.
Greatly Enhanced Interior Space
Flowers also indicate a clean and fresh environment. Flowers are indicative of beautiful fragrances, nature at its essence, and delicate detail that is simply beyond compare. When all these factors are taken into account and incorporated into a fluorescent light panel cover, the result is a greatly enhanced interior space for a home or business. From daisies to roses and lilies as well as every other flower, it is easy and convenient to create the perfect sky panel for a home or commercial space.
Inspirational And Artistic Flower-Themed Fluorescent Light Covers
Best of all, today's modern fluorescent light diffuser panels are long-lasting, durable, and easy to maintain. They are easy to install and can be custom-crafted with virtually any image or photograph imaginable. Perhaps one of the best parts of choosing to install fluorescent light fixtures that use unique photography is that they can diffuse fluorescent light in a creative, inspirational, and artistic way. This is likely why so many people choose to add fluorescent light covers to their home or office. With so much to offer in terms of functionality and visual appeal, fluorescent light covers with flower themes and many other designs are becoming all the rage today.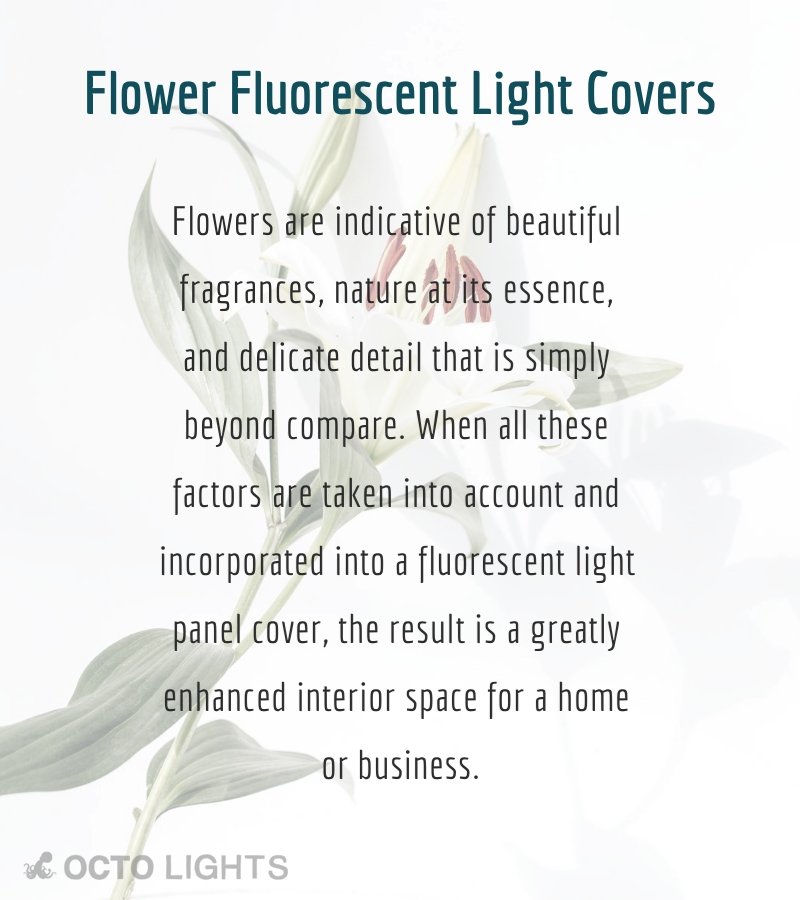 Incredibly Attractive Fluorescent Light Diffuser Panels
If you like to take your own photographs, you can capture close-up images of blooming flowers at just the right time of the year. If you prefer to outsource your photographer, our in-house designers have many stunning photos to choose from. These sharp and detailed images are easily converted into incredibly attractive fluorescent light diffuser panels. Along with flower-themed and sky-and-cloud panels, many other types of themes and images can be incorporated into an interior space. For example, astronomy images, beach-themed panels, and nature scenes can all be used to take any room to an entirely new level of beauty.
A Trusted And Reliable Source
To get the most out of replacement fluorescent light covers with flowers and other images, you need to work with the right company. While there are many choices today when it comes to ceiling light covers, only one company has consistently outperformed the competition year after year. Octo Lights is a trusted and reliable source for the best in decorative fluorescent light covers for home or business. The company has a dedicated team of experienced and knowledgeable staff and customer service representatives who are always standing by and ready to assist. Contact Octo Lights today to learn more about flower-themed light panels for home and office.