What is the best place for fluorescent light covers? This is a frequently asked question. In fact, fluorescent light covers—or decorative recessed light covers—can be used just about anywhere, in almost any type of application. What makes light lenses so unique is that they are both functional and visually appealing. They can be used in medical offices, schools, churches, and businesses of all types. Best of all, they are designed to effectively reduce eye strain and migraine headaches that are associated with prolonged exposure to fluorescent lighting.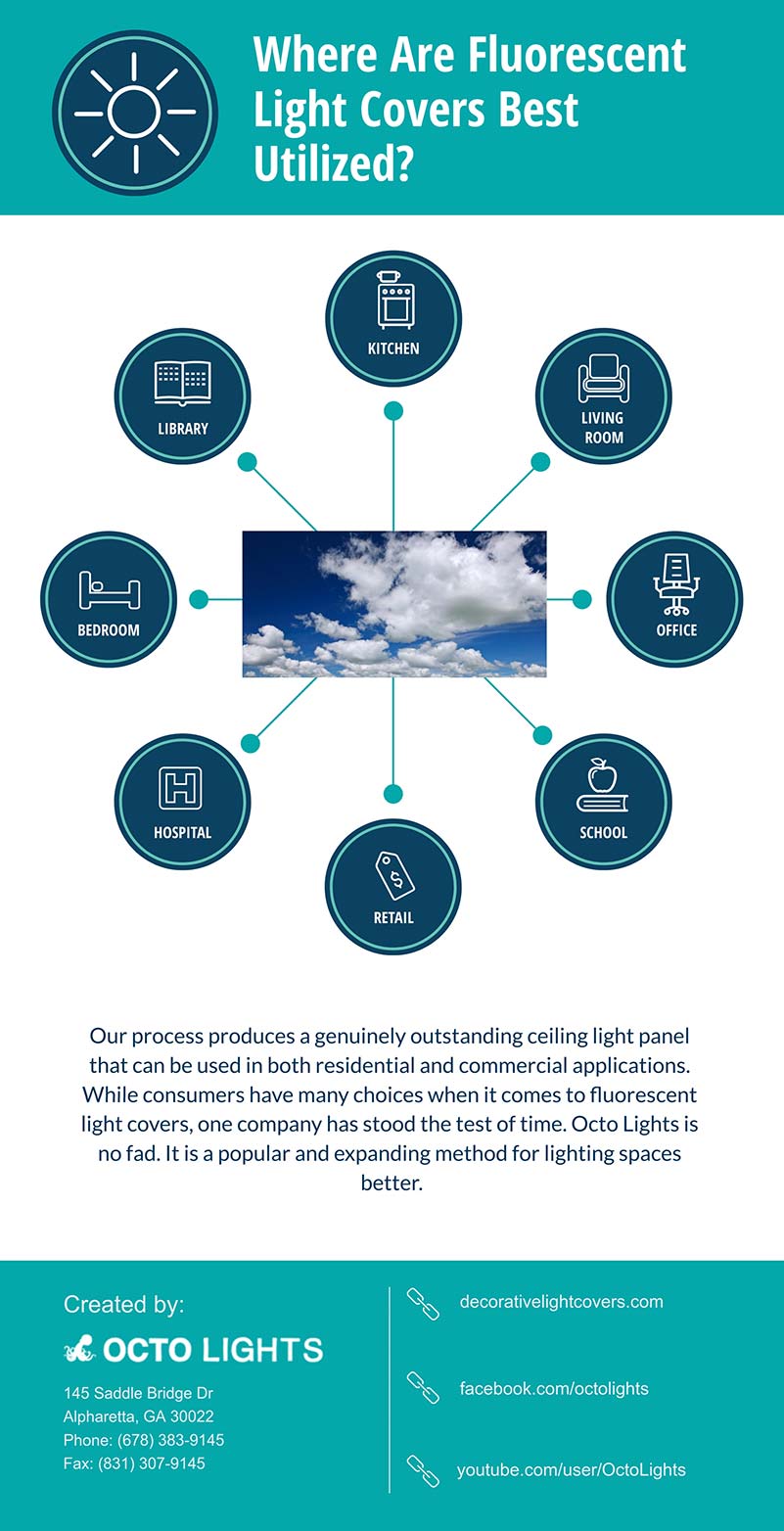 Easy To Maintain
When fluorescent light is diffused, modulated, and filtered, it creates a more pleasing and more enjoyable environment. This is especially important for those who work under fluorescent lights for many long hours in an office or manufacturing facility. Spending all day under fluorescent lights can make you feel tired, with sore eyes and even headaches. But with fluorescent light covers, there is no reason anyone should be subjected to that.
Fluorescent light filters are affordable, easy to maintain, and simple to install. Some customers do choose to have professionals install their fluorescent light covers. But many find that doing the work on their own is easy and quick. With so much to offer, it is easy to see why light covers for ceiling lights are becoming so incredibly popular today.
Light Lenses Take On A Unique And Professional Look
From decorative kitchen fluorescent light covers to sky-and-cloud panels that can be used in a bedroom, living room, or even a hallway, the possibilities are virtually unlimited. But Octo Lights offers something even more impressive. We offer a vast selection of images and photographs. Many of them are created exclusively for Octo Lights by our designers and photographers. But now customers can also easily upload their own custom images. We convert your images into fluorescent light panels as unique as you are. Our light covers are produced using high-quality backlit film, so your light lenses will take on a unique and professional look. It is simply beyond compare. In fact, enhancing any interior space, from both a functional and visual perspective, is easier today than it has ever been in the past.
High-quality Imagery
Decorative fluorescent light covers are manufactured using heavyweight backlit film that is front-printed. This results in high-quality imagery that takes advantage of premium pigment and high-end dyes. Our fluorescent light covers are made primarily of polyester. Dach durable film light lens is produced with careful and detailed consideration. We use the right types of materials, and the result is excellent print handling and professional finishing characteristics. When combined, the result is exceptional color saturation and crystal clear images. Our process produces a genuinely outstanding ceiling light panel that can be used in both residential and commercial applications. While consumers have many choices when it comes to fluorescent light covers, one company has stood the test of time. Octo Lights is no fad. It is a popular and expanding method for lighting spaces better.
Outstanding Customer Service
Octo Lights is a reliable and respected source for the very best in decorative recessed light covers. We use only the finest materials. With years of experience in the industry, Octo Lights stands apart from the competition. We routinely produce premium-quality fluorescent light panels. Our company is known for its outstanding customer service and incredible attention to detail. If you're looking for the best in decorative fluorescent light covers, you need to look no further than Octo Lights. Contact Octo Lights today to learn more.