Fluorescent light covers can be decorated in many different ways to keep nursery-age children amused. Some ambitious parents have tried covering fluorescent lights with colored cloths, hanging things from the fixtures, or even painting the diffusers. However, by far the best way to decorate lighting panels is to cover the diffusers with decorative light covers. These fluorescent light covers are made of a thick film printed with translucent photographs of images that are of interest to children.
It is not easy to keep kids occupied. When children are young, they can flit from toy to toy and lose interest quickly. Before long they have grown used to the usual soft toys and building bricks. But try switching on the lights and letting them gaze up at a starry sky or images of orchids, roses, and other beautiful flowers! On a dull rainy day, imagine their wonder as they look up at the ceiling and see a bright blue sky with white clouds, or even a bright sun shining down on them.
They will look up, look out the window, and then look up again in puzzlement until you explain how it is done. Whisk them off to the next room, and then switch the blue sky with a view of the stars while they are away. Then bring the young children back in! Imagine their reaction!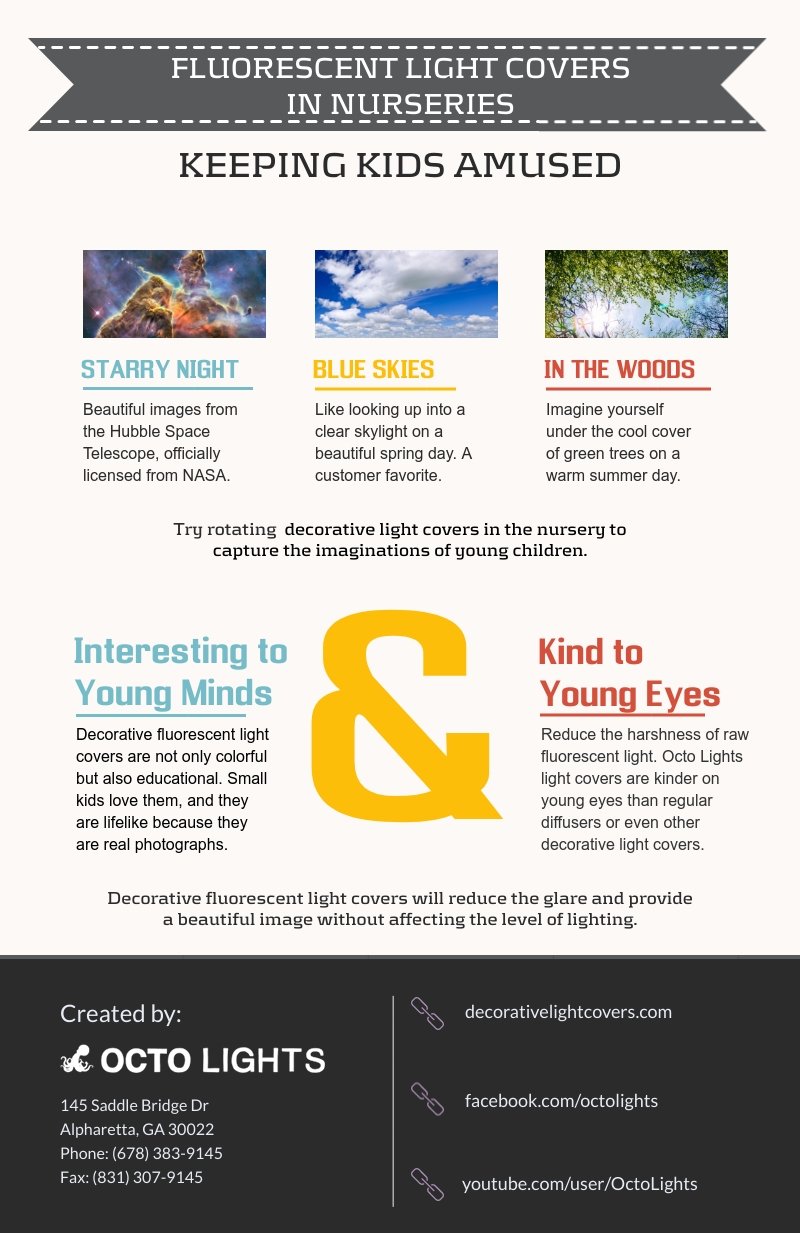 Stars Today - Sunsets Tomorrow
This is just one way in which fluorescent light covers can be used to entertain young children. Their minds are wide open ready to learn about all the tricks you can play. One day sun, another day stars, and yet another day a beautiful sunset with its gold and orange rays reflecting over the Pacific Ocean.
All of this is possible with fluorescent light covers. At 4 ft x 2 ft they fit the majority of standard fluorescent light diffuser panels. If you have a different size, just let us know, and we'll cut them to the exact size of your light fixture. Simply lie the decorative light covers on top of the diffusers, and change them when you want a change of vertical scenery! They are inexpensive so you can rotate several different panels.
Fluorescent Light Covers for Preschool Children
These decorative light covers are widely used in private homes and offices and are now finding use in hospitals and school classrooms. They are not only decorative but educational. Fluorescent light covers are particularly intriguing to the young minds of nursery and preschool children in the 3-5 year range.
You can show them decorative light cover panels displaying lifelike waterfalls to discuss how water flows. It flows, of course, from the mountains to the sea. You can talk about how gravity affects rivers just as it does a bouncing ball. With the right fluorescent light covers in your nursery, you can explain to small children why flowers do not look all the same or how a sunset is reflected in the still waters of a calm ocean.
Decorative fluorescent light covers are not only colorful but also educational. Small kids love them, and they are lifelike because they are real photographs. Most images come from Octo Lights photographers, so this is the only place you'll see them. One exception is our collection of stunning images from the Hubble Space Telescope. These are photographs of deep space that NASA has licensed to us to use in our fluorescent light covers.
Interesting to Young Minds and Kind to Young Eyes
Reduce the harshness of raw fluorescent light in your nursery or kindergarten by using decorative fluorescent light covers. They are kinder on young eyes than regular diffusers or even other decorative light covers. They also intrigue young minds and make them think about what they are seeing.
If you have LED, fluorescent, or any other harsh lighting system in your nursery, your school, or even your office, decorative fluorescent light covers will reduce the glare and provide a beautiful image without affecting the level of lighting. They are decorative, educational, and provoke interest in young children.