Fluorescent Light Panels - Transform An Ordinary Children's Room Into Something Special
The Power of Fluorescent Light Panels
Parents are always looking for unique and inspiring ways to transform a child's room into something exceptional. While there are many options in this regard, one way, in particular, has grown in popularity in recent years. Decorative fluorescent light covers are a unique and exciting way to transform a room. They can change the entire dynamics of the space, make a room far more inviting, and spur the imagination. Best of all, they are infinitely customizable. We can design fluorescent light panels using virtually any type of image imaginable.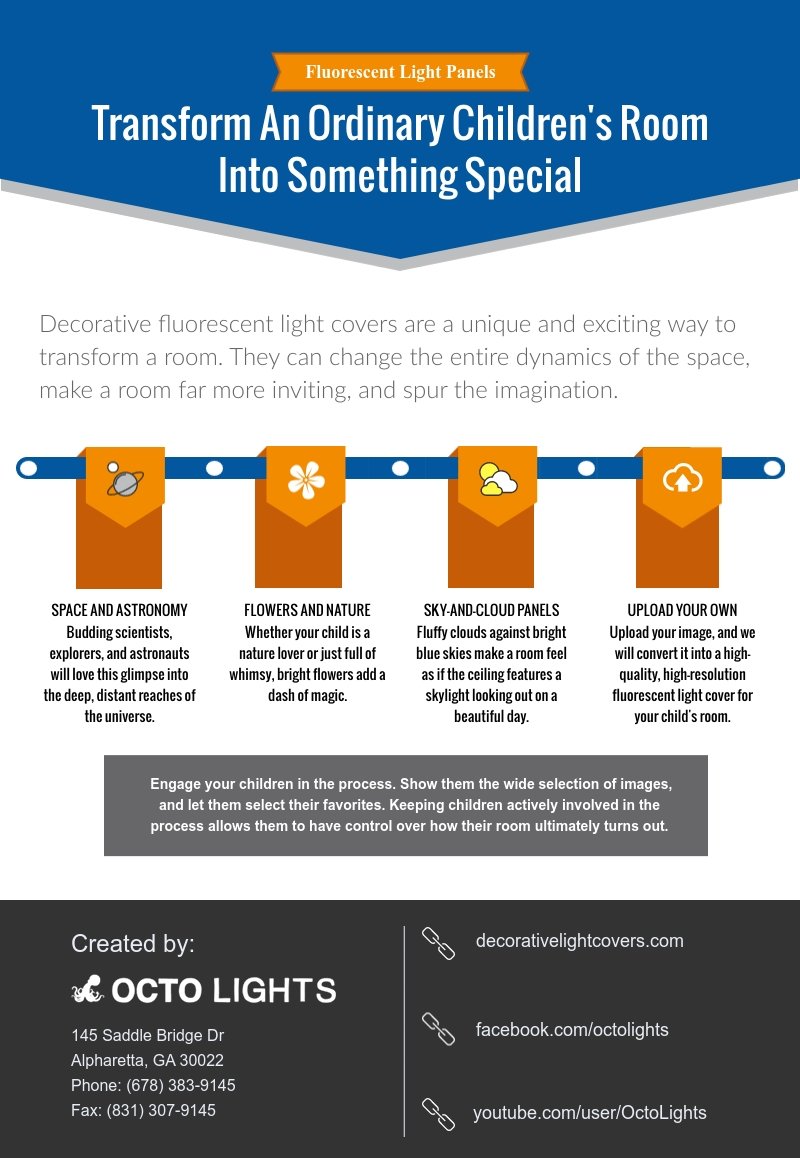 Planetary Systems and More
Kids who enjoy space and astronomy will love our astronomy light covers. They add intrigue and excitement to what would otherwise be a boring child's room. From quasars to planetary systems and star patterns, the possibilities are unlimited. Many of our astronomy images are colorful, vibrant photos taken by the Hubble Space Telescope and licensed from NASA. Budding scientists, explorers, and astronauts will love this glimpse into the deep, distant reaches of the universe.
Our flower light covers are a great way of turning a room into a fun and exciting environment. Whether your child is a nature lover or just full of whimsy, bright flowers add a dash of magic.
Parents can inspire children to learn about the world around them by adding sky-and-cloud panels that are unique and informative. Our popular sky-and-cloud panels feature white, fluffy clouds against bright blue skies. They can make a room feel open as if the ceiling featured a skylight looking out on a beautiful day. A blue sky is relaxing, rejuvenating, and a great way to make a room feel bigger.
Personal Images
In addition to our many standard panels, parents can upload custom images to create the perfect look. While landscape light panels and cloud panels are very popular, many people choose to use more personal images. With modern technology, it has never been easier to turn almost any type of image into a fluorescent light panel. Upload your image here, and we will convert it into a high-quality, high-resolution fluorescent light cover for your child's room.
Impressive Sky-and-Cloud Panels
Ordering your fluorescent light panels is as easy as 1, 2, 3.
Choose your image (or upload your own).
Select a size. Need a custom size we don't list? Just let us know, and we'll cut it for you!
Give us a little info (like how you are paying and where to send your fluorescent light covers) and check out!
You can even engage your children in the process. Show them the wide selection of images, and let them select their favorites. Keeping children actively involved in the process allows them to have control over how their room ultimately turns out. It's a fun way of enhancing your child's room while making it more inviting for your children and their friends.
Outstanding Reputation for Fluorescent Light Panels
Octo Lights is a company that is revolutionary in many ways. We can help parents transform a child's room through the use of innovative fluorescent light covers. But don't stop with your child's bedroom. Sky-and-cloud are perfect for the home or office, as well as retail outlets and even schools and churches. There is almost no limit to where you can use this type of lighting fixture. Brilliant, decorative, and attractive fluorescent light fixtures are truly the wave of the future. And Octo Lights has an outstanding reputation when it comes to producing high quality light fixture products at affordable prices. Contact Octo Lights today to learn more about innovative, unique, and revolutionary fluorescent light covers for your child's room.