Interior design plays a vital role in enhancing almost any type of interior space. And good interior design can have a significant impact on residential or commercial property. Good design increases the value of a property and makes a space more inviting and more comfortable. In fact, many professionals recommend upgraded lighting as a way to increase the chances of selling a home. In short, improved lighting will typically pay for itself several times over when it comes time to sell.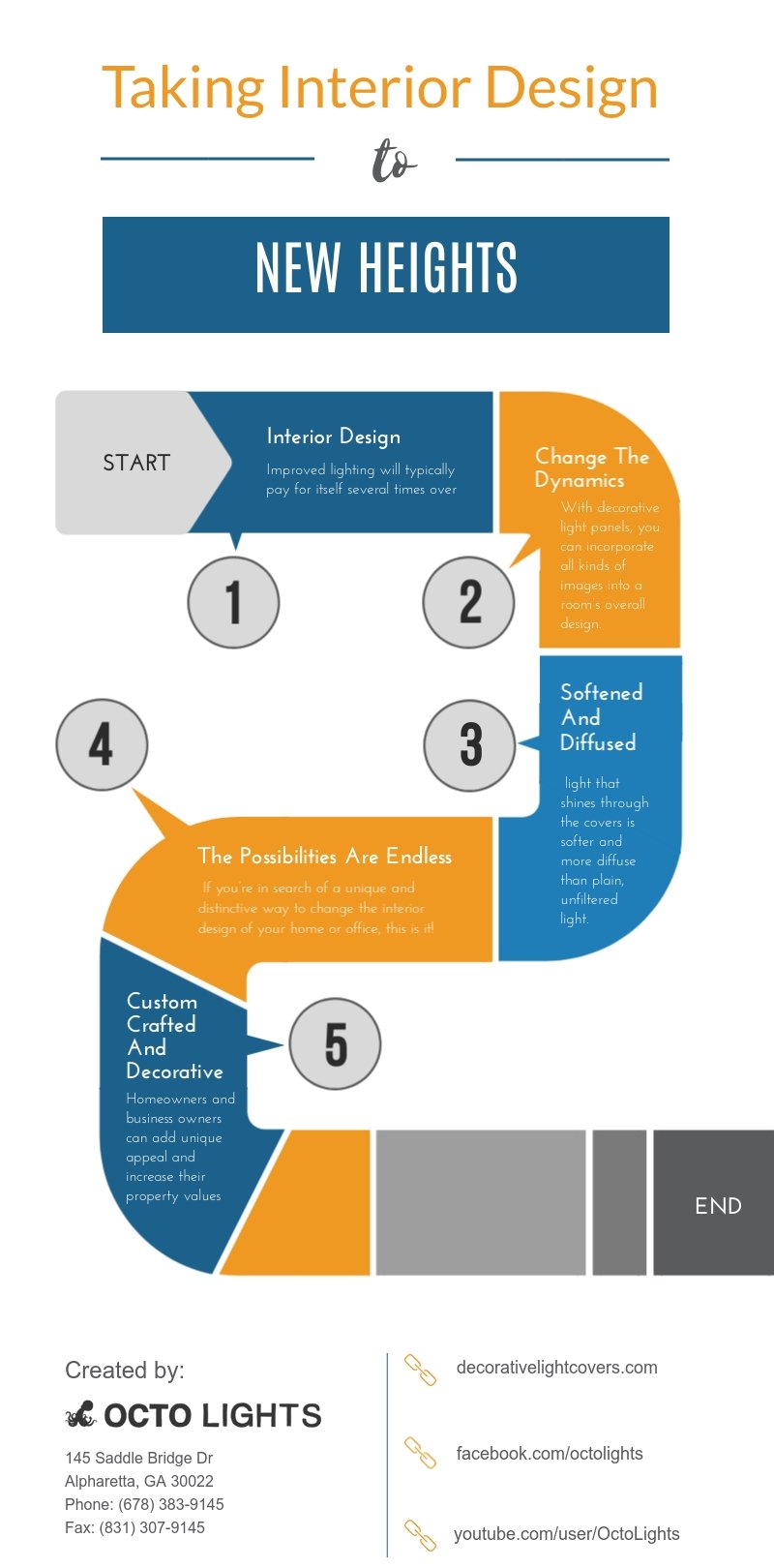 Change The Dynamics
When it comes to upgraded lighting, decorative fluorescent lighting panels have increased in popularity in recent years. They are a unique way to turn ordinary overhead lighting panels into a distinctive focal point. With decorative light panels, you can incorporate all kinds of images into a room's overall design. Octo Lights offers a wide variety of covers. Our popular covers feature ocean scenes, nature photos, sky-and-cloud views, licensed images from NASA's Hubble Space Telescope, and much more. Decorative light covers are a great way to change the interior design of a room and increase the value of virtually any property.
Softened And Diffused
Enhancing your old fluorescent light panels with decorative covers is an easy way to improve any office space. The new light that shines through the covers is softer and more diffuse than plain, unfiltered light. So these panels don't just look great; they also serve a real functional purpose. For example, light that is softened and diffused can change the entire feel of an office. You can also use these decorative light covers in a residential setting. For instance, you can manipulate the light through the use of various colors. In this way, you can create a particular mood in a bedroom, living room, or even a kitchen. When you use them in a child's room, decorative covers can make the room more interesting and even more educational.
The Possibilities Are Endless
Different panels can depict planets that rotate around the sun or various types of marine life. The possibilities are endless when you take full advantage of all that custom fluorescent light covers have to offer. If you're in search of a unique and distinctive way to change the interior design of your home or office, this is it! You can do so much with decorative fluorescent light covers. As an added bonus, it is easy to use custom images to create the perfect fluorescent light cover.
Custom Crafted And Decorative
Lighting is an integral and vital part of any interior design effort. When you consider the essential aspects of interior design, light is one of the most important—it can't be overlooked. Both homeowners and business owners can add unique appeal and increase their property values with custom-crafted decorative fluorescent light diffusers. With so much to offer, it is clear why decorative light covers—or sky-and-cloud panels, as they are sometimes called—are so popular. Contact Octo Lights today to learn more about decorative fluorescent light fixtures that are affordable, impressive, and long-lasting.