Let's face it—fluorescent lighting can be bright and harsh at times. In fact, fluorescent lighting has become nearly synonymous with cold, unpleasant, dreary offices and institutions. Unfortunately, some residential spaces are also lit with fluorescent fixtures, and that can pose a challenge. Whether you have fluorescent light at home or in your workspace, it's time for a change. It's time to tone down lighting to add appeal to your home or office.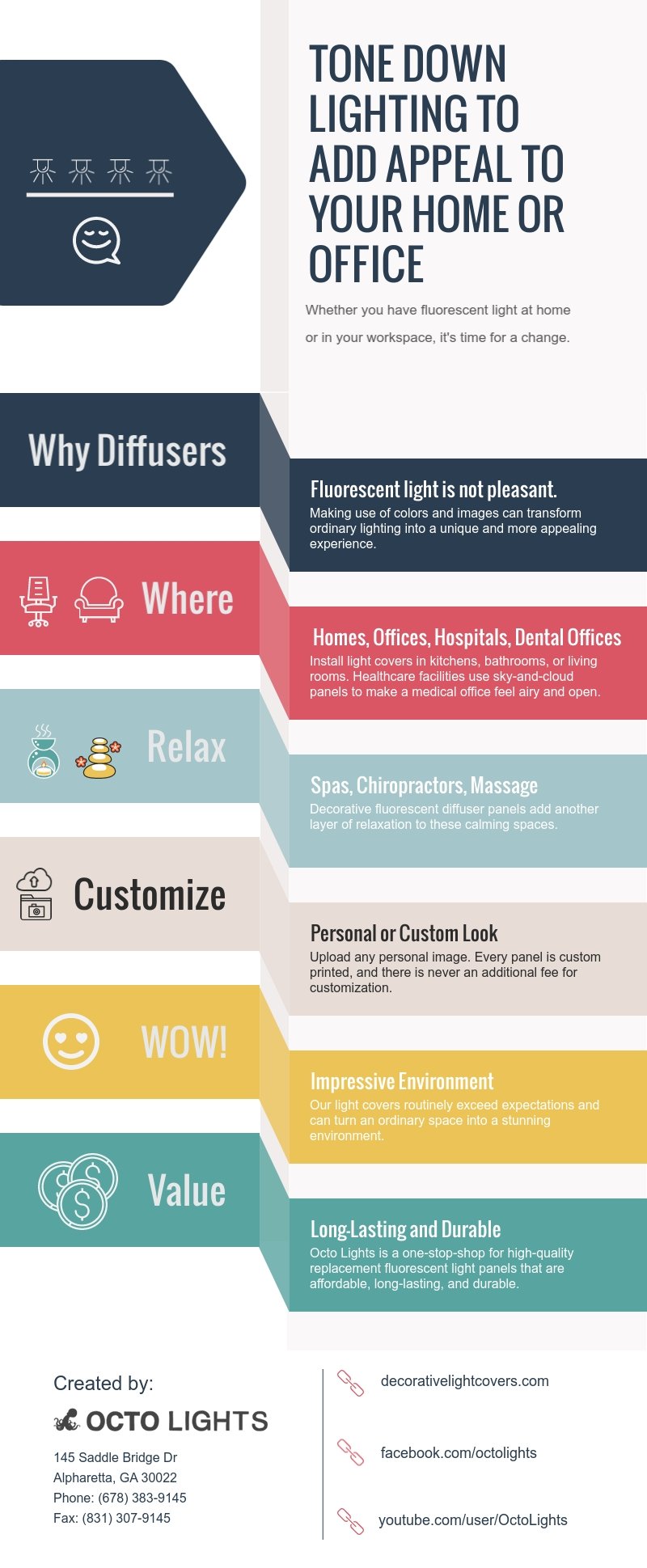 Why Diffuser Panels?
Fluorescent light is not the most pleasant to sit under. It can be bright and harsh, and the color of the light is often unpleasant. For this very reason, most homes and offices have light-diffusing panels installed on their fluorescent fixtures. They help to soften fluorescent light and make it more acceptable. Standard light-diffusing panels are typically white or off-white. But today, more than ever before, consumers have many choices when it comes to the custom modification of fluorescent light panels. Making use of colors and images can tone down lighting and transform ordinary lighting into a unique and more appealing experience.
Homes, Offices, Hospitals, and Dental Offices
Plain white fluorescent light diffusers can easily be replaced with more attractive, unique, and memorable image-based designs. The use of this type of unique light cover diffuser is perfect for homes or offices. Many of our customers install Octo Lights decorative light covers in kitchens, bathrooms, and living rooms. They are excellent for any room where you have fluorescent light.
Commercial businesses and healthcare providers—such as hospitals and dental offices—can also gain substantially from installing decorative light panels. You can incorporate decorative fluorescent light diffuser panels into any existing interior design. For example, some healthcare facilities use sky-and-cloud panels to make a white medical office feel airy and open instead of cold and oppressive.
Even spas, chiropractors, and massage therapy businesses can enjoy the benefits of custom fluorescent light covers. Decorative fluorescent diffuser panels add another layer of relaxation to these calming spaces.
Personal Or Custom Look
Anywhere fluorescent light panels are installed, custom decorative light diffusers can be added in their place. Updating and enhancing almost any interior space in a home or office with unique lighting accents has never been easier. This is especially true when it comes to creating a personal or custom look. Thanks to modern technology, customization is easier today than ever before. Customers can upload any personal image, and we will transform it into a unique decorative fluorescent light diffuser panel. Every panel is custom printed, and there is never an additional fee for customization.
Impressive Environment
Colorful fluorescent light covers are soothing, relaxing, and inviting. High-resolution photographs and scenes from nature are backlit to create a beautiful, glowing, life-like image that can take a room to the next level. Decorative fluorescent light covers are an impressive upgrade that can change the entire look and feel of almost any interior. Installation is easy and convenient, and any homeowner or business owner can do it themselves. Unlike other lighting updates, there's no need to hire a professional electrician. The results of this easy upgrade are impressive. Our light covers routinely exceed expectations and can turn an ordinary space into a stunning environment.
Long-Lasting and Durable
Octo Lights is a dependable and trusted source for the absolute best in Atlanta decorative fluorescent light diffuser panels. Offering products in a wide range of themes, Octo Lights has earned the respect of prior and existing customers over the years. With a proven track record and a long list of positive reviews, Octo Lights is a one-stop-shop for high-quality replacement fluorescent light panels that are affordable, long-lasting, and durable. They are a great way to tone down lighting and create stunning designs. With outstanding customer service and fair pricing, few other companies can compare.
Still not sure how you can make the best use of fluorescent light covers? Contact Octo Lights today to learn more about ceiling light covers that are impressive in every way.