Turning what would otherwise be an ordinary office into a unique and inspiring space can be as simple as adding custom fluorescent light panels. Office workers and business owners can gain substantially from all that this type of unique fluorescent light diffuser has to offer. In fact, going far beyond aesthetic appeal, decorative fluorescent light covers also offer real functional value. For example, this type of lighting fixture is known to reduce light related headaches and persistent eyestrain in office employees. Decorative light covers become a quick and cost-effective way of transforming an office.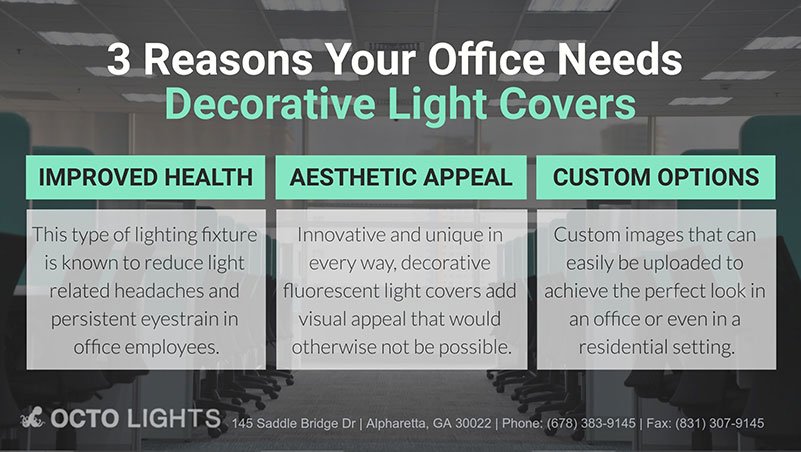 Decorative Fluorescent Light Covers
Many studies and much research have indicated that properly diffused fluorescent light can significantly reduce headaches in office workers. This information is widely available and makes it easy to see why fluorescent lighting, when properly covered, can improve worker productivity and even bottom-line financial performance. Aside from the functional advantages of light diffuser panels, there is also the advantage of improved office appeal for customers. Innovative and unique in every way, decorative fluorescent light covers add visual appeal that would otherwise not be possible.
Stunning Astronomy Images
Even more impressive is that business owners have more choices than ever before when it comes to the types of images they can choose when transforming an office space. From a virtually unlimited supply of stock images to custom images that can easily be uploaded, achieving the perfect look in an office or even in a residential setting has never been easier. From creating stunning astronomy images such as a starry night to images of planets and nature images, the only limit is one's imagination. From tree images to ocean images and beach scenes and wildlife to cityscapes, virtually any image can easily be transformed into a light diffuser panel.
Backlit Style Film
Creative images and written messages can easily be the foundation for unique and innovative looking light covers for a ceiling. These panels are custom-crafted using heavyweight font type print and backlit style film. Premium quality decorative light fixtures used to cover fluorescent lights at affordable pricing are widely available for residential and commercial use. Each panel is made from UL certified fire-resistant self-extinguishing material that ensures optimum levels of safety. These panels can be used in hospitals, residential homes, schools, and businesses.
Unique And Delightful
Octo Lights is a reliable and preferred source for the very best in decorative lighting covers. Few other companies can compare when it comes to environmentally friendly fluorescent light panels that are professionally made and custom crafted to customers' exacting specifications. With years of experience in the industry, Octo Lights offers value and quality in lighting covers that is second to none. Virtually any room in a home or business can be easily transformed in a most unique and delightful way using fluorescent light covers. Octo Lights is a one-stop-shop for the best in modern light panels. Contact the company today to learn more.