There are plenty of useful products out there. But it is hard to find products that excel on all fronts, with no downside. Fluorescent lights are no exception. Fluorescent lighting is one of the most energy-efficient forms of indoor lighting. Only LEDs use less electricity, but LEDs cost much more to purchase. However, despite its advantages, there are some negatives. For example, many people complain about the harsh effects on their eyes. From a functional point of view, fluorescents are second to none. They are the lighting of choice for all types of commercial buildings. Fluorescent lights are also not uncommon in residential settings. Luckily, there are many types of fluorescent light covers.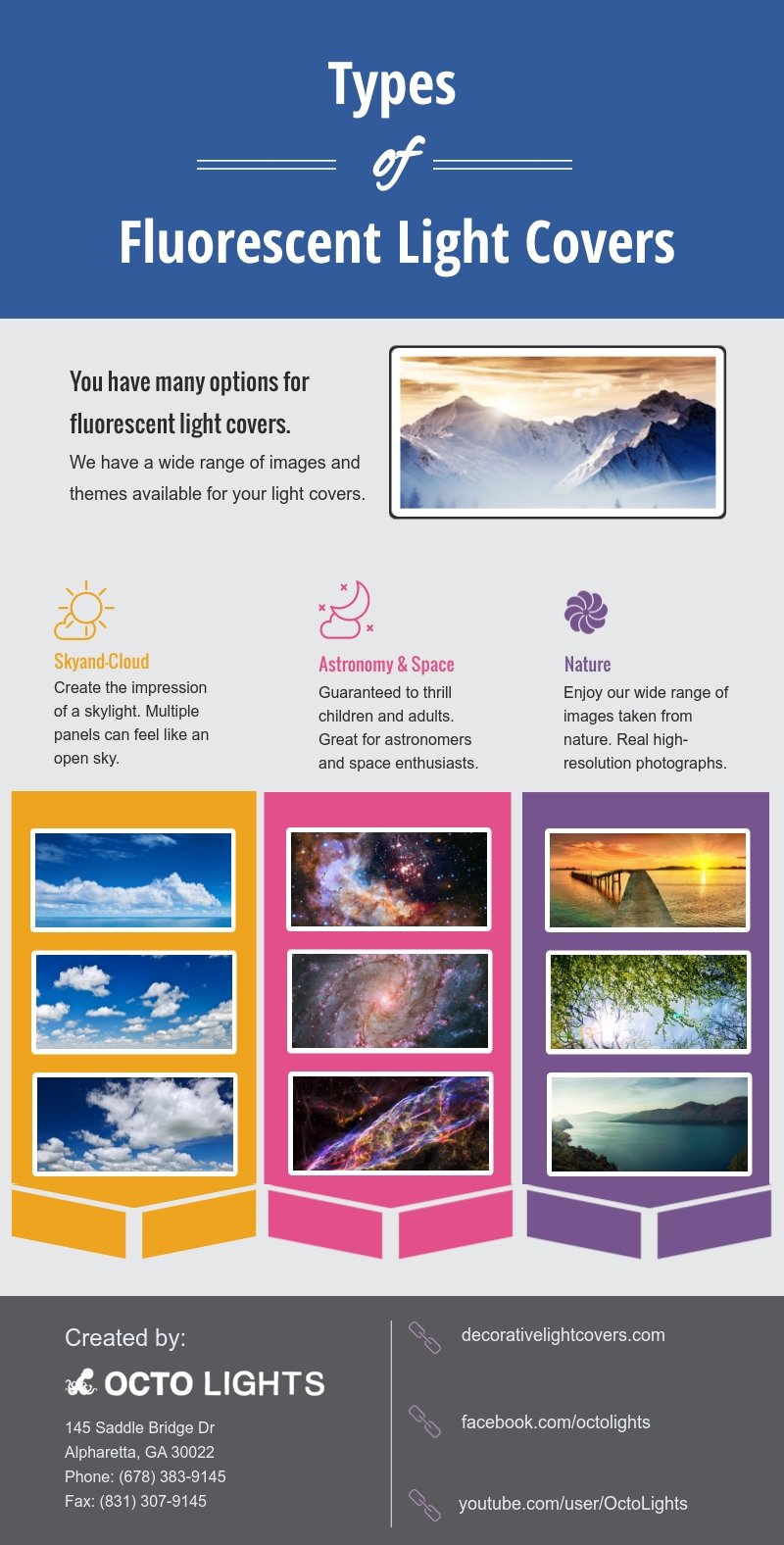 Making Fluorescent Lights More Appealing
Compared to fluorescent lights, fluorescent light covers are a relatively new product. For nearly half a century, people had no choice when it came to the downside of fluorescent light. Today, however, Octo Lights sells many types of fluorescent light covers. They can beautify ugly fluorescent lights and make them a much more desirable option. But they have yet to see the popularity they deserve.
These inexpensive light covers are installed directly on top of the plastic light diffuser you already have. Plain, usually plastic light covers can help shield onlookers from staring into direct light. But they do little else and are often unsightly. Octo Lights light covers help defray harmful UV radiation while at the same time distributing the light source out over a greater area. You can choose from an array of decorative fluorescent light covers to meet your particular needs.
Which Types Fluorescent Light Covers Are Right for You?
Before we begin, we should point out that there are many features that all of our decorative light covers have in common. They are all printed with earth-friendly, water-based, UV-resistant inks. They are also all made of high-quality materials that are fire-safe and safe for the environment. Every type of fluorescent light cover we produce is printed in high-resolution with excellent color saturation. All of our decorative light covers look great when they're installed. But you also have many options for which type of fluorescent light cover you would like. We have a wide range of images and themes available for your light covers.
One of our most popular types of light covers is our sky-and-cloud series. These images of blue skies and white, fluffy clouds give the impression of a skylight when installed in your ceiling. If you have multiple fluorescent fixtures, you could use a multi-panel design to create the feeling of an open roof.
Another popular type of fluorescent light cover is the astronomy series. Similar to the sky-and-cloud series, this series can make it feel like you are looking up to the sky. But unlike the sky-and-cloud series, these are images of ideal night skies and real photos of deep space. They are guaranteed to thrill children and adults. If you know someone who loves astronomy or space, you must tell them about these light covers.
We also have a wide selection of images from nature, as well as designs for children and even custom designs.
Special Light Covers for LED Fixtures
Many customers love the effect our decorative light covers have on their fluorescent lights. But we also offer special light covers for LED fixtures. Instead of laying on top of a fluorescent diffuser, they are adhesive, so they can be put on any fixture. They are of the same high-resolution and high-saturation as the fluorescent light covers and provide a similar visual effect.