Sky and cloud light panel covers can transform your home. Many people spend a lot of money decorating and furnishing their homes. They pay a lot of attention to their walls, floors, and windows. But how many people think about their ceilings? Many have never given any thought to how their ceilings could become a focal point and a testament to their decorative skills. But with sky and cloud light panels, you can turn an empty ceiling into a decorative masterpiece.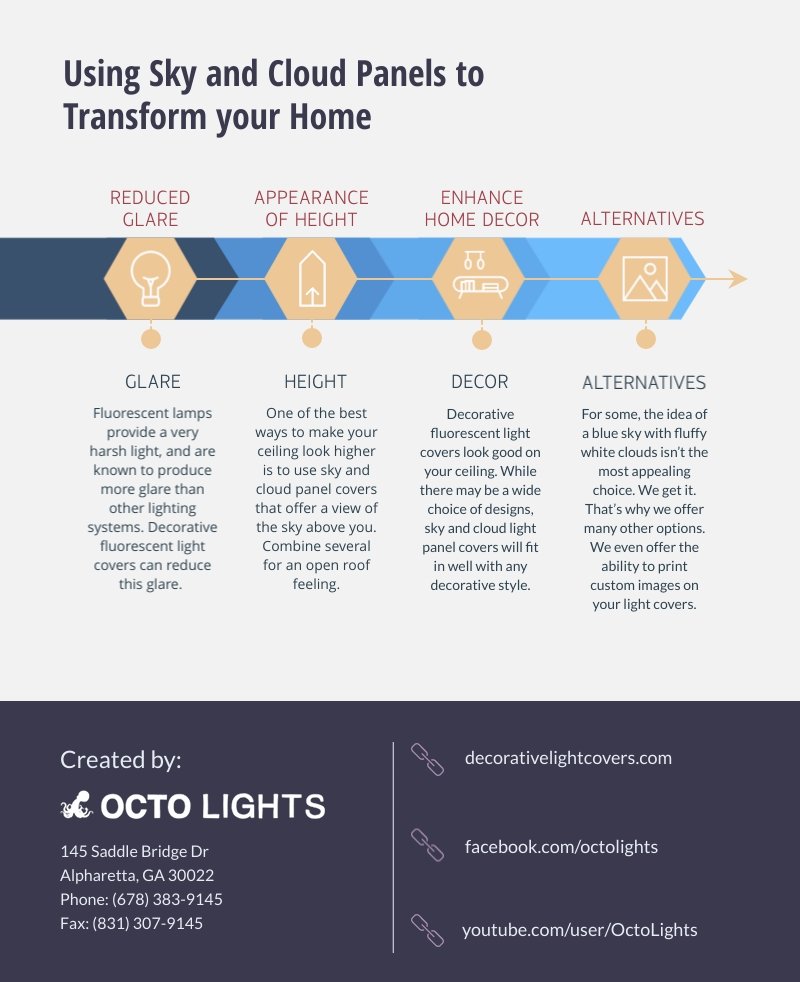 What are Sky and Cloud Light Panel Covers?
Sky and cloud panels are a type of decorative fluorescent light cover. Decorative covers lay directly on top of your existing fluorescent diffuser panels. They are printed with extremely high-resolution images that allow for pin-sharp definition. This makes the photos incredibly lifelike and creates a perfect illusion of a skylight.
Octo Lights offers a collection of sky and cloud light panel covers with over 20 distinct images. We have many different cloud patterns set in a bright blue sky. They are all genuine photographs printed on 8-millimeter transparent film. The printed film is placed on top of your fluorescent light diffuser panel to create a backlighting effect. These sky and cloud light panel covers are very popular for several reasons:
Reduced Glare: Fluorescent lamps provide a very harsh light, and are known to produce more glare than other lighting systems. They are hard on the eyes, yet they are very popular due to their price and low power usage. Decorative fluorescent light covers can reduce this glare. Sky and cloud light panel covers can even convert this harsh light into a very realistic view of a summer sky.
Appearance of Height: sky and cloud panel covers are popular in homes with low ceilings. One of the best ways to make your ceiling look higher is to use sky and cloud panel covers that offer a view of the sky above you. Combine several for an open roof feeling. How high would you like your ceiling to be?
Enhance your Home Decor: Practical reasons aside, decorative sky and cloud light panels look good on your ceiling. They enhance your decor, and while there may be a wide choice of designs, sky and cloud light panel covers will fit in well with any decorative style.
Alternatives to Sky and Cloud Panels
For some, the idea of a blue sky with fluffy white clouds isn't the most appealing choice. We get it. That's why we offer many other options. If you love science, nature, or just the night sky, maybe our astronomy panels would meet your needs. Rather than white clouds in a blue sky, you get white stars in a black sky. The Milky Way is a beautiful galaxy if you ask us. Here on Earth, we are lucky enough to have a great view toward its center. With the right decorative panels, you can gaze up at the sky at night as if you have a cloudless view in a dark field. Enjoy identifying the various constellations, as all of our images are real photographs of the stars above.
With our astronomy-themed panels, you can enjoy a star-filled sky at night or during the day. There are never any clouds or storms obscuring your view. These are genuine photographs that capture the night sky at one unique moment in time. It is not just a representation, but the real thing.
Other alternatives to sky and cloud panels include photographs of waterfalls. These waterfall images are backlit and super realistic. They seem to be pouring water right on top of you. There are other natural scenes, too, such as a tree canopy rising out of your ceiling, or simply a selection of floral or beach views.
Why Use Decorative Fluorescent Light Covers?
We covered the main reasons for using decorative fluorescent light covers above. You can add height to a ceiling and enhance the room where you use sky and cloud panels. There are plenty of other designs, too. But our sky and cloud panels remain the most popular of them all because they are so natural. It's just like looking up through a window in your ceiling.
Click on our Octo Lights home page link above for more information. Check out fluorescent light covers drop-down, too. You can view some of our fabulous sky and cloud panels, astronomy panels, and many more. Using sky and cloud panels to transform your home is a smart decorative move you'll love.