Are astronomy light covers and the meaning of life? Humans have been looking to the stars for thousands of years to understand the world we live in. This is nothing new, and the night sky has been the inspiration for a wide variety of art right up through today's modern world. One unique way to take full advantage of the beauty and elegance of the cosmos is to consider adding astronomy light covers to a residential or commercial space. These light covers are an opportunity for a lighting upgrade that simply should not be overlooked.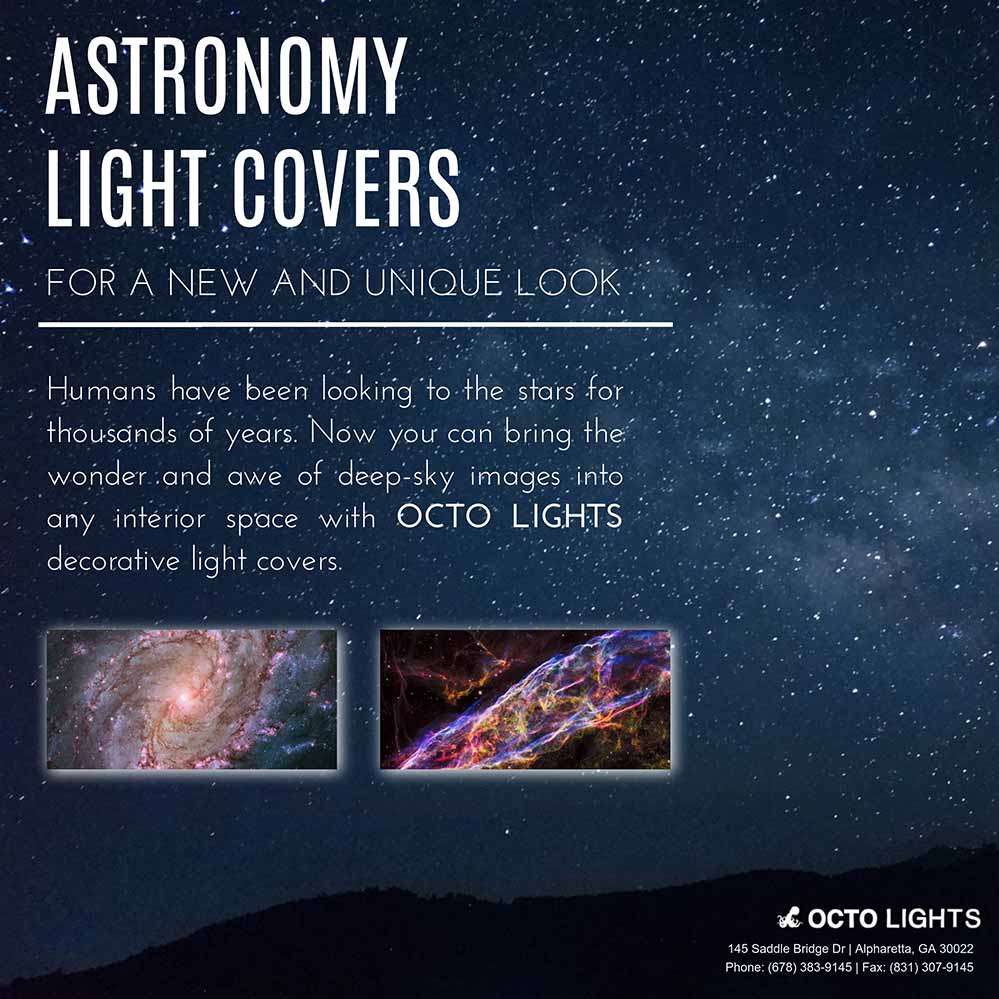 Relaxing And Tranquil Fluorescent Light Covers
Octo Lights fluorescent light covers take advantage of a wide variety of different types of astronomy images. Our deep-sky scenes can add appeal and uniqueness that is second to none. From nebulas to supernovas and identifiable star systems, as well as planets and moons, astronomy-themed light covers are the perfect addition to virtually any interior space. Relaxing and tranquil, fluorescent light diffusers only continue to grow in popularity among homeowners and business owners alike. Best of all, they are more affordable and more accessible than ever before.
Ocean Themes
In addition to astronomy focused light diffuser panels, many other themes can be incorporated into almost any kind of interior space. From ocean themes to beach themes and images centered around nature, as well as stunning clouded sky images, there are more choices today than even a few years ago. Transforming lighting has never been easier, more convenient, and more affordable. Also impressive is the fact that custom images can easily be uploaded to create a genuinely unique overhead experience.
Custom Crafted
From personal family images to professionally photographed images and everything in between, uploading an image that can be transformed into an overhead fluorescent light panel is easier than you might imagine. Thanks to the internet and modern technology, creating custom crafted fluorescent light diffuser panels is a breeze. It takes only seconds to upload an image that can be custom crafted into a decorative fluorescent light cover in just a few short days. The result is a unique and innovative look for residential or commercial customers who wish to take lighting to an entirely new level.
Unique And Personalized
As one of the premier providers of quality decorative fluorescent light panels, Octo Lights is a company with a commitment to producing affordable quality beyond comparison. Considered by many to be a revolutionary company, Octo Lights has consistently outpaced the competition. Our beautifully crafted lighting upgrades for home or office and our custom-crafted light lenses are unique and personalized. Decorative panels that cover fluorescent light bulbs come in standard diffuser sizes, but we can easily cut custom sizes as required. Contact Octo Lights today to learn more about enhancing any home or office with innovative light cover panels.