Many people like to decorate their homes with art or family photos. Usually, these are displayed as canvases, framed art, of framed photographs. But decorative LED light panels or fluorescent light covers can be used as a unique form of wall decor you won't see elsewhere. Most people associate fluorescent and LED lighting with area lighting, usually from fixtures in the ceiling. However, there is no reason why you cannot also use them on walls.
Many people prefer wall lights to ceiling lights. Sconces and other wall-mounted lights proved a great ambiance and can contribute to interior design. But most people never considered using fluorescent lighting. Compact fluorescent lamps, known as CFLs, may be used in traditional incandescent-style fixtures. And even these are now being replaced by LED lamps. However, the standard fluorescent tube lights are ideal for wall decor.
The idea of fluorescent tubes or a bank of LED lights on your wall might not seem appealing at first. But they can be beautiful when used with decorative LED light panels or fluorescent light covers. By attaching the custom-printed backlit heavyweight film to the light panels, you can decorate your walls with just about any design of your choice. Continue reading to learn about our unique wall décor ideas.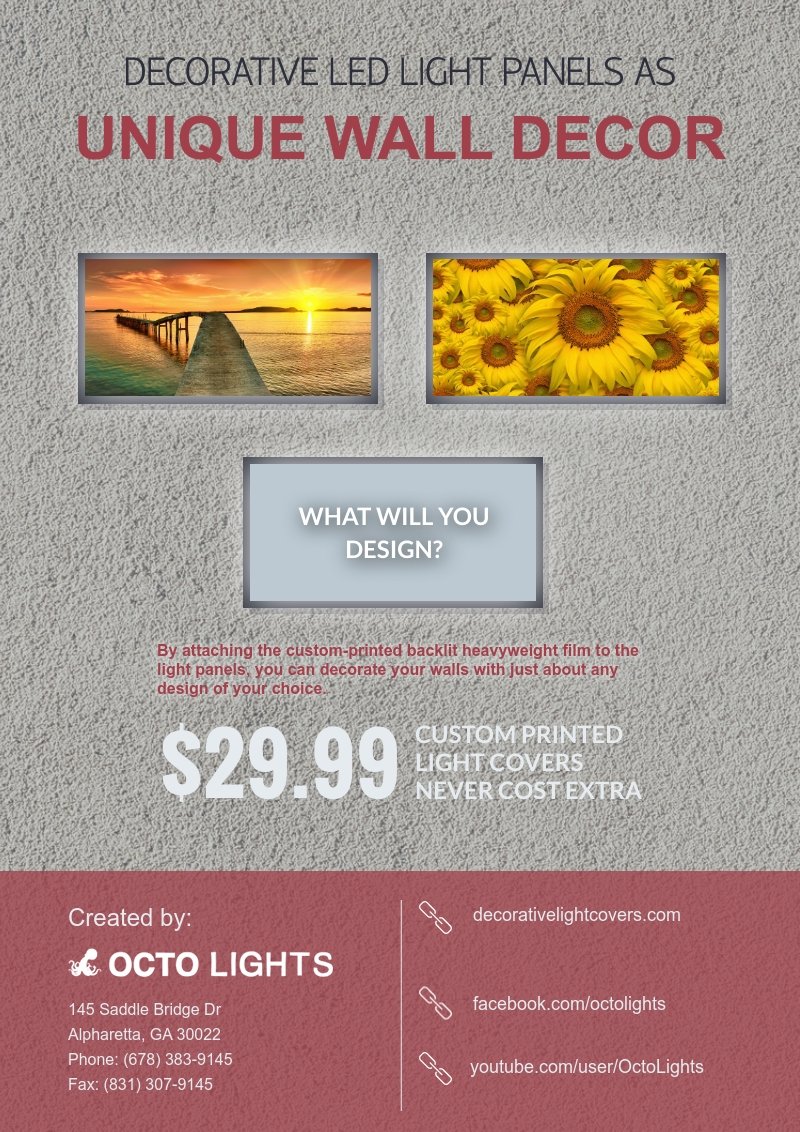 Photographs as Decorative LED light Panels
Octo Lights can print decorative light covers with photos of any subject. We offer many standard images, including starry night skies, beautiful sunsets, waterfalls, flowers, animals, and blue skies. But with our custom printing option, there is virtually no limit to what you can print onto decorative panel covers.
Many people hang photographs of their loved ones on their walls. Are you looking for a way to spice up your photo display? Illuminating your photos from behind is a fabulous and unique way to present your favorite family photos. Imagine a row of photographs on your walls, each one backlit to display brilliant colors and sharp details. Whether in black and white or color, you could show your favorite family photos uniquely and sensationally.
Decorative light covers don't just provide a beautiful means of displaying your family photo album. They also illuminate your room! You can choose whether to use your normal room lighting or switch on your photographs. Your friends and neighbors will all be asking you how you achieved this fabulous effect.
Custom Fluorescent Light Covers as Wall Décor
All you need to do is to send us the digital files of your photos, and we will print them onto LED light panel covers. The LED or fluorescent light covers are 4 ft x 2 ft in size and fit most standard light panels. You will receive the easy fitting instructions with your light covers. If you need a custom size, just let us know. There is usually no additional charge to cut your prints to the size you need.
This is a novel way of using decorative LED light panels in your home. Because they are printed with your own photographs, you get to choose the subject. We offer many standard light covers in our store, but there are no limitations in the subjects you could choose for custom covers.
Select from our store or use your own photos: holiday destinations, family members, or whatever else you prefer to use as unique wall decor. Our LED and fluorescent light covers are the same price whether you choose one of ours or use your own photographs. Decorative LED light panels are superb as wall decor or on your ceiling, too.
Contact Octo Lights today, or go directly to the Octo Lights customized decorative light cover order page.