There are many ways to enhance a dental office and make it far more relaxing than would otherwise be the case. One example of this is using creative and innovative decorative fluorescent light covers to produce a calming and peaceful waiting room environment. What makes decorative light covers so unique is that they can take on virtually any type of image or scene imaginable. This is largely because any photo can be easily converted into a lens cover.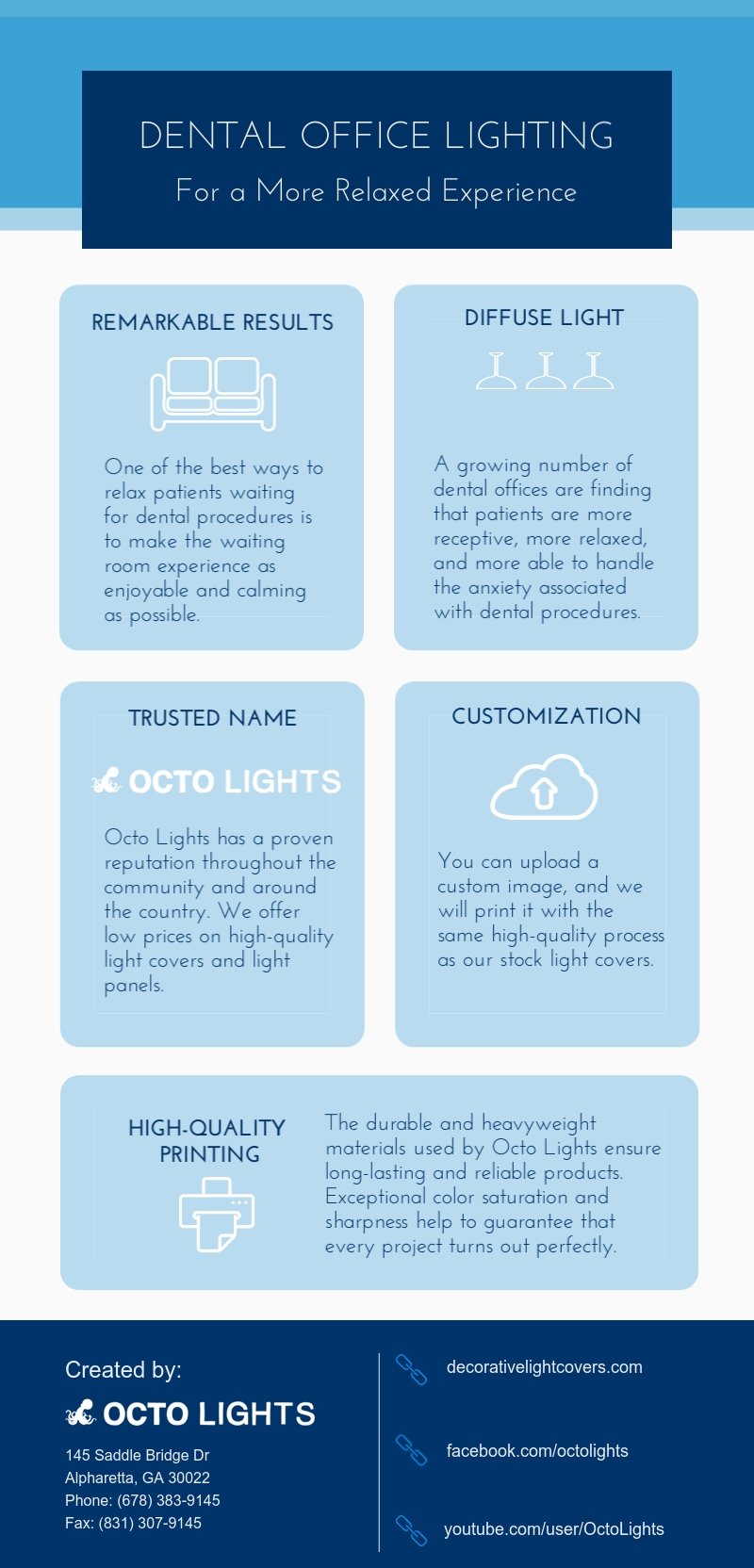 Remarkable Results
Fluorescent light covers that are designed and crafted by an experienced company can produce remarkable results for dental offices large and small alike. Anyone who has ever visited a dentist knows that there can be apprehension and stress involved with a visit or a procedure. One of the best ways to relax patients waiting for dental procedures is to make the waiting room experience as enjoyable and calming as possible. Scenes of waterfalls, the ocean, or even a starry night can create just this type of effect.
Diffuse Light
As patients relax and wait for a procedure, they are greeted above their heads with beautifully-lighted, high-quality, professionally-manufactured images. As an added benefit, fluorescent light covers diffuse light and soften the light to make it more acceptable. As a growing number of dental offices turn to this type of clever lighting, they are finding that patients are more receptive, more relaxed, and more able to handle the anxiety associated with even a minor dental procedure. Best of all, these unique fluorescent lights panels are affordable, easy to install, and easy to maintain.
Trusted Name
One of the keys to getting the most out of this type of lighting accessory is to work with the right decorative fluorescent light cover manufacturer. One company that has consistently proven to be a trusted name in the industry is Octo Lights. Octo Lights has a proven reputation throughout the community and around the country. We offer low prices on high-quality light covers and light panels that are simply beyond comparison. Making use of only the highest quality, high-megapixel images, we produce stunningly attractive light fixtures that can take a dental office to an entirely new level. Customers can choose from a wide range of original images that have been carefully created by a talented team of photographers and designers.
Customization
In addition to the images available from our outstanding designers, we make it easy to create custom light covers. You can upload a custom image, and we will print with the same high-quality process as our stock light covers. And there is no charge for this service. You can choose any image, as long as the resolution is high enough. This allows you to create an almost unlimited variety of light covers to suit your needs. You could even use branded imaging for your business.
High-Quality Printing
With so much to offer, it is clear to see why Octo Lights has maintained a high level of trust among prior and existing customers. As an added bonus, Octo Lights makes use of a heavyweight front-print film that is backlit. This results in excellent saturation and image quality in each and every fluorescent light cover that is delivered. Durable and heavyweight, the materials used by Octo Lights ensure long-lasting and reliable products. Exceptional color saturation and sharpness of images help to guarantee that every project turns out perfectly. Contact Octo Lights today to learn more.