Decorative Fluorescent light covers and LED light panels can be used as a form of calming lighting for surgeries. Before and after surgeries, people may be over-stressed. These can be medical surgeries or even dental surgeries. In any case, a calming influence might be appropriate. So what are we referring to here?
Fluorescent and LED lighting is becoming increasingly common in medical and dental surgeries and waiting rooms. It provides bright lighting and is also significantly more economical than most other forms of lighting. However, such lighting can be very glaring. But you can take advantage of this higher-intensity form of lighting to create some fantastic decorative effects. In fact, some physicians and dentists have found ways of using fluorescent and LED lighting to decorate their waiting room and operating theater ceilings.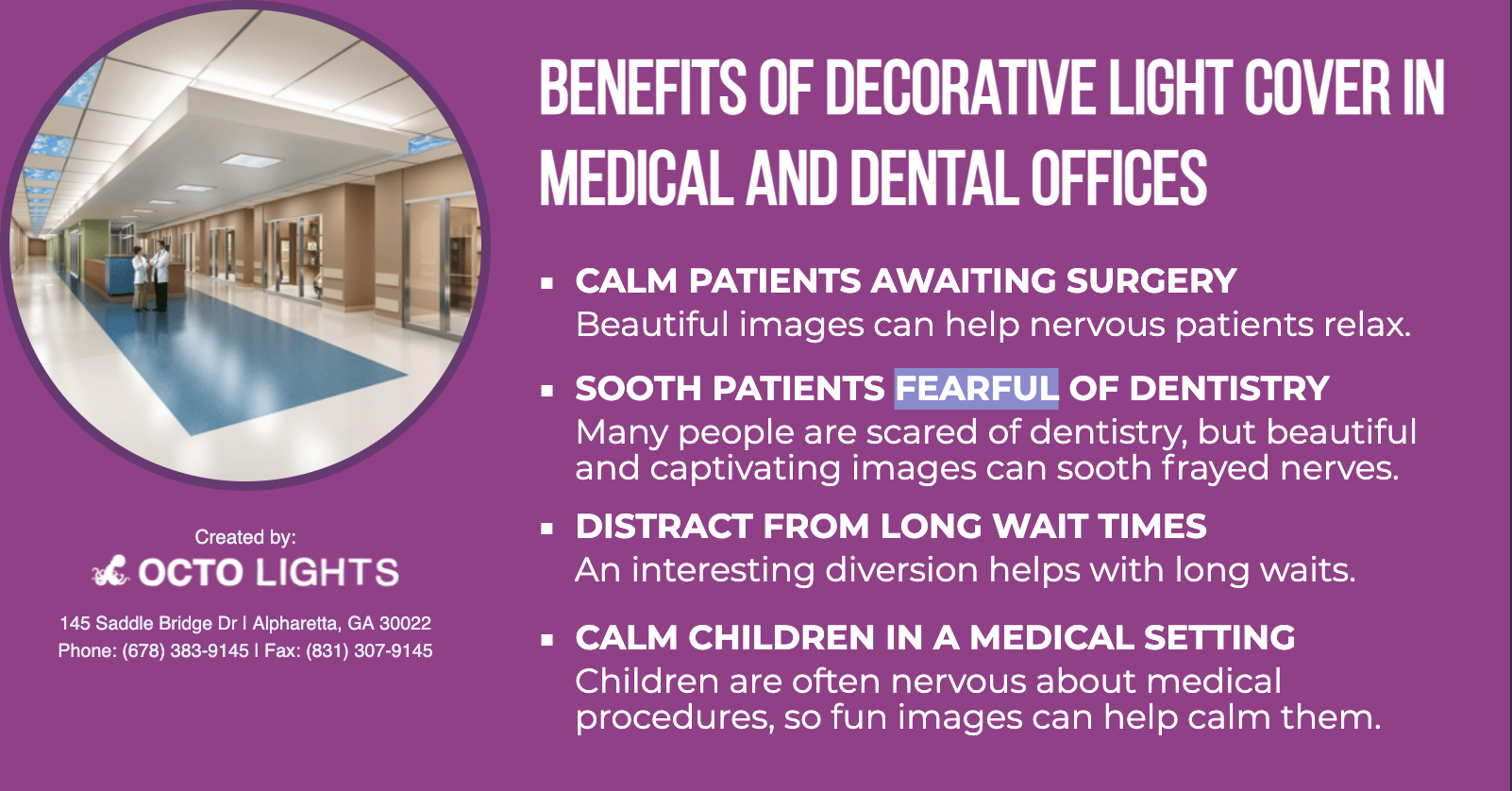 Fluorescent Light Covers for Dental Surgeries
Decorative fluorescent light covers are perfect for the operating rooms and waiting rooms of doctors and dentists. They generally use fluorescent light covers to disperse the light and make it less glaring. The same is true of LED light panels—these, too, can be very focused and glaring. Typically, the light passes through a panel of matt or translucent glass or acrylic. This diffuser panel reduces the glare and distributes the light more evenly.
You can also install a printed flexible decorative light cover over these panels. The decorative light cover is backlit and displays the pattern or design on the panel so that it is visible to people in the room below. You can create some marvelous effects with these. The decorative covers can display calming scenes such as undersea views of fish, porpoises, and other marine creatures, or you could display forests, flowers, and other peaceful and calming scenery.
If you use these in your waiting room, you can calm people and take their minds off their upcoming examination and treatment. The effect that calming lighting can have on people anticipating the torture of a dentist's drill is incredible!
Decorative Light Covers Distract From Late Appointments
Many people end up waiting in a doctor's office. Doctors cannot always be available at the exact time of the appointment. In a modern office, doctors are often allotted just 10 minutes for each appointment. But some examinations take longer, and some patients are late. Ceiling decorations can distract people in the waiting room who have been patiently waiting long past their appointed time.
Sky panels, beach scenes, and lifelike waterfalls can keep their minds employed. They may even delay the decision to complain or schedule a different appointment time. A beautiful decorative fluorescent light cover may be enough to keep those waiting entertained until the schedule gets back on course.
Calming Lighting Effects for Children
Children, in particular, may be stressed while waiting to see a doctor or meet the dentist's drill. Fluorescent light covers with calming lighting may help them. But children would likely prefer something more appropriate for their age than nature scenes.
Elsa, Moana, and other characters can be excellent calming lighting for surgeries for children. You can even design your own fluorescent light panels. Simply upload an image file that you would like printed, and we'll use it to create a beautiful light lens printed with your chosen image.
Calming lighting is appreciated everywhere it is used. One problem is that most people—physicians, dental surgeons, and others who could use them effectively—are unaware they exist! Next time you visit your doctor or dentist, show them what is possible. Suggest they visit the Octolights website at www.decorativelightcovers.com. They will quickly realize the benefits of what you show them. It's nothing short of a means of becoming the most popular dentist or doctor in town!
Fluorescent Light Covers For Advertising—and Also Calming
Fluorescent light covers offer a marvelous way for businesses, including medical facilities, to advertise themselves and show they are doing their best to keep patients calm and relaxed. Calming lighting for surgeries is available, so why not use it and become known for being patient-friendly?
Design your own fluorescent light covers or use one of our standard designs. We can print your images on our light lenses to provide you with a unique form of calming lighting for surgeries and waiting rooms.