As a parent, your children are the most important aspect of your day-to-day life. Keeping them safe and happy is likely a daily priority, no matter how many kids you have. And the best way to make any child smile is by allowing them to express their creativity and personal interests.
Like adults, children have a myriad of things that make them unique, such as the colorful clothes they wear, movies and TV shows they watch, as well as the music they listen to. Providing a dedicated space in your home that reflects their most cherished things is a perfect way to keep them happy.
What are some of the best ways to showcase some of your child's interests and creativity?
Start With Fluorescent Light Covers in Your Child's Bedroom
Fluorescent light covers are an innovative way to transform any room in your home. You can turn it into a work of art while pulling off an incredible effect.
Decorative light covers consist of a light-diffusing panel that displays an image. They can make even the dullest space an exciting one. This allows you to adequately reflect your child's interests in their bedroom in a way that will amaze their eyes and spark their imagination.
If your child loves being outdoors, then turn their bedroom ceiling into a bright blue sky with cloud-and-sky-themed fluorescent light covers. Or invoke their love of nature with tree-themed decorative light covers. You can even place these on their walls to make an elaborate outdoor scene.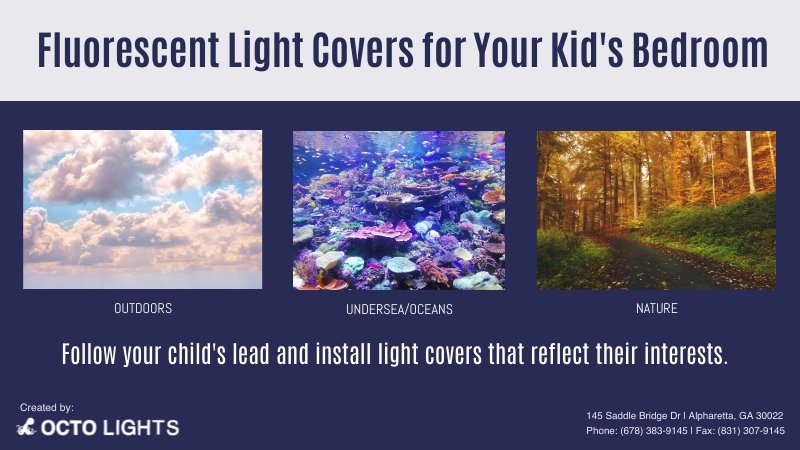 Go Wild With Customizable Decorative Light Covers
Your child's imagination is boundless, and so should their options for decor in their bedroom be. With customizable fluorescent light covers, you can showcase all of your child's interests on their walls and ceiling. Light covers can transform their bedroom into a reflection of their personality.
Is your child obsessed with a particular kids' TV show? Then create fluorescent light covers that will allow them to display all of his/her favorite characters on their walls and ceilings. You can get more creative by combining multiple decorative light covers to make one large image.
Finding Quality Fluorescent Light Covers For Your Child's Bedroom
Now that you know the creative possibilities fluorescent light covers offer your child's bedroom, you're likely wondering where you can find them.
Octo Lights has been the premier supplier of affordable, eco-friendly decorative light covers for over a decade and continues to impress their customers by allowing them to turn any dull room in their home or office into a visually exciting space.
Not only does Octo Lights offer a vast selection of ready-made fluorescent light covers -- which include fish/aquatic life, trees/nature, and astronomy-themes -- but they also allow you to create your own decorative light covers with any custom image of your choosing. See what Octo Lights can do for decorating your child's bedroom by visiting the website today.
We hope you're enjoying our blog! Check out our wide selection of fluorescent light covers or create your own to transform any room in your home into a work of art.