Fluorescent light covers can be customized for use in private hospitals and clinics. Decorative light panels can provide hospital patients with peaceful scenes as they lie and look up the ceiling. A beautiful sunny sky or scenery showing mountains, rivers, or flowers is much more welcoming than harsh, unfiltered fluorescent lighting.
At night, a lovely starry sky is more conducive to sleep than fluorescent lighting, even if it is dimmed at night. Hospitals can enhance their existing fluorescent fixtures with different scenes that can be lit throughout the day. That way, the view from the bed can be changed at regular intervals. Many hospital and clinic administrators think that this is a good idea, but impractical and extremely expensive to install. We're here to say that doesn't have to be the case!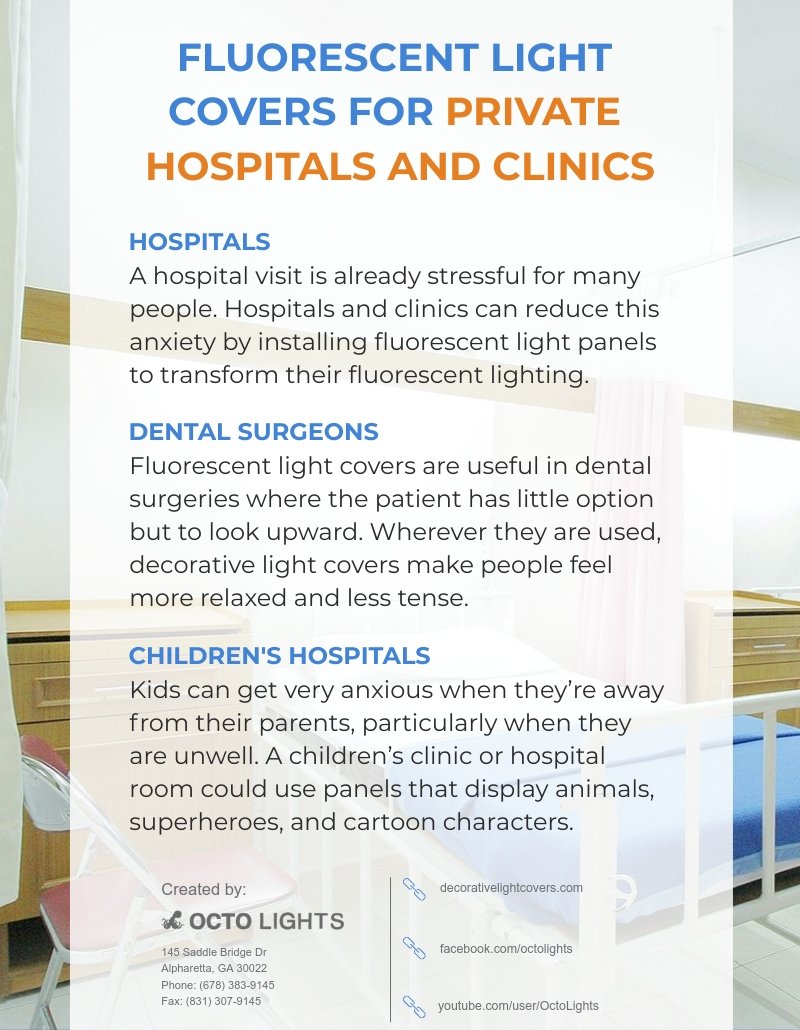 Economical Fluorescent Light Covers
Octo Lights offers fluorescent light panels at less than $30 each for a 4ft x 2 ft panel. You can choose designs from our own extensive selection, or have ceiling panels custom made using your own photographs. Our collection includes daytime and evening sky scenes, from fluffy white clouds to pictures of planets, galaxies, and nebulae taken from space. We also offer a wide range of nature scenes, including animals, flowers, trees, waterfalls, and beaches.
If you can't find an image you like, you use your own photos to create custom fluorescent light panels. Patients feel more comfortable and peaceful when they have these scenes to look up at instead of the standard harsh fluorescent lighting. And when patients feel comfortable and at peace in a clinic or hospital room, it improves their healing, thus contributing to cost savings.
Fluorescent light covers are also useful in dental surgeries, where the patient has little option but to look upward. Wherever they are used, decorative light covers make people feel more relaxed and less tense. They can even be used in your own home.
Fluorescent Light Covers for Hospitals and Children's Clinics
Private clinics, hospitals, dental surgeons, and other medical premises can all benefit from ditching their harsh fluorescent lighting. Instead, they should replace it with beautiful, peaceful natural scenes designed to comfort patients and reduce anxiety. A hospital visit is already stressful for many people. Hospitals and clinics can reduce this anxiety by installing fluorescent light panels to transform their fluorescent lighting.
Children respond especially well to decorative light covers in private hospitals and clinics. A children's clinic or hospital room could use panels that display animals, superheroes, and cartoon characters. Kids can also get very anxious when they're away from their parents, particularly when they are unwell. Creating scenes for them to look up at will keep them more relaxed and happy.
If you are interested in fluorescent light covers for your hospital, dental surgery office, or children's clinic, call us at (678) 383-9145 for more information or use our Contact Form Here.