Fluorescent light covers have many uses in homes and offices, but let's not forget the retail industry. Most retail premises use fluorescent lighting, primarily because of the relatively low energy use of such lighting systems. The large area that an individual fluorescent tube can illuminate is another benefit of these lights. With the prevalence of fluorescent light in retail settings, we highly recommend fluorescent light covers for stores and retail premises.
Fluorescent lighting can be harsh on the eyes, so many stores and small shops are installing light diffusion panels to reduce glare and provide a more acceptable form of lighting. Customers may not be aware of the specific change, but they appreciate how the store feels. With all these benefits, it didn't take long for some forward-thinking people to notice the potential of these light covers.
There are many ways to use decorative light covers to promote your business, supermarket, or grocery store. They can even be used in shopping malls and bargain basements, where they brighten the ceilings and reduce the glare from fluorescent or LED lighting units. Today, many businesses have switched to LEDs. But the shift to LED makes no difference in how you can use custom fluorescent or LED light covers.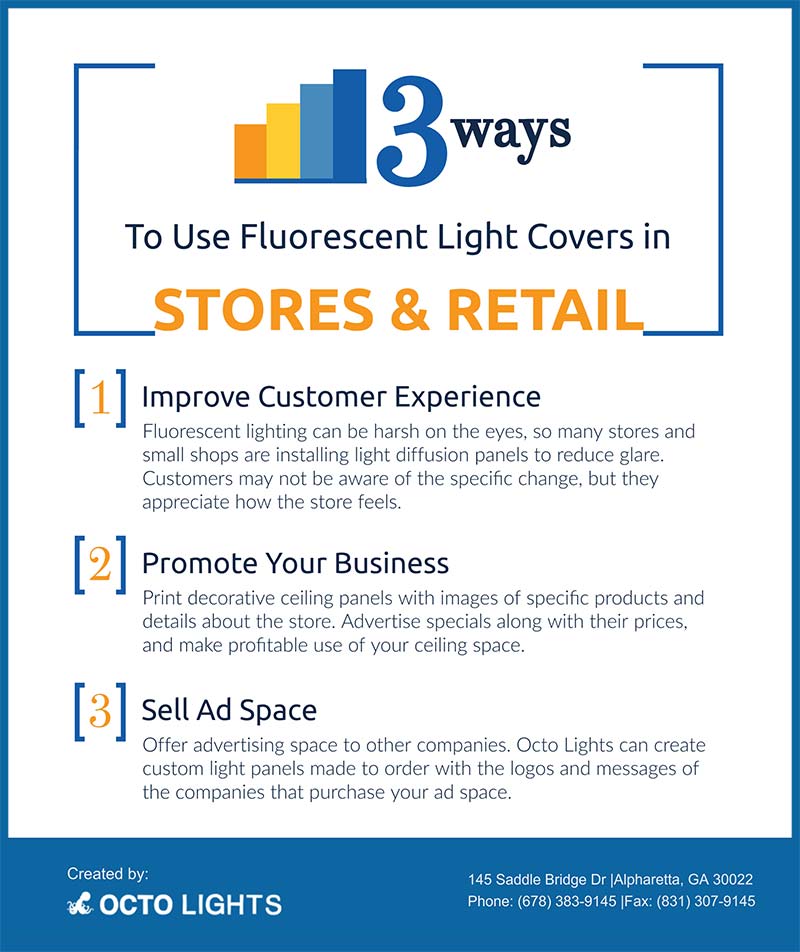 Promote Your Business on Your Ceiling
With custom light panel options, you can promote your business on your ceiling! Decorative light panels comprise an image printed on a sheet of clear polyester that is placed over the existing, plain light panel. With our best-selling sky-and-cloud panels, the image of blue skies and white clouds is backlit by the fluorescent tubes to display a picturesque view of a lovely summer sky. You don't need much imagination to see how this can be a fantastic advertising medium. Simply replace the sky-and-cloud image with an image of your business logo and name. You can also include pictures of your products.
Some business owners print decorative ceiling panels with images of specific products and details about the store. Supermarkets and grocery stores can advertise individual products across their ceilings at an affordable cost because custom panels cost less than $30 each. You can advertise specials along with their prices, and make profitable use of your ceiling space.
Sell Advertising Space
In addition to using your ceiling area to advertise your own store and products, you can capitalize on the image real estate on your decorative light covers. Businesses can offer advertising space to other companies that do not compete with them. Octo Lights can create custom light panels made to order with the logos and messages of the companies that purchase your ad space.
The advertiser, manufacturer, or distributor of a product or service can pay for the panels' cost, and the prices are conveniently low. Panels cost just $29.99 each for standard-sized panels. And there are no additional fees for the customization. With the low prices and easy customization, fluorescent light cover can become a relatively low-cost advertising medium! If you are promoting a product, you may be able to do so on the ceilings of local supermarkets or shopping malls. The exposure comes at a much lower price than you would pay using other media.
Fluorescent Light Covers for Stores
Decorative fluorescent light covers remove the glare of fluorescent and LED light sources. You can select one of our stock panels or have a custom light panel made using your own image. Upload the digital image file in one of our accepted formats: .jpg, .ai, .eps, .tif, or .psd. Images must be at least 150-300 DPI and at least 11.187″ x 23.25″ in dimension.
Decorative light panels enable you to use unique lighting in your store, on your business premises, or at home. And fluorescent light covers can be used with both fluorescent light and LED light sources. They are not expensive, and you can quickly recuperate the cost of custom light panels by selling advertising space on your ceiling. So get up to date and modern, and show that you are running a progressive company. Contact Octo Lights today to learn more about sky-and-cloud panels for retail!