Personalizing a room or office with custom fluorescent light covers allows you to incorporate your sense of style into any living space. It can be an incredible way to showcase your interests to friends and family.
However, with most decorative lighting companies, your options for custom fluorescent lighting are limited. Some won't even allow more than 1 or 2 custom light cover designs per order. That's is likely a ploy to get you to purchase their ready-made designs, which are pricier for you and cheaper to make for them. If you're looking to fill multiple rooms with custom light covers, this can be a real problem.
If only there were a way to order quality fluorescent light covers that are affordable, eco-friendly, and customizable.
Meet Octo Lights
For anyone who wants to personalize their office, dorm, bedroom, or kitchen, Octo Lights is for you.
With Octo Lights, you can select from an assortment of ready-made fluorescent light covers. Our collection includes astronomy, trees, flowers, landscape, and cloud themes. Or you could opt for a custom decorative light cover to personalize any room, anywhere.
What Custom Fluorescent Light Covers Can Do For Your Home
If you have a room in your home that could use a bit of vibrance or life, you need custom fluorescent light covers. They can achieve the impossible, and then some.
Octo Lights provides customers with a simple process for designing customized fluorescent light covers. You can display any image of your choosing and transform both your walls and ceilings into a work of art.
Try them in a child's bedroom, for example. You could combine multiple light covers to make a window effect with a view of tranquil trees outside. Or you could fill your kitchen ceiling with light covers to create the illusion of looking up into the night sky. The possibilities are boundless.
This is also a perfect opportunity to give your guests something to gawk at. After visiting, they'll and rave about your light covers to their own family and friends.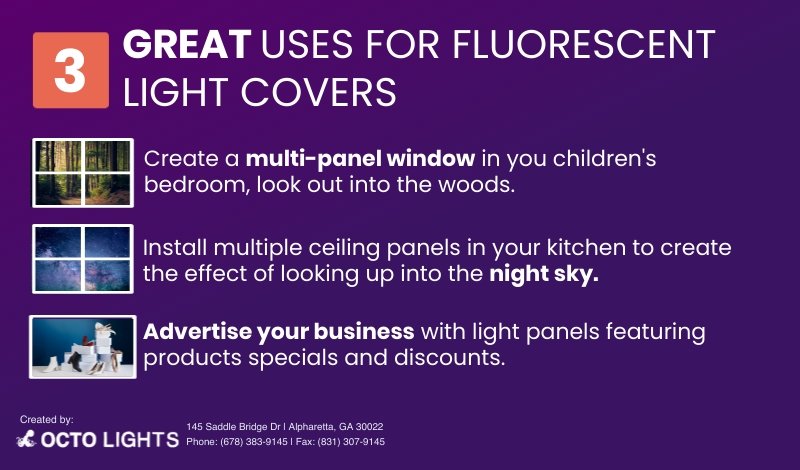 Custom Fluorescent Light Covers For Your Business
Fluorescent light covers are perfect for advertising your business. Nothing is more innovative and eye-catching than displaying your ad or logo on a fluorescent light cover.
These decorative light covers can be placed on the walls or ceilings of your business. You can display special discounts and deals for your shop or daily specials for your restaurant or cafe.
Showcase your best products by combining multiple fluorescent light covers to make a larger image. You can also display important information, including prices and product descriptions.
Ordering custom fluorescent light covers is quick and easy with Octo Lights. Simply submit a custom image of your choosing, and Octo Lights will send you a private link with purchase information.
We hope you're enjoying our blog. To learn what makes Octo Lights the best supplier of fluorescent light covers, visit our 'About Us' page.
To browse our selection of fluorescent light covers, click here; or create your own customized fluorescent light covers here.