The ocean is a special and unique setting for those who enjoy peace and tranquility. Some may enjoy an occasional visit to the shoreline. Others may own a beach house for regular family gatherings. But no matter how you enjoy it, the ocean and the beach offer some of life's greatest simple pleasures. But what about when you can't get to the beach? One of the best ways to bring the ocean feel into your home or office is to use the latest in custom decorative fluorescent light covers. These unique products can change the entire dynamics of a room with one simple upgrade.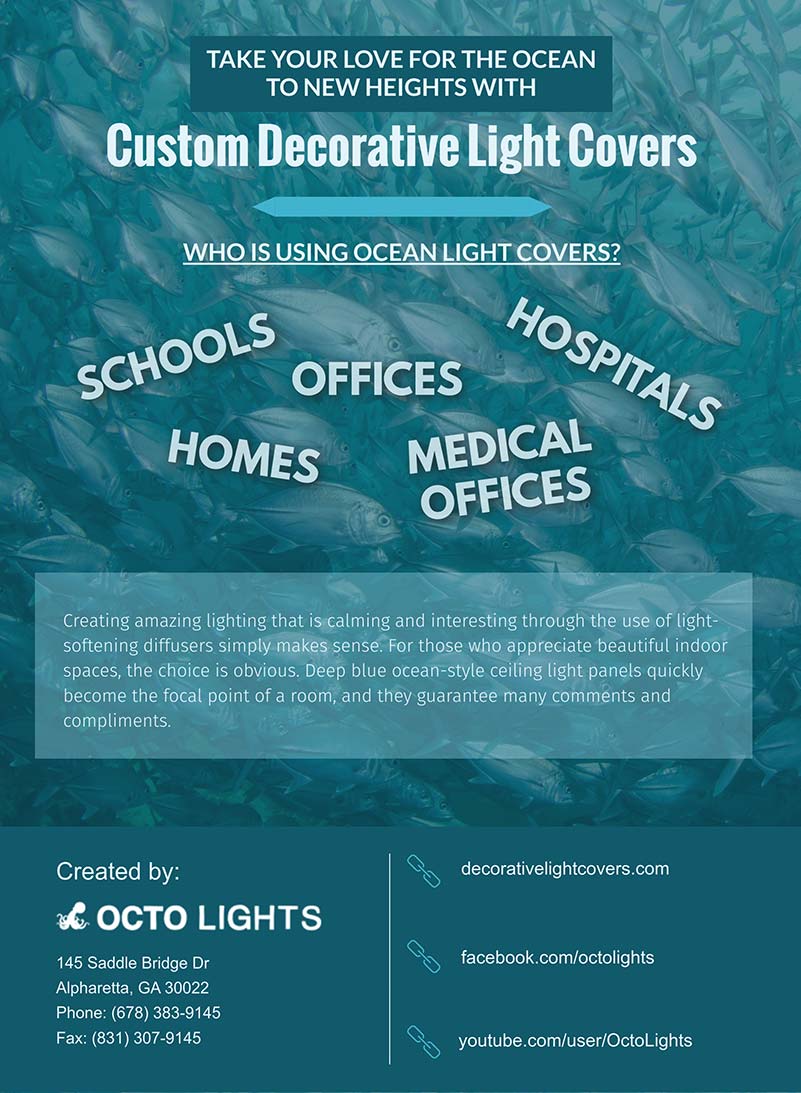 Custom Decorative Light Cover Images
Decorative light covers are backlit films printed with high-resolution images. Installation is easy. Just lay the film over your existing diffuser for a whole new look. They are an ideal way to take your love of the ocean to the next level. From dolphin pods to sea turtles to schools of tropical fish, decorative light covers offer something special for everyone. Best of all, fluorescent light filters that feature custom images are easy to order and install. Homeowners or business owners can upload their own images on our custom light cover page. You'll get your covers in just a few days. Install the decorative light covers, and the result is beauty that can enhance any interior space beyond compare.
Amazing Lighting
These innovative Ocean-Themed Ceiling Light Panels are affordable, long-lasting, durable, and professional-looking in every way. Healthcare offices, schools, churches, and medical facilities routinely install these custom decorative light covers to create a more livable space. Creating amazing lighting that is calming and interesting through the use of light-softening diffusers simply makes sense. For those who appreciate beautiful indoor spaces, the choice is obvious. Deep blue ocean-style ceiling light panels quickly become the focal point of a room, and they guarantee many comments and compliments.
Custom Decorative Light Covers Are Quite Satisfying
Water by itself is naturally calming, and when you combine it with custom light diffusers, the results can be astounding. Nothing compares to the deep blues and shades of aqua associated with water and the ocean. When these colors are highlighted and emphasized through the use of fluorescent light filters, they create a satisfying glow. Transforming lighting has never been easier and more affordable than it is today. In addition to various types of ocean light covers, decorative ceiling light covers can include almost any kind of image imaginable. From waterfalls to clouds and astronomy, as well as children's themes, the possibilities are endless.
Natural And Sustainable
Many companies claim to offer unique image-focused light diffusers. But one company has stood the test of time when it comes to affordable quality. Octo Lights is a reliable and trusted source for the absolute best personalized light fixture covers. Our covers are impressive in every respect. Octo Lights delivers quality fluorescent light covers to businesses and homeowners who expect quality. Best of all, Octo Lights is focused on earth-friendly practices that make use of natural and sustainable resources. This helps to protect the environment and conserve energy. Contact Octo Lights today for your fluorescent light covers.