Today, more than ever, homeowners are looking for unique and unusual ways of transforming an ordinary room into something truly genuine and unique. There are many ways to accomplish this goal. One exciting technique, in particular, is quickly gaining popularity. That is the use of decorative fluorescent light fixtures or ceiling light covers. They come in a wide range of custom designs and use many different types of images. Fluorescent light panels of this kind can turn an ordinary space into something simply beyond imagination.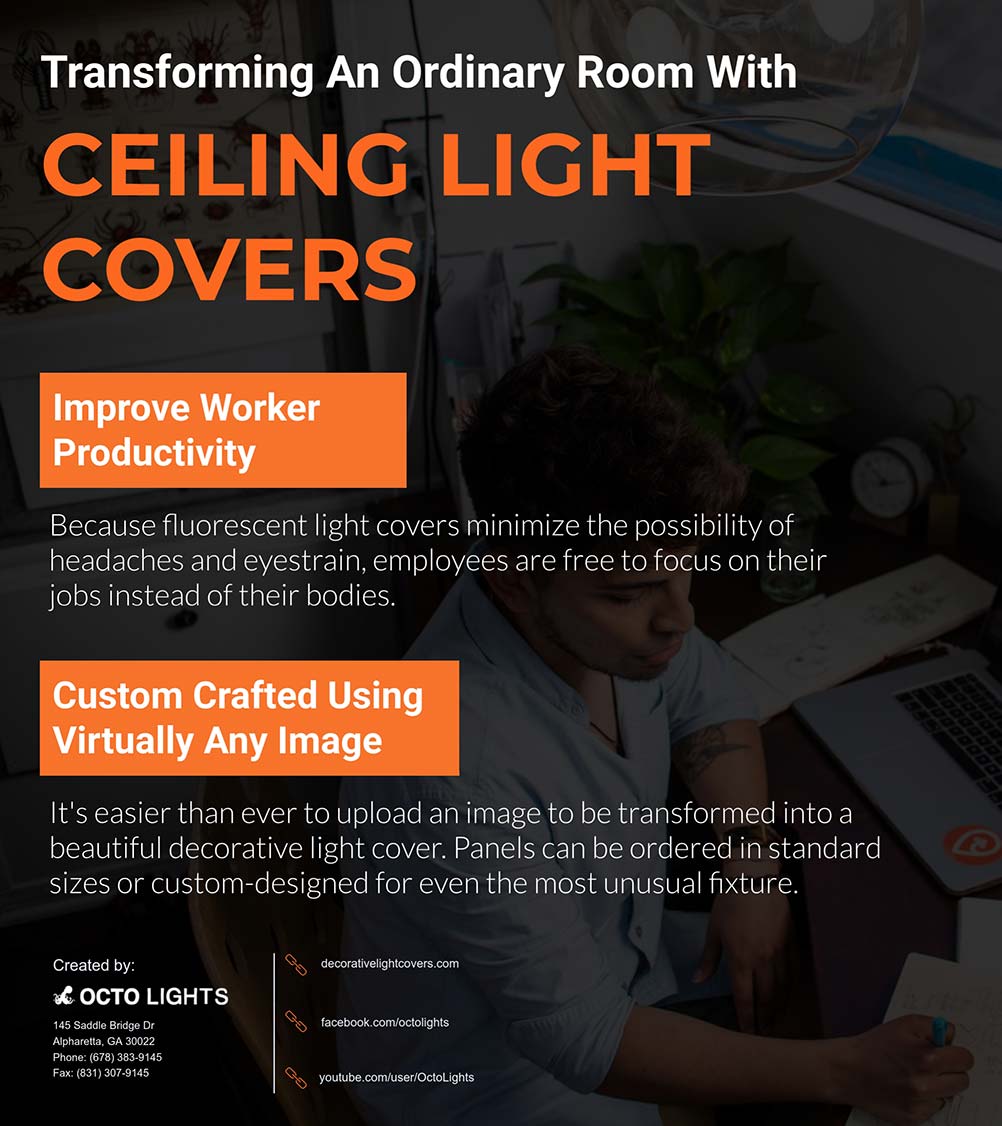 Improve Worker Productivity
This type of replacement fluorescent light panel can add appeal to any interior space. In addition, it can also reduce fluorescent light headaches. Using softer tones and softer colors to diffuse fluorescent light is a great way to improve worker productivity. Because fluorescent light covers minimize the possibility of headaches and eyestrain, employees are free to focus on their jobs instead of their bodies. This makes fluorescent light fixtures more than just attractive and appealing. They are also a fully functional part of your office plan. The health effect of these light covers is a significant win for businesses wishing to maintain high productivity levels.
Custom Crafted Using Virtually Any Type Of Image
From making a waiting room more appealing and more relaxing for patients to improving productivity, replacement panels for ceiling lights that are custom-tailored to specific requirements are quickly becoming the new standard. Decorative in nature, fluorescent light diffusers can be custom crafted using virtually any image. By simply uploading an image, a homeowner or business owner can turn an ordinary photo into dramatic overhead lighting. Modern technology makes it easier than ever to upload an image that can then be transformed into a beautiful decorative recessed light cover.
The Possibilities Are Unlimited
Lighting a home, office, or even an entire office building using this type of replacement panel is well worth considering. We offer cloud images, waterfall images, astronomy images, and nature-based images. But with custom images, the possibilities for transforming an ordinary room are only limited by your imagination. Best of all, this type of fluorescent light diffuser can be ordered in standard sizes or custom-designed to meet the needs of even the most unusual fixture. Beauty and elegance in the form of overhead lighting have never been more accessible to more people.
Enhance Almost Any Type Of Interior Space
Octo Lights is an industry leader in high quality decorative fluorescent light covers that are intended to enhance almost any type of interior space. Most importantly, we are dedicated to creating ceiling light panels that adhere to earth-friendly practices. We use sustainable resources as a way to reduce environmental impact. The results are beautiful and incredibly attractive decorative light fixture panels that are affordable, long-lasting, and eye-catching. Octo Lights has years of experience in creating and designing light covers used for transforming any room in a home or business in a unique way. Contact Octo Lights today to learn more.