Fluorescent light covers have many different uses. The most common way we see people using our decorative light covers is as a way to reduce the harshness of fluorescent or LED light fixtures. But there are other uses in addition to their calming and decorative effects. One excellent way people use our light cover is to use custom light covers to promote a business. Most companies use LED or fluorescent lighting in their reception and office areas. Unless it is modified in some way, the high-intensity light can be glaring and harsh on the eyes. It can also be distracting and reduce work efficiency. For these reasons, such lighting systems are generally modified or diffused in some way.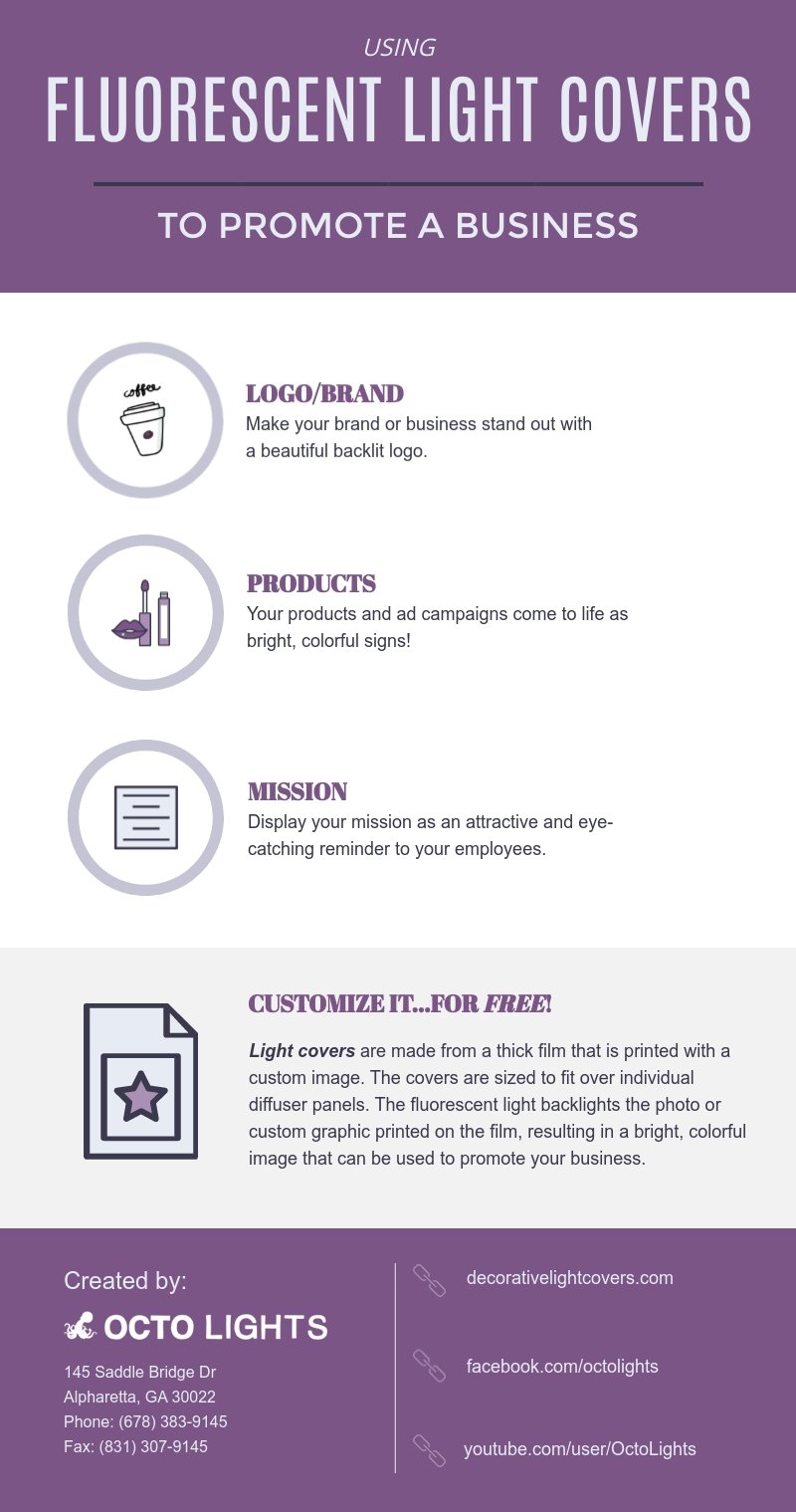 LED and Fluorescent Diffuser Panels
LED and fluorescent lighting create harsh, direct light. These light fixtures are usually modulated with diffuser panels to prevent headaches and glare. Diffuser panels are commonly fashioned from frosted glass, acrylic, or other polymeric material. These panels result in a softer, more spread out light, which is more suited to office space lighting. But in addition to their health benefits, they also offer the opportunity for business promotion.
When you use decorative light cover to promote your business, the custom fluorescent light covers are placed over the existing diffuser panels. These covers are made from a thick film that is printed with a custom image. The covers are appropriately sized to fit over individual diffuser panels. The fluorescent light backlights the photo or custom graphic printed on the film. Backlighting result in a bright, colorful image that can be used to promote your business.
Custom Fluorescent Light Covers
Our custom fluorescent light covers can be printed with any image you own. You could use a business logo, brand name, product names, or photographs of your line of products. We could even print your mission statement as an attractive and eye-catching reminder to your employees. But that's not the only way to use light covers!
Backlit images really stand out. They are bright and attention-grabbing, and nobody can miss them as they walk into your office or retail space. With that kind of attraction, why restrict them to your office ceiling? You can fix some 4 ft x 2 ft fluorescent panels to the walls in your reception area and cover them with backlit photos of your latest promotions, your major brand names, or new product launches and advertising campaigns. Continue reading and learn how to promote a business with fluorescent light covers.
Inexpensive Way to Promote a Business With Light Covers
At only $29.99 for each 4' x 2' fluorescent light cover, this is a very economical way to promote a business and its products. The panels will be unmissable. And they are more than just unique publicity and advertising media. They will also light up your office and reception areas with a comfortable, relaxing light. All you need do is to fill in the form on our Custom image page, send us the digital photographs or graphics you want, and we will do the rest. There is never an extra charge for custom printing, so feel free to get creative!
Your customized fluorescent light covers will be printed and sent out within 2-3 business days and sent via FedEx. Once you receive them, they are very easy to attach to the diffuser panels. Just watch our short installation video to see for yourself. They are suitable for both fluorescent and LED lighting panels and are sufficiently transparent to provide a useful level of lighting while highlighting your product and business images. Fluorescent light panels are a very effective and unique way to promote a business of any type.