Businesses are always looking for an opportunity to show off their products and services. One great way to advertise is by using fluorescent light covers in the reception area of your office. Most businesses have a waiting room or reception area in their office building. This is an ideal place to focus on advertising to visitors. Many companies already place product samples or examples of the work they do in their reception areas. But this is also an ideal place for fluorescent light covers.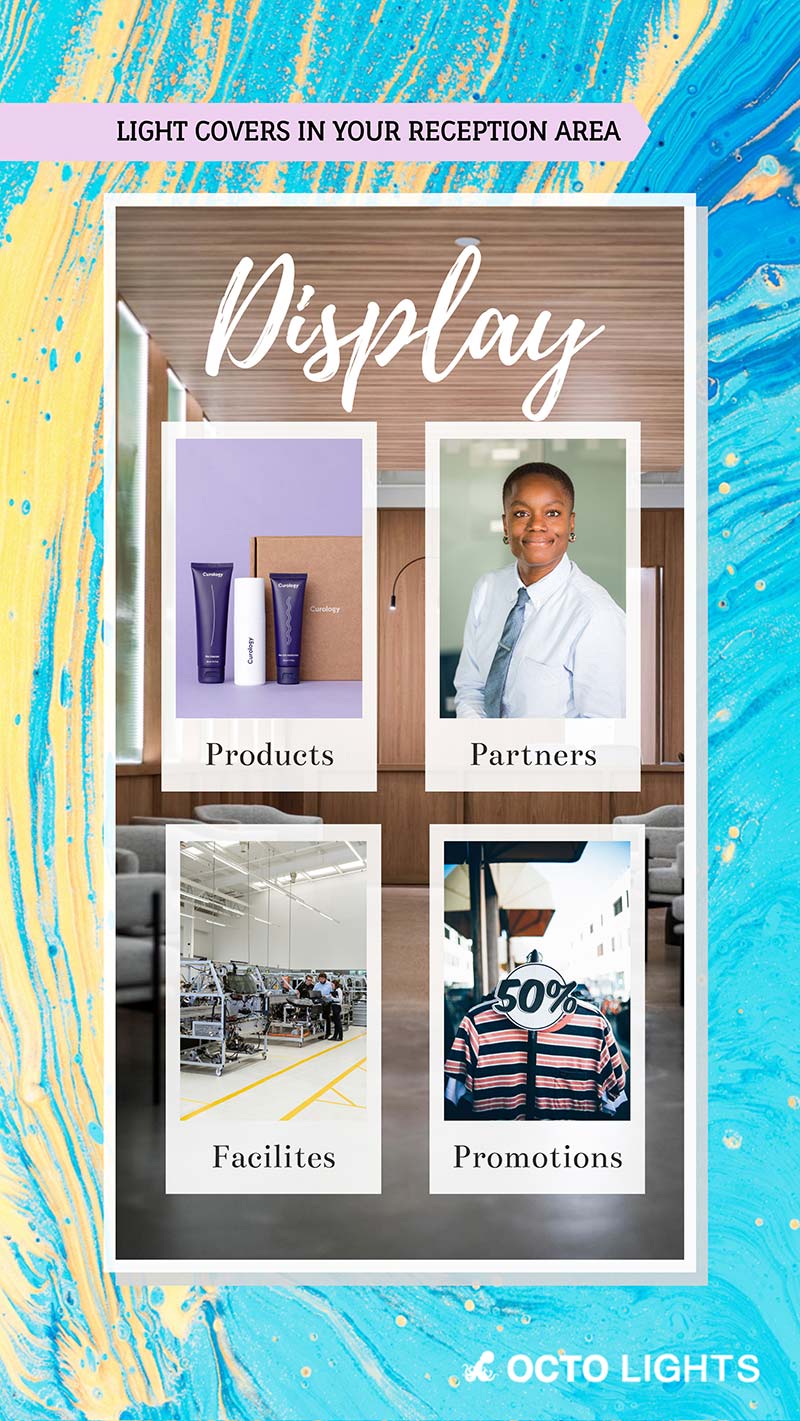 The lighting in most offices today is provided by fluorescent tubes or LED lamps set behind diffuser panels. While fluorescent light is no one's favorite, it is an ideal setup for advertising with fluorescent light covers. They are easy to install, and you can choose from our stock images or photographs of your own products. These covers are available in standard sizes—2 x 4 feet, 2 x 2 feet, and 1 x 4 ft—or we can cut them to your specifications.
Fluorescent Light Covers For Promotions
Most visitors to your office have to hang around for a while after announcing their arrival. Very rarely does the person they have to visit arrive immediately. So why waste that waiting time? Many businesses have company leaflets or brochures in their reception areas. If the products are small, samples might be displayed in glass cabinets. Many companies display photographs of their products on the walls. So why not jazz up those photos and give them a greater impact? When you print your photos on decorative light covers, they are backlit by the lighting and present a far more impressive display of your products. You could even display current promotions, and the effect is much more impressive than just photographs and leaflets.
How Fluorescent Light Covers Are Made
In addition to our stock images, Octo Lights can produce beautiful custom fluorescent light covers for your business. All you need to do is take a few photographs of selected products and upload them to Octo Lights. We can take your images in almost any format, including .ai, .jpg, .eps, .tif, and .psd. Just upload, let us know your preferred size, and we'll make the light cover for you.
Here's how we do it:
Once we have your image, we use high-end color printing stations to faithfully reproduce the original colors of your photo. We print the images on a matte polyester film, 8-mil (0.2 mm) thick. This is thick enough to be strong yet flexible. To install it, simply loosen your existing diffuser panel, slip the light cover in on top of it, and then replace the cover. The light will shine through the printed film for a beautiful, bright representation of your photograph.
Fluorescent Light Panels on Ceilings or Walls
The photographs on your light covers can show off your products, or even stages in their manufacture. Most office reception areas have fluorescent light panels on their ceilings. However, there's no reason why they cannot also be mounted on the walls. With wall-mounted fixtures, you can achieve many different unique effects or displays. One example is to show visitors who they are about to meet.
You can take photos of your board members or staff. When you expect a visitor, their name can be slipped into a slot beneath the appropriate photograph as a very original means of introducing the company member to the visitor before they meet.
Various Uses For Light Covers
Fluorescent light covers are perfect for advertising your products or services. You can also develop some unique ways to use them, such as the reception idea above. If your offices are spread out, you can use light covers to show off your business facilities elsewhere, such as international manufacturing or sales centers. You could also use them to display a manufacturing process or even awards and certificates your business has received. Use your imagination. Anything is possible with fluorescent light covers.