You can use custom fluorescent light covers in your home. They work with the plain or frosted panels commonly used with false ceilings or as part of the ceilings in your home. Decorative light covers can turn these panels into amazing scenes. Guests will wonder at your creativity, and they will astonish anyone who sees them.
Fluorescent lighting is common in many kitchens. But you can use decorative light covers in any room in your home to create unique effects. Many people use fluorescent lighting panels in their homes. But even if you don't, they are easy to install. And by using custom fluorescent light covers, you can make your ceiling look astounding!
Most people like to show off their homes to visitors. It is an innate human quality in most people to want to amaze their neighbors! If you entertain a lot, you will want to display your interior design skills. Your ceiling can achieve this in a unique way.
We will discuss how and where you can use custom fluorescent light panels. But let's first have a look at what exactly they are and how they are made.
What Are Custom Ceiling Light Covers
If you check out the Octo Lights website, you will find a large selection of panels. They consist of a film with the design or photograph you select. You may have seen some of our standard designs: cloudy skies, stars, and photos of sandy beaches, sunsets, waterfalls, trees, and flowers.
We create the light covers by printing a design or photograph onto transparent film, which the customer places onto the fluorescent light diffuser. Our dyes are are lightfast and don't fade when your fluorescent tubes shine down on them. We carry a standard collection, but you can also design your own.
You design your custom light covers, and we can print your photos, designs, or even drawings. Use your imagination to create your unique designs.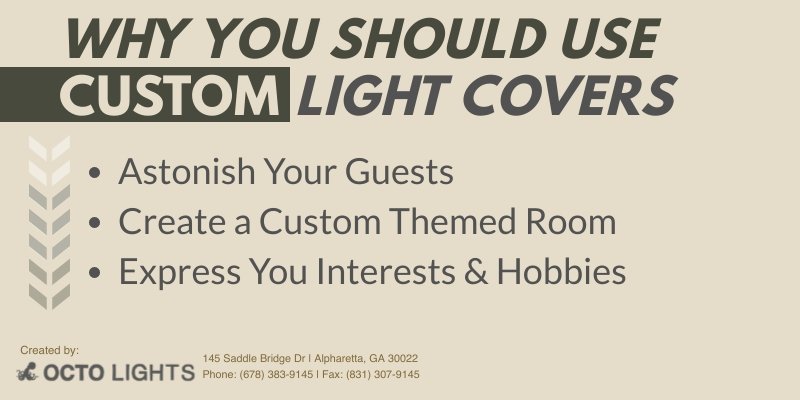 Imaginative Home Décor
You can use your artistic photographic skills to create a custom ceiling. Use your imagination to make a fantastic impression on people who visit your home. Or decorate your dining room with a beautiful starry night sky or blue skies and fluffy clouds. You could even give the impression of a waterfall about to flood the room.
"WOW!" That's what they will say when they look up! Use subdued wall sconces for elegant dining with fabulous food. Your ceiling will shine bright and colorful when you flick the switch. And what does all this costs? Less than $30 for a 4ft by 2ft panel! That's a low price to pay for the decorative kudos your friends, neighbors, and relatives will give you.
Custom Fluorescent Light Panels for Themed Rooms
Many people like to create a theme in at least one of their rooms. You can use their imagination in designing a room base on your interests or hobbies. Or you may just want to impress your neighbors and relatives.
Examples of themed rooms include the Wild West, Ancient Egypt, Classical Rome, and other themes that reveal the scope of your imagination in décor and furnishings. Use custom fluorescent light panels to supplement your theme with depictions of a Roman galley, amphitheater, or ancient Egyptian tomb.
It doesn't matter what your interest or hobby is or what theme you use for a specific room. You can use ceiling panels to augment the theme and provide a spectacular example of your particular interest.
Custom Fluorescent Light Covers: Summary
Imagine the gasps of astonishment and wonder when your guests enter your dining room and look up at the heavens above them! Galaxies far, far away with glowing nebulae and exploding suns shining above their heads.
You can do it all with custom fluorescent light covers. They come as printed images on thick polyester sheets that lay over your fluorescent light panels. The backlighting makes them glow to present a unique decorative accent to your home. They are totally unbeatable!!
Find out more about custom fluorescent light covers here. Alternatively, call us at (678) 383-9145 or at info@octolights.com to arrange your own custom ceiling light panels. You can also fill in our contact form here: at Contact Octo Lights.