There are many ways to promote your business. However, of all the ways business promote themselves, custom fluorescent light covers are something relatively new. Custom light covers are a great way to bring your company name and logo into the public eye. In this article, we'll discuss how they can be used in advertising and promoting special offers and deals. However, many business owners have never even heard of fluorescent light covers. So here is a brief explanation for those who are unsure of what they are.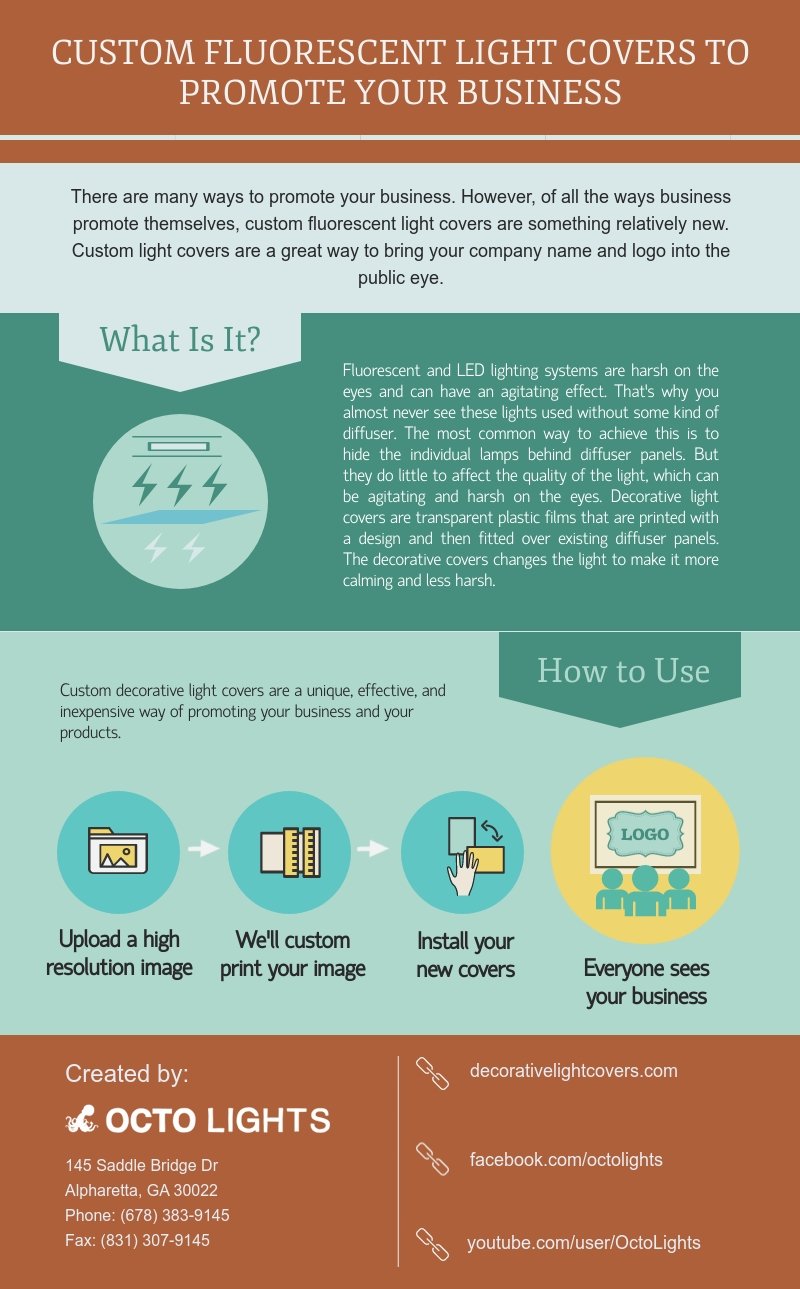 The featured image here is from the photographer Sylvia Hagar. For her latest show, she not only had her work on the walls but on the ceiling as well.
Fluorescent Light Panels
The need for custom fluorescent light covers arises because direct light from fluorescent and LED light sources can be unpleasant. Fluorescent and LED lighting systems are harsh on the eyes and can have an agitating effect. That's why you almost never see these lights used without some kind of diffuser. The most common way to achieve this is to hide the individual lamps behind diffuser panels. Diffuser panels are often no more than frosted glass or plastic panels that are fitted to the lighting unit. Light emitted by the individual fluorescent tubes or LED lighting units is scattered by the frosted panels. The scattered light provides a more even and diffuse light for general space lighting. The diffuser also prevents glare and the unpleasant experience of staring straight into a light source.
Fluorescent and LED Light Covers
Diffusers perform the most basic function of making fluorescent or LED light usable. But they do little to affect the quality of the light, which can be agitating and harsh on the eyes. Decorative light covers are transparent plastic films that are printed with a design and then fitted over existing diffuser panels. A decorative light cover can be printed with any design. If it can be photographed, then it can be printed onto a fluorescent or LED light cover.
At Octo Lights, we don't stop at photographs. Many light cover manufacturers offer scenes from nature, but we go one step further. We offer custom printing of any high-resolution image you give us. That is true whether it is a photograph of a cloudy blue sky, a flower, or a company logo. The results can be dramatic when a photograph or logo is printed on clear plastic and backlit by the light source. Our dyes are specially formulated to let enough light through to light up a room and make the images pop without looking faded or washed out.
Custom Fluorescent Light Covers
Custom fluorescent light covers are made specifically for you. We can print anything you want. You could use your company name, your logo, or a product trade name. Or you could have all three if you like. You can include them on one light panel or have each printed on individual covers.
At $29.99 for each 2ft x 4ft panel, this is a very inexpensive way of advertising. We have produced customized light panels printed with tattoos, digital art, artist photographs, and, of course, company logos. Customers ranging from retailers to fine artists are finding unique uses for custom fluorescent light covers. Using custom fluorescent light covers to promote your business is just one creative use case.
Custom fluorescent light covers can be used to promote a business. But they don't have to be limited to the business location. They can be used on fluorescent lighting systems in shopping malls to promote the businesses in the mall. You can use them in your store of office to promote your products or special sales. They could even be installed in public places where you have permission to advertise. Custom decorative light covers are a unique, effective, and inexpensive way of promoting your business and your products.