With the booming popularity of home-improvement shows, magazines, and websites, it seems everyone is looking for new decor ideas. Bathroom and kitchen renovations are all the rage. And busting down walls to create an open floor plan is common fodder for home improvement types. But if you're not ready to invest thousands of dollars and start demolishing large parts of your home, you have another option. And we bet that none of your friends have done it yet! Decorative light panels can amaze the neighbors with your unique approach to ceiling decor.
Most of your neighbors probably have a simple paint job decorating their ceiling. In more formal rooms they may have a decorative lighting fixture or even a chandelier. And most people think that those are their only option. Unbeatable and the epitome of good taste! But they have no idea how wrong they are!
Are you looking for something unique and affordable? How many of your friends and neighbors have the Big Dipper or even most of the Milky Way shining down on them? Who among your friends has a fabulous ocean sunset beaming down from their ceiling? What if you could install a whole series of skylights, always open to a bright blue sky, without ever picking up a hammer? It's all possible with decorative light panels.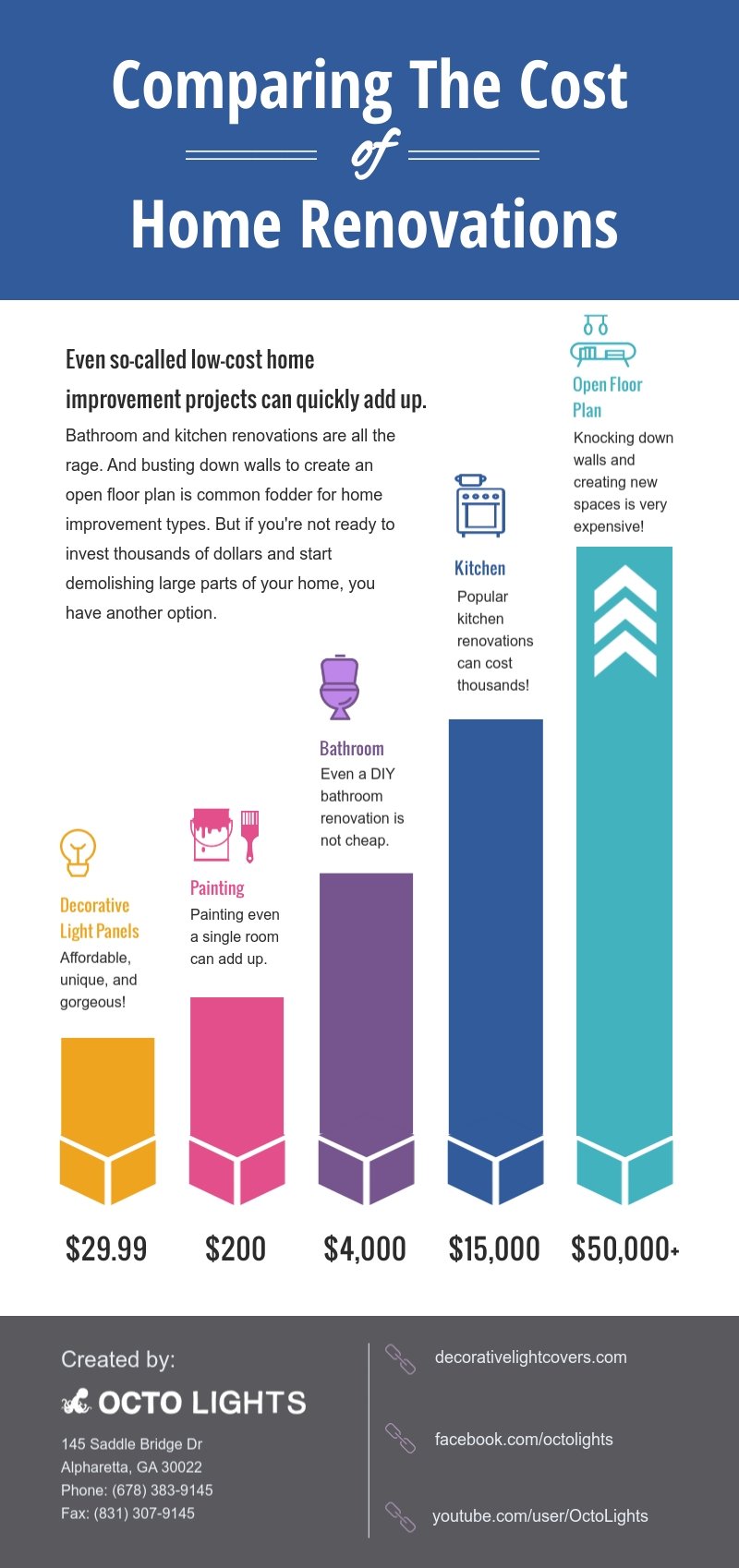 Low-Cost Decorative Light Panels
Even so-called low-cost home improvement projects can quickly add up. Even a basic paint job can hit your wallet harder than you expected. After you invest in a couple of cans of high-quality paint, some new rollers, some paint trays, painter's tape, and a tarp, you will find that you have spent well over $100. But at only $29.99 each, you can illuminate your ceiling with a whole series of sky-and-cloud panels. A single panel can look like a real skylight. And for just under $100, a series of panels can make it look as though your entire ceiling is open to a bright summer sky. You can select the decorative light panels most suited to the effect you want to create. Whether that is a day or night sky, whether you want sun and clouds or a starry night, it is all possible, and very affordable.
Even if you have no fluorescent or LED lighting units installed, it does not cost much to install them. And when you choose to install fluorescent or LED lights, you are actually choosing to save money! Fluorescent lighting is significantly more energy-efficient than the old incandescent light bulbs you are probably replacing. LED lighting units are even more energy-efficient than fluorescent tubes or CFLs, and they are well worth their initial cost.
To create unique ceiling decor with your decorative light panels, start by installing basic diffuser panels over your new light fixtures. The diffuser panels help provide an even light over your entire room. Next, select your decorative light panels from our wide selection. Once you check out, you can have your light panels is about a week or sooner! Our decorative light panel covers fit over the clear diffuser panels to provide an impressive form of ceiling decor that is almost impossible to surpass.
Sky-and-Cloud Panels and Custom Light Covers
Whether you use sky-and-cloud panels or other motifs for your ceiling, your neighbors will be amazed by the effects you can achieve. At Octo Lights, we offer a wide range of images for your decorative light panels. You can choose from a wide variety of our most popular series, our sky-and-cloud panels. For something a little different, and for all those science lovers out there, try our astronomy series. We use genuine Hubble Space Telescope images, licensed from NASA, to create stunning outer space displays. We also offer a variety of floral images, waterfalls, undersea scenes, tropical beaches, sunsets, mountainscapes, and many more. You are sure to find something that suits the decorative style of your room.
Decorative light panels are great for kitchens, living rooms, dining rooms, bedrooms, and hallways. In fact, any room in your home can be enhanced with decorative light panels. Kids especially love decorative light panels in bedrooms and bathrooms. Decorative light panels are also popular in business reception areas, offices, schools, nurseries, and hospitals.
If you can't find a decorative light panel that steals your heart, or if you have a unique idea, we've got you covered. We offer custom panels at no extra cost. We'll use your uploaded image, and custom print your image or photograph. Every custom image is printed on the same high-quality panels we use for our standard panels, and all at the standard price of $29.99.
Unique Ceiling Decor
If you're looking for a unique way to customize your home, office, or any other space, you've found it right here. There is no reason why you should not amaze your friends and neighbors with your unique ceiling decor. Octo Lights decorative light panels are far less expensive than almost any other renovation, but just as impressive if not more so. And when you consider that our light covers are available with an almost infinite range of images, you'll see why this is one upgrade you can't miss. And installation is so easy that you could even change your decorative light covers regularly to suit your mood.
There's no more need to climb a ladder and struggle with dripping paint as you try to freshen up your ceiling. You can have fabulous and unique ceiling decor that will impress your friends and help you to relax, and without it costing you a fortune. Custom light panels are becoming increasingly popular, and rightly so. Be the first in your neighborhood to install them, because once your friends see them, they will have to have them as well! Check out our website for our wide selection of decorative light covers and tips on our super-simple installation.